This is a special note to anyone who chooses to read my prophecy documentary. My book was written in the hope that those reading it will be driven to the Bible where they should have been in the first place. This book, or for that matter any other book, should never come or be placed above the Holy Bible. The Last Chronicles was written only to help you see how close we are to the second coming of Christ, and how important it is for you to begin studying the Bible in preparation to meet Jesus. Millions of people know nothing about the Bible or Bible prophecy and will not be ready to meet Christ. My book will help you see exactly what the Lord has shown us about these last days via His Word.
Download The Last Chronicles of Planet Earth February 3, 2012 Edition by Frank DiMora
Frank DiMora P.O. Box 732, Lompoc Ca. 93438
To get to the prayer requests and prayer up-dates click to the following link below:
http://frankdimora.typepad.com/the_last_chronicles/2011/01/nancy-marcinik-has-joined-our-prayer-team-as-of-aug-12-2010-our-prayers-are-being-answered-please-read-the-updates-if-yo.html
Prophecy Sign: Revelation 17:12 And the ten horns which thou sawest are ten kings, which have received no kingdom as yet; but receive power as kings one hour with the beast.
BRUSSELS - A group of nine euro-countries led by France and Germany on Tuesday (7 February) asked the Danish EU presidency to fast-track plans for a financial transactions tax - a move indicating they will forge ahead on their own in the absence of an EU-wide consensus. "We strongly believe in the need for a financial transactions tax implemented at European level as a crucial instrument to secure a fair contribution from the financial sector to the costs of the financial crisis and to better regulate European financial markets," the letter says. The nine signatories are the finance ministers of France, Germany, Austria, Belgium, Finland, Greece, Spain, Portugal and the Prime Minister of Italy, Mario Monti, who also holds the finance portfolio."
http://euobserver.com/19/115164
 Prophecy Sign: "There is no faithfulness, no love, no acknowledgment of God in the land. There is only cursing, lying and murder, stealing and adultery; they break all bounds, and bloodshed follows bloodshed. Because of this the land mourns, and all who live in it waste away; the beasts of the field and the birds of the air and the fish of the sea are dying. [Hosea 4:1-3]
"A newly identified disease is moving rapidly through livestock in Europe and has authorities both worried and puzzled. The disease, dubbed Schmallenberg virus for a town in west-central Germany where one of the first outbreaks occurred, makes adult animals only mildly ill, but causes lambs, kids and calves to be born dead or deformed."
http://www.wired.com/wiredscience/2012/02/schmallenberg-virus/?utm_source=feedburner&utm_medium=feed&utm_campaign=Feed%3A+wired%2Findex+%28Wired%3A+Index+3+%28Top+Stories+2%29%29&utm_content=Google+Reader
The  link below will take you to a detailed look at all the news concerning Birds, fish, and animals dying.
http://frankdimora.typepad.com/the_last_chronicles/animals-birds-and-fish-dying/
Prophecy Sign:  
Prophecy Sign:1Thess 5:3 "For when they shall say, Peace and safety; then sudden destruction comes upon them, as travail upon a woman with child; and they shall not escape." It has become very clear Israel and the Palestinians who are named in the Psalm 83 war against Israel are headed for a major clash.
"Palestinians have decided not to embrace the path of peace, Prime Minister Binyamin Netanyahu said Wednesday at a ceremony marking the 63rd anniversary of the Knesset. "We said they need to choose between the path of Hamas and the path of peace," he said, but concluded that Palestinians had chosen to embrace "terrorist organizations that call for Israel's destruction."
http://www.jpost.com/DiplomacyAndPolitics/Article.aspx?id=256996
 Israel: We will act to prevent Syria's chemical weapons from reaching Hezbollah
http://www.telegraph.co.uk/news/worldnews/middleeast/israel/9066222/Israel-We-will-act-to-prevent-Syrias-chemical-weapons-from-reaching-Hezbollah.html
Prophecy Sign: Daniel 2: 41-43
And whereas thou sawest the feet and toes, part of potters' clay, and part of iron, the kingdom shall be divided; but there shall be in it of the strength of the iron, forasmuch as thou sawest the iron mixed with miry clay. And as the toes of the feet were part of iron, and part of clay, so the kingdom shall be partly strong, and partly broken. And whereas thou sawest iron mixed with miry clay, they shall mingle themselves with the seed of men: but they shall not cleave one to another, even as iron is not mixed with clay."
Prophecy Sign: Matthew 24:7 "For nation shall rise against nation, and kingdom against kingdom: and there shall be famines, and pestilences, and earthquakes, in divers places.
"That's enough, we can't take it anymore." That was the popular chant coming from protesters in Athens yesterday during the latest 24-hour general strike against the country's austerity measures. Teachers and doctors joined bank employees to demonstrate against a new round of expected cuts as the cash-strapped country continued to negotiate new reductions in spending to help keep the economy afloat. Several thousand demonstrators from the public and private-sector unions braved the heavy rainfall, gathering outside Parliament to voice their opposition at the latest proposed measures to secure a €130bn (£108bn) bailout package. Minor clashes broke out when protesters tried to remove a cordon near the parliament building. Police sprayed tear gas and at times clashed with strikers, whose anger intensified overnight when a further 15,000 job cuts were announced. Since the onset of the crisis, the austerity drive has sent unemployment to a record high of 18.2 per cent and the country's finances into a spiral of recession. Despite the deepening pain, crowds at protests have increasingly dwindled."
http://www.independent.co.uk/news/world/europe/greece-theres-no-more-left-to-cut-6660306.html
Prophecy Sign: Matthew 24:7 "For nation shall rise against nation, and kingdom against kingdom" Also signs of the coming Psalm 83 and Ezekiel 38 wars
The Al Arabiya news channel reported that Iran's Revolutionary Guard has deployed 15,000 armed troops to Syria recently in order to help Syrian President Bashar Assad in his fight against opposition forces.
http://www.ynetnews.com/articles/0,7340,L-4186659,00.html
According to the Syrian official, Kassam Salimani, commander of the Quds Force, the Iranian Revolutionary Guard special forces unit, has arrived in Syria recently and has taken up a spot in the war room which manages army maneuvers against opposition forces." "Salimani's presence in Syria serves as an indication of the kind of battle that Assad is planning against opposition forces, with the Syrian army reportedly planning to wage all out war against the rebel city of Homs. According to the report, the Syrian president's goal is to gain ground ahead of a planned visit by Russian Foreign Minister Sergey Lavrov, who will be arriving in the country along with a military delegation which includes the head of Russian intelligence."
http://www.infowars.com/latest-iran-deploys-15000-troops-to-help-syrias-assad/
A war is coming. We need a miracle to avert it. Both sides have been preparing for it for years. The two states are earmarking resources, holding drills, utilizing intelligence means, creating uncertainty, and publicly presenting positions that offer no way back. Israel and Iran are currently facing a growing cold war situation and are on an almost certain collision course. A war is coming.
http://www.ynetnews.com/articles/0,7340,L-4186698,00.html
Preparing for Iran strike? Foreign embassies in Israel have recently started to formulate contingency plans to evacuate their citizens from the Jewish State in case of a missile attack on Israel. Senior officials in Jerusalem said that several diplomatic missions have shown great interest in preparing for various emergency situations"
"In the framework of the preparations for possible fallout in case of an Israeli strike on Iran, foreign diplomats stationed in Israel requested that the Foreign Ministry equip them and their family members with gas masks. Meanwhile, the Foreign Ministry has provided foreign embassies in Israel with a list of public bomb shelters across the country, as well as an instructional pamphlet in English produced by the IDF Home Front Command. Diplomatic officials deployed in Israel are particularly concerned about the possibility of a missile offensive on the Jewish State that would prompt thousands of Israeli citizens with foreign passports to seek evacuation from country. A senior European diplomat said that in such case, the European Union does not have the means to undertake a massive evacuation operation within a short period of time."
Notice number 9 in photo is the Hezbollah!
By REUTERS
"Hezbollah leader Hassan Nasrallah on Tuesday stated that in the event of an Israeli strike on Iran's nuclear facilities, Hezbollah would decide itself how to react, rather than taking orders from Tehran. "Some are wondering what would happen if Israel bombed Iran's nuclear facilities, and although I rule out this possibility I assure you that the Iranian leadership will not ask Hezbollah to do anything. On that day, we have to sit down and think before we decide what to do," Lebanese website Naharnet quoted Nasrallah as saying."
http://www.jpost.com/MiddleEast/Article.aspx?id=256899&R=R3
Prophecy Sign: One fact is very clear when you are talking about the last day signs. What is that fact?  Our generation has reached Matthew 24: 37-39 concerning what the last generation would be like just prior to Jesus's second coming is compared to both Noah's generation and Lots. When reading about Noah and Lot we see their generation turned from God and followed their own lusts and became evil people in the sight of the Lord. We know part of Noah's generation troubles came on them when they turned to homosexuality. How do we know this? Notice that Jesus compared Noah's day to Sodom and Gomorrah and then linked it to the time of his return. I quote our Lord from Luke 17: 25-30. "But first must He [Christ] suffer many things and be rejected by this generation. 26And as it was in the days of Noah, so shall it be also in the days of the Son of Man: 27They ate, they drank, they married wives, they were given in marriage, until the day that Noah entered into the ark, and the flood came and destroyed them all. 28"Likewise also as it was in the days of Lot: They ate, they drank, they bought, they sold, they planted, they built; 29but the same day that Lot went out of Sodom, it rained fire and brimstone from heaven and destroyed them all. 30"Even thus shall it be in the Day when the Son of Man is revealed."
Headline

: Prop. 8: Gay-marriage ban unconstitutional, court rules
 A federal appeals court Tuesday struck down California's ban on same-sex marriage, clearing the way for the U.S. Supreme Court to rule on gay marriage as early as next year. The 2-1 decision by a panel of the U.S. 9th Circuit Court of Appeals found that Proposition 8, the 2008 ballot measure that limited marriage to one man and one woman, violated the U.S. Constitution. The architects of Prop. 8 have vowed to appeal. The ruling was narrow and likely to be limited to California.
http://latimesblogs.latimes.com/lanow/2012/02/gay-marriage-prop-8s-ban-ruled-unconstitutional.html
What do you think Lot would be saying about now if he were on board this ship?
'Hedonistic': Allure of the Seas was used to host a massive party with 4,500 passengers on board as the ship sailed from Florida to an island south of Cancun on a gay and lesbian-themed seven-day cruise
http://www.dailymail.co.uk/news/article-2096635/Allure-Seas-Briton-missing-fall-worlds-biggest-cruise-liner.html
Prophecy Sign: Ephesians 6:12 "For we wrestle not against flesh and blood, but against principalities, against powers, against the rulers of the darkness of this world, against spiritual wickedness in heavenly places. "GOP lawmakers protest removal of 'God' from Air Force unit's patch"
http://thehill.com/blogs/defcon-hill/air-force/209289-lawmakers-protest-removal-of-god-reference-from-air-force-patch
 Prophecy Sign: Luke 21:11 (disease)
"The bioterrorism expert responsible for censoring scientific research which could lead to the creation of a devastating pandemic has admitted the information "is going to get out" eventually. Professor Paul Keim, chairman of the US National Science Advisory Board for Biosecurity, controversially recommended that researchers be stopped from publishing the precise mutations needed to transform the H5N1 strain of birdflu virus into a human-transmissible version. In an exclusive interview with The Independent, he argued it had been necessary to limit the release of the scientific details because of fears that terrorists may use the information to create their own H5N1 virus that could be spread easily between people."
http://www.independent.co.uk/news/science/no-way-of-stopping-leak-of-deadly-new-flu-says-terror-chief-6660997.html
In the US, hundreds of passengers on three separate cruise ships have fallen ill after coming into contact with a norovirusm, Press TV reports. The first ship to witness an outbreak was the Ruby Princess, which docked in Fort Lauderdale Florida as did the Crown Princess a few days later. The third ship, the Voyager of the Sea docked in New Orleans Louisiana. Noroviruses, highly contagious stomach and intestinal bugs, are transferred from person to person through food or water. Symptoms such as vomiting, diarrhea and cramps usually follow. Although the worldwide cruise industry has come under growing scrutiny, travel experts say millions of customers will take the risk of traveling again. "These things are always getting a lot of media attention. So, it does not represent the reality of what is going on with safety in the cruise industry, because the cruise industry has been very safe," said travel reporter Valerie D'Elia. Over the last two years, there have been some 28 norovirus out breaks that have left more than 4,000 people ill. Since the recent Costa Concordia cruise liner disaster in Italy which claimed the lives of tens of people, the worldwide cruise industry has been put to question by critics." http://presstv.com/detail/225457.html
 Prophecy Sign: Revelation 6:6 "And I heard a voice in the midst of the four beasts say, A measure of wheat for a penny, and three measures of barley for a penny; and see thou hurt not the oil and the wine". How many reports have you seen at my site where I tell you the price of food is climbing. How many times have I pointed out to you what Jesus said in Revelation 6:6 where He shows us people will be working all day long for one small meal? Here are three reports that I did not put in my book but you will get the picture. Luke 21:11 (disease)
You probably don't see too many of these guys around anymore. And that's not likely to change anytime soon. Honeybees are still dying off in large numbers. Over the last five years, about a third of captive honeybees wound up dead at the end of each winter. The bees are important because they pollinate much of the food we eat. No one knows for sure what's causing them to die. There is a little good news, though.
http://www.todaysthv.com/news/article/194670/288/Honeybees-dying-in-large-numbers
Prophecy Sign: Revelation 18:12 we see the weeping over their lost gold and silver and other items. China, India, and Russia have been buying up the precious metals and do you know why? Do you suppose these nations realize a currency collapse is coming and they are shoring up for the collapse. Will such a collapse cause gold and silver to sky rocket to the point that people will weep over the gold and silver when Jesus destroys the Antichrist's world financial system during the tribulation period? You bet!  Ask yourself this question after reading the news report below.  Why are 13 US states trying to go back to gold and silver to buy items?  Your answer will come in the first sentence!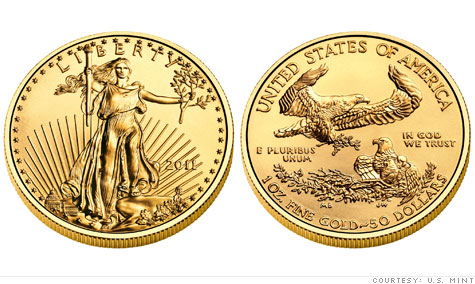 States seek currencies made of silver and gold
Worried that the Federal Reserve and the U.S. dollar are on the brink of collapse, more than a dozen states have proposed using their own alternative currencies of silver and gold. NEW YORK (CNNMoney) -- A growing number of states are seeking shiny new currencies made of silver and gold. Worried that the Federal Reserve and the U.S. dollar are on the brink of collapse, lawmakers from 13 states, including Minnesota, Tennessee, Iowa, South Carolina and Georgia, are seeking approval from their state governments to either issue their own alternative currency or explore it as an option. Just three years ago, only three states had similar proposals in place. "In the event of hyperinflation, depression, or other economic calamity related to the breakdown of the Federal Reserve System ... the State's governmental finances and private economy will be thrown into chaos," said North Carolina Republican Representative Glen Bradley in a currency bill he introduced last year. Unlike individual communities, which are allowed to create their own currency -- as long as it is easily distinguishable from U.S. dollars -- the Constitution bans states from printing their own paper money or issuing their own currency. But it allows the states to make "gold and silver Coin a Tender in Payment of Debts."
http://money.cnn.com/2012/02/03/pf/states_currencies/index.htm?source=cnn_bin
Prophecy Sign: Luke 21:25 you will find a warning about the roaring of the seas and waves. (storms). Christ in Luke 21:11 warns us to look for the fearful sights.  Headline: "Deadly floods follow in iced-over Europe"
http://www.msnbc.msn.com/id/46295606/ns/weather/#.TzLPk9V2FDN
Ministry info:
The Last Chronicle of Planet Earth" Feb. 3, 2012 Edition is now ready for you to download for free. Please note, the download may take some time to download but it will come up. The speed will depend on your computer. Download The Last Chronicles of Planet Earth February 3, 2012 Edition by Frank DiMora
Are you really searching to know the truth? Jesus will show it to you!
Disclaimer: Since the facts and evidence on my posts and in my book are real as they are taken from news around the world, and this news proves Bible prophecy is actually coming to pass in our generation, the information you read or see may scare you. If you are depressed or on any meds for depression, or have any type of mental disease consult your doctor before reading this material.
If you would like me to come to your Church to give a prophecy seminar you can contact me either by writing to my P.O Box, or email me at fjdimora@gmail.com. There is no charge for my labor of love in Christ.
Frank DiMora, P.O. Box 732, Lompoc Ca. 93438
To get to the prayer requests and prayer up-dates click to the following link below:
http://frankdimora.typepad.com/the_last_chronicles/2011/01/nancy-marcinik-has-joined-our-prayer-team-as-of-aug-12-2010-our-prayers-are-being-answered-please-read-the-updates-if-yo.html
All of my radio/video shows can be seen at The Edge. Just click to link below.
http://www.theedgeam.com/perspectives/last_chronicles/index.htm
What it will be like when the rapture hits.
Rapture of the Church in English: Download A THIEF IN THE NIGHT.doc Aug.7, 2011 By Frank DiMora pdf
Below is a link to the rapture of the Church in French.
Download UN VOLEUR DANS LA NUIT