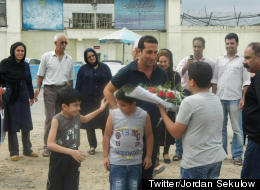 Supporters of imprisoned Iranian Christian Youcef Nadarkhani began celebrating Saturday as news reports surfaced that the pastor had been released by Iranian officials, mere months after it appeared a final execution order had been handed down.
Nadarkhani, 34 and a native Iranian, was found guilty in 2010 of apostasy and sentenced to death for refusing to recant Christianity. He has spent the last three years in jail awaiting his fate.
The American Center for Law and Justice, a conservative Christian group founded by Pat Robertson, has been keping careful tabs on the pastor's situation, and broke the news of his release Saturday morning on its website.
According to the ACLJ, the pastor was freed following a nearly six-hour court appearance. The Washington-based group cited sources "close to the case" as saying officials ultimately lowered his charges from apostasy to evangelizing Muslims, which carried a three-year term. Nadarkhani, who has a wife, Tina and two young sons, was therefore released with time served.
Speculation leading up to this most recent hearing in front of the Iranian Supreme Court was that Nadarkhani might be brought up on new security-based charges, which could have been used as an excuse to keep the pastor in jail, Fox reported.
However, speaking to Fox News, Jordan Sekulow, executive director of ACLJ, said the pastor had indeed been released.
"Today our sources in Iran reported that Pastor Youcef was acquitted of apostasy and released from prison. After languishing in prison for almost three years, he has been reunited with his family," Sekulow said.
Sekulow subsequently tweeted a picture of Nadarkhani apparently surrounded by family members.
 http://www.huffingtonpost.com/2012/09/08/pastor-youcef-nadarkhani-iranian-pastor-freed-reportedly-released_n_1867334.html