Download The Last Chronicles of Planet Earth July 11, 2010 Edition by Frank DiMora
Disclaimer: Since the facts and evidence on my posts and in my book are real as they are taken from news around the world, and this news proves Bible prophecy is actually coming to pass in our generation, the information you read or see may scare you. If you are depressed or on any meds for depression, or have any type of mental disease consult your doctor before reading this material.
If the Lord leads via His Holy Spirit to help me print more books I would be blessed.   P.O. Box 732, Lompoc Ca. 93438
Prophecy Sign: In Revelation 9:21 we see Jesus speaking to us about drug's.  The words "magic arts" in Revelation 9:21 is the Greek word pharmakia from which comes our word "pharmacy". It signifies the use of medicine, drugs, spells, such as those used in witchcraft and those used today by those who are seeking a greater "high". This generation was to be labeled a drug generation and we are.  In many of my live presentations in the past I warned the people to watch the news because they would begin to see governments legalize drugs.
There was a new report out today that will show you what I have been telling you. The headline to the report is "License cannabis sales, expert says" By Pallab Ghosh Science correspondent, BBC News
"Suppliers could be licensed to distribute branded products, Prof Pertwee argues Policymakers should consider allowing the licensed sale of cannabis for recreational use, says one of the UK's leading researchers of the drug. Professor Roger Pertwee is to make the call in a speech at the British Science Association festival in Birmingham. He is expected to say radical solutions have to be considered because he believes the current policy of criminalizing cannabis is ineffective. But the government insists decriminalization would not work. The dismissal last year of Professor David Nutt as the previous government's leading drugs adviser showed it was in no mood to consider relaxing the status of cannabis as an illegal class B drug. It is a view shared by the current government, but Prof Pertwee, an expert on cannabis-like chemicals, is to tell scientists that he, like Professor Nutt, believes it is a policy that is doing more harm than good"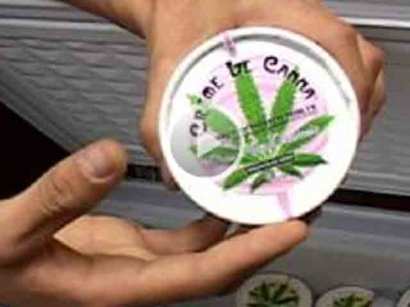 A new medical marijuana dispensary in Soquel is offering its customers a tasty alternative to smoking: enjoying a bowl of pot-infused ice cream.
At Crème De Cana, the half pints of ice cream have titles that may have Ben and Jerry taking notes.
The current flavors owner Jonathan Kolodinski offers at Creme De Canna, which opened last week, are Banannabis Foster, Straw-Mari Cheesecake and TRIPLE Chocolate Brownie. Kolodinski said more flavors are in the works.
If you are new to my site today and what all the specific details about issue download my book for free today and read chapter 7. The download is in red below.
http://www.bbc.co.uk/news/science-environment-11287130
http://www.nbcbayarea.com/news/local-beat/Pot-Flavored-Ice-Cream-Anyone-102883384.html
Download The Last Chronicles of Planet Earth July 11, 2010 Edition by Frank DiMora
Prophecy Sign: "For when they shall say, Peace and safety; then sudden destruction cometh upon them, as travail upon a woman with child; and they shall not escape."
Why is the peace talks so important to everyone who is alive today? According to Jesus in part of Matthew 24:6 one of the signs we are suppose to keep watch for is war and rumors of of war.  Since the Apostle Paul in 1 Thessalonians 5:3 straight out tells us sudden destruction will come while we are hearing the call for peace and safety we know that war between Israel and the Arabs will break out again soon. This is the reason why I want to keep you up-dated on the Middle East peace talks. 
Some may disagree with me, but I believe the final push toward the seven year tribulation will in part take place as a result of the next war between the Arabs and Israel as a result of the failed peace process.  This is the war which is spoken by God in Psalm 83 where we see the boarding nations around Israel try to wipe Israel out.
In my post yesterday Sept. 14, 2010 I gave you three things that could break down the peace process. One of these things was settlement construction going on in Israel on land the PLO considers their land.  The news today again addresses this issue.
"Secretary of State Hillary Clinton on Tuesday inadvertently revealed just why the Palestinians and most of their Arab neighbors are so gloomy about her Administration's Middle East peace efforts. Speaking in the Egyptian resort town of Sharm el-Sheikh after the latest round of direct talks between Israel's Prime Minister Benjamin Netanyahu and Palestinian Authority President Mahmoud Abbas - which U.S. officials characterized as positive - Clinton recalled that she had been "summarily criticized, roundly and consistently by everyone in the region" late last year when she described as "unprecedented" Israeli Prime Minister Benjamin Netanyahu's declaration of a partial moratorium on settlement construction on occupied land. That moratorium is set to expire on September 26, and Netanyahu says he doesn't plan to extend it. That has Abbas threatening to walk away from the table. But Clinton said the Palestinians are setting too much store by the moratorium, somewhat disingenuously suggesting that if it had been so derided previously, it can't be that important."
Many people have asked me what do I think will be the cause of this next war. Since I always stay in the word of God for answers I point to Zechariah 12:3 where God shows us Jerusalem would be a burdensome stone to all the nations in the last days.  I believe at the end of the day it will be the ownership of this city that will cause the peace process to fail again. This is the primary reason why I pay close attention to the peace process and especially when they are taking about who should get East Jerusalem as their Capital!  The Prophet Zechariah tells us that all the nations will come against Jerusalem, so you can see this city is a major deal for anyone watching the last day events. Look, I am not all knowing, for all I know the talks could break down even before they get to the issue of who should have East Jerusalem.  All I know is war, (sudden destruction) is coming soon and it will take place while you are watching them talk peace.
In a report yesterday one of the leaders in the peace talks said something that the Apostle Paul made very clear. Paul said when they call for what? Peace and safety! What is on the front burner for this current round of peace talks? I quote, "Egyptian Foreign Minister Ahmed Aboul Gheit told reporters that negotiators should agree on a border first to avoid disputes on settlement expansion. He said that the sides should also discuss security, which Israel wants to tackle first."
There is no question that what Jesus warned us about concerning these talks is coming to pass. Here is my last point which is also very important. Look at this section of Paul's warnings. "sudden destruction cometh upon them, as travail upon a woman with child; and they shall not escape."  Since 1977 we have witnessed peace talks come and go and each time more violence breaks out in the Middle East when the peace talks break down.  These are the labor pains just as travail upon a woman with child.  What happens when this woman is ready to deliver?  Will it be a peace deal or war?  Once again, if you believe what Jesus showed Paul in this prophecy we have to say it will be war or the (sudden destruction) as written in 1Thess. 5:3.  When this woman delivers this child there will be no need for me to explain what happened to you, because you will watch this war first hand on just about every news station around the world.  This event will be one of your major signs telling you, you haven't much time left to receive Jesus as your Lord before the Church is removed.  This war, I believe, will jump start many of the sleeping Christians to get engaged in witnessing for Jesus as they will know for sure their time left to witness is coming to a close.
Bolton warns the peace talks will break down.
http://news.yahoo.com/s/time/20100915/wl_time/08599201921700
Even as these nations are suppose to be working for a peace deal conflicts are still raging and one of these conflicts could set the stage for the next war. I quote, "Israeli Air Force bombed targets in Gaza Wednesday, killing at least one terrorist after a massive missile and mortar barrage on southern Israel Wednesday morning."
http://www.israelnationalnews.com/News/News.aspx/139637
http://news.yahoo.com/s/csm/20100914/wl_csm/325784
 Prophecy Sign: What about the prophecy sign of the roaring of the seas and waves as warned to us by Christ in Luke 21:25?
Here is some information from a report today entitled, "Trio of storms swirls in Atlantic and Caribbean". I quote, "Most forecasters predicted the 2010 Atlantic hurricane season would be extremely active. The season runs from June through November and has already brought 10 tropical storms, with five growing into hurricanes. Three of those -- Danielle, Earl and Igor -- have reached Category 4 strength." At of today officials are watching three hurricanes back to back considering that the US has always been hit by some major destruction at the same time the peace talks were going on I am watching these storms very close.
http://news.yahoo.com/s/nm/us_storm_julia
Here is more news concerning the roaring of the seas and waves.
"Dozens of North Koreans killed in Typhoon Kompasu"

AP Photo
"Typhoon hits Northern Philippines"

SEOUL, South Korea (AP) -- A typhoon killed dozens of people and destroyed roads, railways and thousands of homes in North Korea earlier this month, the reclusive state's media reported Wednesday.
It was the first confirmation from the North of the extent of the casualties and damage inflicted by Typhoon Kompasu that hit the divided Korean peninsula on Sept. 2 and killed five people in South Korea.
The typhoon struck as impoverished North Korea struggled to recover from flooding last month that battered its northwest. Even in the best of times, North Korea relies on outside aid to feed its population of 24 million, and the flooding further devastated the country, forcing it to ask the rival South for help. South Korea, whose current conservative government has cut aid to its communist neighbor, said this week it would send 5,000 tons of rice and other supplies."  May I remind you that Jesus in part of Luke in Luke 21:25 said the following: "and upon the earth distress of nations, with perplexity; the sea and the waves roaring".   These storms are no doubt causing massive problems for millions upon million of people. Just look at what has happen between Pakistan's flood and this one alone!  One fifth of Pakistan is still under water and people are still without food!  Take to heart these words from Jesus, "distress of nations, with perplexity; the sea and the waves roaring".
http://hosted.ap.org/dynamic/stories/A/AS_NKOREA_TYPHOON?SECTION=HOME&SITE=AP&TEMPLATE=DEFAULT
 The famous Indian medieval mausoleum Taj Mahal is under a threat of being flooded. The building stands on a bank of the Jamuna River, and the river's water level is now steadily rising because of heavy rains. Now only a brick ramp separates the historical monument from the water, but if there is more rain, the water may run over it.Taj Mahal is called "the world's eights miracle" and is on the UNESCO's World Heritage list."
http://english.ruvr.ru/2010/09/15/20536204.html
 Prophecy Sign: In my post yesterday I also wrote to you about the curse that will fall on anyone who curses God's chosen nation Israel. God's curse found is found in Genesis 12:3. "I will bless those who bless you, and whoever curses you I will curse; and all peoples on earth will be blessed through you."
All you do is have to take a look who is coming against Israel to see who is being cursed.  For example look at the nations who are in the peace process with Israel which are trying to force Israel into dividing up their land into two States. Take a close look at what is happening with their economies.  The United States and the Eurpean Union are two of the main nations working to split up Israel and the US and the EU are in one of the worse economic crisis since the great depression.  I quote from a report entitled, "IMF fears 'social explosion' from world jobs crisis"
 "America and Europe face the worst jobs crisis since the 1930s and risk "an explosion of social unrest" unless they tread carefully, the International Monetary Fund has warned."
"The labour market is in dire straits. The Great Recession has left behind a waste land of unemployment," said Dominique Strauss-Kahn, the IMF's chief, at an Oslo jobs summit with the International Labour Federation (ILO).
He said a double-dip recession remains unlikely but stressed that the world has not yet escaped a deeper social crisis. He called it a grave error to think the West was safe again after teetering so close to the abyss last year. "We are not safe," he said.
A joint IMF-ILO report said 30m jobs had been lost since the crisis, three quarters in richer economies. Global unemployment has reached 210m. "The Great Recession has left gaping wounds. High and long-lasting unemployment represents a risk to the stability of existing democracies," it said.
The study cited evidence that victims of recession in their early twenties suffer lifetime damage and lose faith in public institutions. A new twist is an apparent decline in the "employment intensity of growth" as rebounding output requires fewer extra workers. As such, it may be hard to re-absorb those laid off even if recovery gathers pace. The world must create 45m jobs a year for the next decade just to tread water."
As long as these nations press against God and keep trying to divide up Israel don't expect a blessing to fall on these nations.  Rather look for the social unrest the writer is worried about in this report.  Keep in mind, Jesus also pointed to this social unrest taking place in the last days as seen from Matthew 24:7 where we see kingdom will fight against kingdom. Could this social unrest Jesus points to be in part because the world is tossed into economic chaos?  I do believe this is what is going to take place and it will as I said many times before, be one of the factors that help lift the Antichrist to the position of world leader when the economic crisis sweeps over the the nations.
http://www.telegraph.co.uk/finance/financetopics/financialcrisis/8000561/IMF-fears-social-explosion-from-world-jobs-crisis.html
 He is more news showing how bad the economic crisis is in the EU. "MADRID – French workers and Spanish royalty became the latest to feel the bite of Europe's debt crisis on Wednesday as officials said the king and queen would have to tighten their belts and France's National Assembly voted to delay retirement until the ripe old age of 62.
Spaniards largely welcomed word that their monarchs are feeling their pain, but anger flared across the border as French lawmakers overcame vocal protests to send to the Senate a sweeping overhaul of the retirement plan, including a highly contested measure to extend working life beyond 60.
The vote in the lower house of parliament was 329-233. The opposition was boisterous, with Socialists shouting "Resign!" as the Assembly president cut short debate and thousands of protesters marched outside.
Riot police guarded a crowd that police estimated at 6,500 and protesters at 20,000. Last week, opposition to the bill drew at least 1.1 million protesters into the streets of 220 cities and a strike disrupted trains, planes, hospitals and mail delivery across France."  I am warning you once more, the civil unrest Jesus pointed to is going to get really bad shortly.  I know this is not good news but you can not stick your head in the sand and think it isn't going to come!  Take what Jesus has said to the bank!
http://news.yahoo.com/s/ap/20100915/ap_on_bi_ge/eu_europe_austerity
Prophecy Sign: One of the last day signs in Matthew 24:6-8 is the sign of pestilence.We you read my book you will learn that disease is not only killing millions of people around the world but strange diseases are also killing off much of the world's crops, and yes even wildlife such as seen in this report below.
Massive fish kill reported in Louisiana
"What you see above isn't a rural gravel road. It's a Louisiana waterway, its surface completely covered with dead sea life -- a mishmash of species of fish, crabs, stingray and eel. New Orleans CBS affiliate WWL-TV reports that even a whale was found dead in the area, a stretch of coastal Louisiana hit hard this summer by oil from BP's busted Gulf well.
Fish kills are fairly common along the Gulf Coast, particularly during the summer in the area near the mouth of the Mississippi, the site of this kill. The area is rife with dead zones -- stretches where sudden oxygen depletion can cause widespread death. But those kills tend to be limited to a single species of fish, rather than the broad sort of die-off involved in this kill.
And therein lies the concern of Gulf residents, who suspect this may be yet another side effect of the catastrophic BP oil spill.
Plaquemines Parish President Billy Nungesser sounded the alarm bells Monday, distributing the photos here to the local media. Nungesser said that no testing is currently planned to determine how the kill may relate to the BP oil disaster, but he pleaded with officials from the Louisiana Department of Wildlife and Fisheries, the Environmental Protection Agency and the National Oceanic and Atmospheric Administration to investigate."
http://news.yahoo.com/s/yblog_upshot/20100914/od_yblog_upshot/massive-fish-kill-reported-in-louisiana
 Prophecy Sign: When you read Revelation 8:6-13 you know that in the near future Planet Earth will be hit by objects from space. "8:6 And the seven angels which had the seven trumpets prepared themselves to sound. 7 The first angel sounded, and there followed hail and fire mingled with blood, and they were cast upon the earth: and the third part of trees was burnt up, and all green grass was burnt up. 8 And the second angel sounded, and as it were a great mountain burning with fire was cast into the sea: and the third part of the sea became blood; 9 And the third part of the creatures which were in the sea, and had life, died; and the third part of the ships were destroyed. 10 And the third angel sounded, and there fell a great star from heaven, burning as it were a lamp, and it fell upon the third part of the rivers, and upon the fountains of waters; 11 And the name of the star is called Wormwood: and the third part of the waters became wormwood; and many men died of the waters, because they were made bitter. 12 And the fourth angel sounded, and the third part of the sun was smitten, and the third part of the moon, and the third part of the stars; so as the third part of them was darkened, and the day shone not for a third part of it, and the night likewise. 13 And I beheld, and heard an angel flying through the midst of heaven, saying with a loud voice, Woe, woe, woe, to the inhabiters of the earth by reason of the other voices of the trumpet of the three angels, which are yet to sound!"  I need to point out that in part of Luke 21:25 Christ said there would be "signs in the sun, moon and stars". 
 All prophecy is moving to its conclusion just as the stars and planets are moving around in space.  We who love Christ and His Word know that the Earth is going to be belted with many objects falling from space and a new report now shows us just how many of these objects there are.
"Thirty years ago, we knew of just 8,954 within our solar system. Today, we have discovered 530,091 - forming a green 'eye' of minor planets. Mr Manley, a former research student at Armagh Observatory in Northern Ireland, said: 'The images are created by using the known orbits of the asteroids to figure out where they've been on a day-to-day basis. 'Just like we can figure out where the Earth, Mars and Venus have been, we can do the same with anything orbiting the sun. 'I created maps for every day over the last 30 years - that's about 11,000 images - then I combined them to make a video.' "
 I want to point out the editor's note at the end of this report. Read this statement and I will fill in the dots for you. "Several commentators below have quite rightly pointed out that the actual number of asteroids has not increased, just the number we have identified thanks to better telescopes and a more concerted effort at tracking them. The copy above has now been amended accordingly."  There are asteroids that will hit our planet and now via video we can see the number of these asteroids.  What is very interesting to me is the fact that we can not know for sure the number of these asteroids. This is no coincidence as God told Daniel in Daniel 12:4 that in the last days our generation would increase in knowledge.  Our generation has already fulfilled that prophecy and now we may be looking at some of those objects that will be headed toward this planet during the seven year tribulation.  God has given everyone on this planet His warning.  He did this for what reason?  Would He give us this warning knowing we would all die as there was nothing we could do but wait for the stars to hit this planet?  Not a all.  He gave us this warning to encourage us to receive Him as Lord because if we did that, as He promised, He would come for the believers and remove Him from this Earth prior to His judgments which include these objects hitting the Earth as mentioned in Revelation chapter 8.
 May question for you is this. It is your choice as to where you will be when these signs from the sky begin to hit Earth.  Will you choose Jesus as Lord and have your name entered into His Book of Life, or will you keep hardening your hearts and refuse Jesus as your savior?  If you receive Jesus you will be in heaven with Him as these things take place, if not, you will be on Earth counted as one of the unrighteous ones who have been left behind to enter God's wrath. Jesus has given me this ministry to lead many away form the Lord's judgments and from the gates of hell.  I can lead you to Christ and His salvation, but it is you who have to respond to Christ's call.  I beg you now to consider the free gift of salvation Jesus has provided for you by hanging on the cross for your sins.  That is gift today and see how blessed you will become!  If you refuse this call you may want to study these thousands of objects moving in space to get a better look at the ones that may be hitting you shortly.
http://www.dailymail.co.uk/sciencetech/article-1306555/Our-terrifyingly-crowded-solar-How-asteroids-closing-in.html
Prophecy Sign: 2 Timothy 31-5. 1But mark this: There will be terrible times in the last days. 2People will be lovers of themselves, lovers of money, boastful, proud, abusive, disobedient to their parents, ungrateful, unholy, 3without love, unforgiving, slanderous, without self-control, brutal, not lovers of the good, 4treacherous, rash, conceited, lovers of pleasure rather than lovers of God— 5having a form of godliness but denying its power. Have nothing to do with them."
When I do live seminars I bring film showing how people in these last days have become just like Timothy had warned us.  People want to know how can people be so cold toward others but this is what Jesus told us would happen and it is.  Also noted here is the words of Jesus in Matthew 24:12 where Jesus tells us in the last days the hearts of many will wax cold. MYFOXNY.COM - Authorities in Jersey City have arrested a home healthcare worker and charged her with abusing an elderly patient. Below is a report of an example of what I am writing you about.  
I quote, "The arrest came after the family of the elderly woman suspected something was wrong after finding bruises on her. They recorded video of the alleged abuse captured via a webcam and Skype. A family member said it was "heartbreaking" to watch." Click on photo below to watch report. 
http://www.myfoxny.com/dpp/news/local_news/new_jersey/police-shocking-abuse-woman-video-20100914
http://www.nbcbayarea.com/news/local-beat/Pot-Flavored-Ice-Cream-Anyone-102883384.html
Prophecy Sign: In Chapter 17 of the Book of Revelation Jesus warns us about a false church being formed in the last days.  This is going to be a worldwide church that the Antichrist will go along with for three and a half years then he will even turn on this false church and demand they worship him as God.  Steps are under way right now that is creating this one world church and a big part of this false church is coming together under the banner of the Interfaith movement. This movement on the outside sounds like it is a good idea, but it is really marching down the road to down grade sound doctrine which Jesus has taught us and is forming the Church Jesus warned us about in Revelation chapter 14, which is the Laodicean Church. 
We have had lukewarm denominational country club type churches for quite some time now but they did not cross denominational lines and movements and become the predominant Christian identity until very recently. The seeker friendly and the postmodern emergent churches had much to do with this, they are the fastest growing identities in Christianity today. They and other lukewarm churches have taken on the identity of Christianity to most people in the world. For example, when Moslems speak of decadent Christianity they are really associating Christianity to those that call themselves Christians but actually live the lifestyle found in Laodicea. Their perception of true Christianity is certainly wrong but nevertheless the traits in Laodicea is now Christianity to most in the world.
The key to identification of the age of Laodicea is that this church is lukewarm and spiritually blind yet she thinks she sees. Only when the gospel became so watered down that it no longer contained a message of salvation could Laodicea arrive in full force in the institutional churches. We see this happening today across denominational lines. Most members of churches today do not even know the plan of salvation. Many members even in evangelical churches do not know the Bible. They have never read it. Church Sunday schools just use the Bible as some tool for living the abundant life on earth. They quite often do not discern and apply the passages in proper context. More often they just make passages fit their pre-canned topical lesson. Christian leaders today are twisting the word of God to conform to their own pet theories and few of their followers are any the wiser because of the biblical ignorance that prevails in Churchianity.
Once again, here is news backing up what I am speaking to you about in a report entitled, "Interfaith Sunrise Prayer Service for World Peace in Nevada"
"Various religious leaders prayed for world peace as the sun was rising behind hills at Red Rock Consecrated Sanctuary in Reno (Nevada, USA) on September 12 morning. Hindu statesman Rajan Zed recited hymns from ancient Hindu scriptures Rig-Veda, Upanishads and Bhagavad-Gita at this peace service, urging the almighty to "lead us from darkness to light", suggesting attendees to "act selflessly" and stressing "unity and concord". Other religious leaders who participated in this Interfaith Sunrise Prayer Service for World Peace included: Gene Savoy Junior, Head Bishop of International Community of Christ; William Bartlett, Buddhist priest; Roya Galata, Baha'i elder; Sean Savoy, Chancellor of the Jamilian University of the Ordained; Yuki Matsushita, Bishop of Church of the Second Advent in Japan; etc. Rajan Zed, who is the President of Universal Society of Hinduism, says that all religions should work together for a just and peaceful world. Dialogue would bring us mutual enrichment, he adds."
There is no doubt that this movement is watering down the true message and the sound doctrine which Jesus told us to hold to.  What you don't want to happen to you is to find out you are numbered by Christ in this type of Church. If you are one of those people who think you can enter the kingdom of God by other than receiving Jesus Christ and His death for us on the cross you have already crossed over into the Laodicea Church. At this point all I can do for you is to quote what what Jesus said in Rev. 3:14-22.
14"To the angel of the church in Laodicea write: The Amen, the faithful and true Witness, the Beginning of the creation of God, says this: 15'I know your deeds, that you are neither cold nor hot; I wish that you were cold or hot. 16'So because you are lukewarm, and neither hot nor cold, I will spit you out of My mouth. 17'Because you say, "I am rich, and have become wealthy, and have need of nothing," and you do not know that you are wretched and miserable and poor and blind and naked, 18I advise you to buy from Me gold refined by fire so that you may become rich, and white garments so that you may clothe yourself, and that the shame of your nakedness will not be revealed; and eye salve to anoint your eyes so that you may see. 19'Those whom I love, I reprove and discipline; therefore be zealous and repent. 20'Behold, I stand at the door and knock; if anyone hears My voice and opens the door, I will come in to him and will dine with him, and he with Me.
21'He who overcomes, I will grant to him to sit down with Me on My throne, asI also overcame and sat down with My Father on His throne. 22'He who has an ear, let him hear what the Spirit says to the churches.'"
http://www.southasiamail.com/news.php?id=81193
The Bible is full of these signs. There are about 500 prophecies in the Old Testament that relate to the Second Coming of the Messiah. In the New Testament, one out of every 25 verses is concerned with the return of Jesus.

In fact, there are so many signs that it is difficult to grasp all of them. The best way I have found to do this is to put them in categories:

1) The Signs of Nature — We are told to watch for earthquakes, famine, pestilence, and signs in the heavens (see Matthew 24:7 and Luke 21:11). This is the least respected category of signs for several reasons. For one thing, many people simply shrug their shoulders and say, "There have always been natural calamities, so what else is new?" Note that Jesus says these signs will be like "birth pangs" (Matthew 24:8) — that is, they will increase in frequency and intensity as the time draws near for His return. In other words, there will be more intense earthquakes and more frequent ones. That is exactly what is happening today.

Another reason these signs are given little respect is because most Christians are so rationalistic that they do not really believe in the supernatural, and they therefore find it difficult to believe that God speaks to the world through signs of nature. Yet, the Bible teaches this principle from start to finish.

God dealt with the world's sin through a great flood in the days of Noah (Genesis 6). He called the nation of Judah to repentance through a terrible locust invasion (Joel 1). In like manner, He called for the nation of Israel to repent by sending drought, wind storms, mildew, locusts, famine and pestilence (Amos 4:6-10). The prophet Haggai pointed to a drought as evidence that God was calling the people to get their priorities in order (Haggai 1:10-11).

The New Testament begins with a special light in the heavens marking the birth of the Messiah (Matthew 2:2). On the day that Jesus was crucified, there was three hours of darkness and an earthquake (Matthew 27:45-51). And when Jesus returns, the earth will experience the greatest earthquake in its history as every mountain is lowered, every valley is raised, and every island is moved (Revelation 16:17-21).

God has always spoken through signs of nature, and He continues to do so today. We had better pay close attention to them.
2) The Signs of Society — Jesus said that society will become increasingly lawless and immoral as the time approaches for His return. In fact, He said it would become as evil as it was in the days of Noah (Matthew 24:12,37-39).
Paul paints a chilling picture of end time society in 2 Timothy 3:1-5. He says it will be characterized by three loves — the love of self (Humanism), the love of money (Materialism), and the love of pleasure (Hedonism). He then points out that the payoff of this carnal lifestyle will be what the philosophers call Nihilism — that is, a society wallowing in despair. Men's minds will become depraved (Romans 1:28), and people will call evil good and good evil (Isaiah 5:20).

We are seeing these prophecies fulfilled before our eyes today as we watch our society reject its Christian heritage and descend into a hellish pit of lawlessness, immorality, and despair. Even worse, we are exporting our nihilism around the world through our immoral and violent movies and television programs.

3) The Spiritual Signs — There are both positive and negative spiritual signs that we are to watch for. The negative ones include the appearance of false christs and their cults (Matthew 24:5,11,24), the apostasy of the professing church (2 Thessalonians 2:3), an outbreak of Satanism (1 Timothy 4:1), and the persecution of faithful Christians (Matthew 24:9).

These negative spiritual signs began to appear in the mid-19th Century when Christian cults started forming. First came the Mormons, then the Jehovah's Witnesses, and then a great variety of spiritualist groups like the Church of Christ Scientists and the Unity Church.

The apostasy of the mainline Christian denominations began in the 1920's when the German school of higher criticism invaded American seminaries and undermined the authority of the Scriptures, teaching that the Bible is Man's search for God rather than God's revelation to Man.

During the 1960's Satanism exploded on the American scene and has since been exported worldwide through American movies, books, and television programs. Dabbling in the occult has become commonplace in the form of astrology, numerology, crystal gazing, transcendental meditation, and channeling. The whole trend has consummated in the appearance of the New Age Movement with its teaching that Man is God.

As society has secularized, true Christianity has come under increasing attack. Judeo-Christian values, once the foundation of Western Civilization, are now openly mocked, and those who still adhere to them are castigated as "intolerant fundamentalists" by the media.

The positive spiritual signs include the proclamation of the Gospel to the whole world (Matthew 24:14), a great outpouring of the Holy Spirit (Joel 2:28-32), and spiritual illumination to understand prophecies that have been "sealed up" until the end times (Daniel 12:4,9).

As with the negative signs, we are seeing these positive signs fulfilled in our day and time. Through the use of modern technology, the Gospel has been proclaimed throughout the world in this Century, and the Bible has been translated into all major languages.

The great end time pouring out of the Holy Spirit that was prophesied by the prophet Joel has also begun. Joel called it "the latter rain" (Joel 2:23), and he said it would occur after the Jews had returned to their land. The state of Israel was re-established in 1948. In 1949 God anointed two ministries that would have a worldwide impact — the ministries of Billy Graham and Oral Roberts. Then, in the 60's, came the Charismatic Movement which prompted renewal in worship and gave emphasis to the continuing validity of the gifts of the Spirit.

The acceleration in the understanding of Bible prophecy began in 1970 with the publication of Hal Lindsey's book, The Late Great Planet Earth. It seemed to open up to popular understanding many prophecies that had been "sealed up" until the end times (Daniel 12:4, 9). Remarkably, it became the number one best seller in the world — with the sole exception of the Bible — for the next ten years!

4) The Signs of Technology — The book of Daniel says that there will be an explosion of knowledge in the end times and that people will move about quickly (Daniel 12:4). There are many Bible prophecies that cannot be understood apart from modern technology. For example, how can the whole world look upon two bodies lying in the streets of Jerusalem (Revelation 11:8-9)? Modern television satellite technology makes it easy. How can the False Prophet build an image of the Anti-Christ that appears to be alive (Revelation 13:15)? The answer, of course, is the science of robotics. How can the False Prophet require all people on earth to take the mark of the Anti-Christ in order to buy and sell (Revelation 13:16-17)? It would not be possible apart from computers and lasers.

Jesus said that the Tribulation will be so terrible that all life on earth would cease to exist if He did not cut the period short (Matthew 24:21-22). How could all life be threatened prior to the advent of nuclear weapons? Another reference to nuclear power is likely contained in Luke's statement that men in the end times will "faint from fear" because "the powers of the heavens will be shaken" (Luke 21:26). That certainly sounds like a reference to the splitting of the atom.

5) The Signs of World Politics — The Bible prophesies that there will be a certain pattern of world politics that will characterize the end time geopolitical map.

The focus will be the re-established state of Israel (Zechariah 12:2-3). It will be besieged by a menacing nation from the "remote parts of the north," the nation of "Rosh" — or modern day Russia (Ezekiel 38:2,6). There will also be a threatening nation to the East that will be capable of sending an army of 200 million — namely, China (Revelation 9:13-16 and Revelation 16:12-13). A third source of danger to Israel will be the Arab nations that immediately surround it. They will covet the land and will try to take it from the Jews (Ezekiel 35:10 and 36:2).

Another key player on the world political scene in the end times will be a coalition of European nations that will form a confederation centered in the area of the old Roman empire (Daniel 2:41-44, Daniel 7:7,23-24, and Revelation 17:12-13). This confederation will serve as the political base for the rise of the Anti-Christ and the creation of his worldwide kingdom (Daniel 7:8).

Other international political signs include wars and rumors of wars (Matthew 24:6), civil wars (Matthew 24:7), and general international terrorism and lawlessness (Matthew 24:12).
6) The Signs of Israel — The signs related to the state of Israel are prolific and very important.

The most frequently repeated prophecy in the Old Testament is the prediction that the Jewish people will be regathered from the "four corners of the earth" in the end times (Isaiah 11:10-12). The Bible states that a consequence of this regathering will be the re-establishment of the state of Israel (Isaiah 66:7-8). The Scriptures say that once the Jews are back in their land, the land itself will experience a miracle of reclamation (Isaiah 35). The desert will bloom and people will exclaim, "This desolate land has become like the garden of Eden" (Ezekiel 36:35).

Another end time miracle will be the revival of the Hebrew language (Zephaniah 3:9). Most people are not aware of the fact that when the Jews were dispersed from their land in 70 A.D., they ceased to speak the Hebrew language. The Jews who settled in Europe developed a new language called Yiddish — a combination of German and Hebrew. The Jews who migrated to the Mediterranean basin created a language called Ladino — a combination of Hebrew and Spanish.

Other significant signs of Israel that we are told to watch for in the end times include the re-occupation of Jerusalem (Luke 21:24), the resurgence of Israeli military strength (Zechariah 12:6), and the re-focusing of world politics on Israel (Zechariah 12:3).

All these signs have been fulfilled in this century. The nation has been re-established, the land has been reclaimed, the ancient language has been revived, the Jews are back in Jerusalem, and Israel is the focal point of world politics.

Jesus says in Luke 21:28 that when these signs begin to happen, we should "straighten up and lift up our heads" because "our redemption is drawing near."

The Key Signs
The most important signs are the ones that relate to Israel because God uses the Jews throughout the Scriptures as His prophetic time clock. By this I mean that very often when the Lord is revealing an important event that will take place in the future, He will point to the Jewish people and state that when a certain thing happens to them, the important event will also occur. A good example of this principle can be found in Daniel 9 in the famous "Seventy Weeks of Years" prophecy. The prophet tells us to watch for a decree to be issued that will authorize the rebuilding of Jerusalem. He then says that the Messiah will come sixty-nine weeks of years (483 years) after that decree is issued to the Jewish people.

There are two key prophecies which relate the return of Jesus to events that have occurred in Jewish history since 1948. These two events clearly established the period in which we are now living as the season of the Lord's return.

The State of Israel
The first is the re-establishment of the state of Israel which occurred on May 14, 1948. Jesus singled out this event as the one that would signal His soon return.

His prophecy is contained in the fig tree parable (Matthew 24:32-35) which He presented in His Olivet Discourse. The day before He delivered this speech, He had put a curse on a barren fig tree, causing it to wither (Matthew 21:28-29). This was a symbolic prophecy that God would soon pour out His wrath upon the Jewish people because of their spiritual barrenness in rejecting His Son.

The next day Jesus reminded His disciples of the fig tree. He said to watch for it to bloom again. In other words, He said watch for the rebirth of Israel. He indicated that when the fig tree blooms again, He would be at the gates of Heaven, ready to return (Matthew 24:33).

Equally significant, He added an interesting observation: "Truly I say to you, this generation will not pass away until all these things take place" (Matthew 24:34). What generation? The generation that sees the fig tree blossom.
We are that generation. The fig tree has blossomed. Jesus is at the gates.

The City of Jerusalem
The second key event was prophesied by Jesus in the same speech, as recorded by Luke: "[The Jews] will fall by the edge of the sword, and will be led captive into all the nations; and Jerusalem will be trampled under foot by the Gentiles until the times of the Gentiles be fulfilled" (Luke 21:24). The first half of this prophecy was fulfilled in 70 A.D., forty years after Jesus spoke the words. In that year the Romans under Titus conquered Jerusalem and dispersed the Jews among the nations. Jerusalem remained under Gentile occupation for 1,897 years — until June 7, 1967, when Israel won the city back during the Six Day War.

The Jewish re-occupation of the city of Jerusalem is proof positive that we are living in the season of the Lord's return. Jesus said it would mark the end of the Gentile Age.

A Call to Action
There is no way to escape the conclusion that we are living on borrowed time. The signs of the times are upon us, and they are shouting for our attention. Are you ready? If Jesus were to return today, would He be your "Blessed Hope" (Titus 2:11-14) or would He be your "Holy Terror" (Revelation 6:12-17)? If you have never received Him as your Lord and Savior, now is the time to act. Repent of your sins, and call upon the name of the Lord that you might be saved (Acts 2:14-39). And if you are a Christian, are you living as if Jesus might return any minute? Have you committed your life to holiness? Are you praying for the lost and witnessing for the Lord when you have an opportunity? Are you yearning for the Lord's return? Can you say with Paul that you are a candidate
for a "crown of righteousness" because you have lived your life "in the love of His appearing" (2 Timothy 4:7-8)?