"The Last Chronicle of Planet Earth" February 9, 2011 Edition is now ready for you to download for free.  Please note, the download may take some time to download but it will come up. The speed will depend on your computer.
Download The Last Chronicles of Planet Earth By Frank DiMora Feb. 9, 2011 Edition pdf
Are you really searching to know the truth? 
Disclaimer: Since the facts and evidence on my posts and in my book are real as they are taken from news around the world, and this news proves Bible prophecy is actually coming to pass in our generation, the information you read or see may scare you. If you are depressed or on any meds for depression, or have any type of mental disease consult your doctor before reading this material.
If you would like me to come to your Church to give a prophecy seminar you can contact me either by writing to my P.O  Box, or email me at fjdimora@gmail.com. There is no charge for my labor of love in Christ.
If the Lord leads via His Holy Spirit to help me print more books I would be blessed.   P.O. Box 732, Lompoc Ca. 93438
To get to the prayer requests click to the following link below:
http://frankdimora.typepad.com/the_last_chronicles/2011/01/nancy-marcinik-has-joined-our-prayer-team-as-of-aug-12-2010-our-prayers-are-being-answered-please-read-the-updates-if-yo.html
My radio/video show is up and running now. Just click to link below
My latest show which was aired on Feb. 18, 2011 is still running.
http://www.theedgeam.com/perspectives/last_chronicles/index.htm
Prophecy Sign: Matthew 24:7 Famines and diseases: "TOKYO - North Korea recently took the unusual step of begging for food handouts from the foreign governments it usually threatens.
Plagued by floods, an outbreak of a livestock disease and a brutal winter, the government ordered its embassies and diplomatic offices around the world to seek help.
The request has put the United States and other Western countries in the uncomfortable position of having to decide whether to ignore the pleas of a starving country or pump food into a corrupt distribution system that often gives food to those who need it least.
The United States, which suspended its food aid to North Korea two years ago amid concerns about transparency, "has no plans for any contributions at this time," said Kurt Campbell, the State Department's top East Asia official.
Meanwhile, the U.N. World Food Program, responsible for much of the food aid in North Korea, said its current food supply could sustain operations in the communist country for only another month."
 http://www.washingtonpost.com/wp-dyn/content/article/2011/02/19/AR2011021901953.html
 Prophecy Sign: Matthew 24:7 Christ warns about the many earthquakes that will come in the last days.
Prophecy Sign: Luke 21:11 is the sign of fearful sights: "Thousands of people in the Philippines fled their homes as a volcano erupted on Monday, sending a spectacular column of ash high into the sky, residents said. The eruption of Bulusan, a 1,559-metre (5,115-foot) volcano, turned mid-morning into night for about 20 minutes across largely farming areas around its slopes".
http://www.breitbart.com/article.php?
Prophecy Sign: Revelation 18:12 "Oil and gold prices soared on Monday, as the 40-year-rule of Col. Muammar Qaddafi appeared to teeter amid reports that senior officials had resigned and troops loyal to the Libyan strongman were retreating from Tripoli. West Texas Intermediate oil futures shot up 4.35% to $89.95 a barrel and Brent crude oil futures surged 2.4% to $105 a barrel. Gold prices jumped 1.38% to $1,407 an ounce."
http://citywire.co.uk/new-model-adviser/oil-and-gold-soar-as-libya-regime-said-to-teeter/a473291
Prophecy Sign: Psalm 83 & Ezekiel 38, and Matthew 24:7 rumors of war: "CAIRO (AP) - Suez Canal officials say two Iranian naval vessels have entered the strategic waterway en route for the Mediterranean Sea. Canal officials say the ships - a frigate and a supply vessel - entered the canal early Tuesday morning and are expected to reach the Mediterranean later in the day. The officials spoke on condition of anonymity because they aren't authorized to speak publicly about the matter. This marks the first time in three decades that Iranian military ships have traveled the waterway that links the Red Sea to the Mediterranean. Israel has made clear it views the passage as a provocation. Iranian officials say the ships are headed to Syria for a training mission. Damascus is close ally of Iran's hardline Islamic rulers and an arch foe of Israel."
http://apnews.myway.com/article/20110222/D9LHMO000.html
Prophecy Sign: Genesis 12:3 is the curse on anyone who comes against Israel.  "An earthquake measuring 5.9 on the Richter scale shook up residents at the entrance to the Suez Canal early Monday morning, 48 hours before two Iranian ships, a frigate and a supply vessel, are expected to enter the canal. The National Institute for Astronomical and Geophysical Research reported that tremors from the 3 a.m. quake lasted for 27 minutes, but caused no damage."
http://www.israelnationalnews.com/News/News.aspx/142433
Prophecy Sign: Footsteps to the Psalm 83 and Ezekiel 38 wars.
Prophecy Sign: Matthew 24:12 Christian persecution: JERUSALEM – In what Egypt's Christians fear may be a sign of things to come, a senior Islamic cleric asked Christians to bow in Muslim prayer in an act of submission to Allah.
On Friday, famed Egyptian theologian Yusuf al-Qaradawi, a spiritual leader to the Muslim Brotherhood who hosts a popular Islam-themed television show on Al Jazeera, led the Islamic prayer services in Cairo's Tahrir Square, the epicenter of Egypt's uprising.
While he repeatedly offered nods to Egypt's Coptic Christians, unmentioned in most news media accounts of the ceremony was that Qaradawi asked all in attendance, specifically singling out Christians, to bow in Islamic prayer.
A Coptic Christian at the event told WND the request was intimidating.
"Whether he meant to or not, this was asking Christian to bow in an act of submission to Islam and Allah," said the Christian, who asked that he named be withheld.
"There were maybe 250,000 people at the rally. Almost all were Muslims. So when we (Christians) are asked to bow, and we are in the extreme minority in the crowd, it is intimidating."
The Christian witness said thousands of Christians in attendance at the rally did not bow
Christians asked to bow in submission to Allah http://www.wnd.com/?pageId=266385#ixzz1Ei5rfNjt
id=CNG.5fdb0474203a09dd94ded57938927d0c.4e1&show_article=1
Prophecy Sign: Zechariah 12:3 Here we are told all nations will come against Israel in the last days. "Opposition Leader Tzipi Livni (Kadima) said regarding the UN Security Council vote on settlements in the West Bank that "Israel is now in political collapse." She said that we saw "14 Security Council members and one American veto, and this barely embarrasses US."  "We now find that Germany, Britain and France - all friends of Israel who want to help it defend itself - voted against the positions of Israel, and the US is being pushed into a corner and finds itself with Israel against the world," Livni said."
http://www.jpost.com/Headlines/Article.aspx?id=209012
Here is another report showing you Israel is being left alone just as Zech. 12:3 warns us.  I quote, "Israel can no longer rely on the White House and must trust only itself due to a lack of leadership on the part of President Obama, declared a Knesset member from Prime Minister Benjamin Netanyahu's ruling Likud party.
"We have to understand that if, God forbid, we will be in the case of trouble, we can trust only ourselves because we see a lack of leadership coming from the U.S. today," said Likud Knesset Member Danny Danon.
"And we should be worried about it, because we always think, well, we have a friend in the White House, we can call them when we are in need, and we see that is not the case," said Danon, the deputy speaker of Israel's parliament.
Danon was speaking in an interview with reporter Aaron Klein in the latter's investigative program on New York's WABC Radio.
The Israeli politician took the occasion to slam Obama's treatment of Egyptian President Hosni Mubarak."
Israel: White House not reliable http://www.wnd.com/?pageId=266249#ixzz1EjBI6MKl
Prophecy Sign: "(Reuters) - Libya's Muammar Gaddafi used tanks, helicopters and warplanes to fight a growing revolt, witnesses said on Tuesday, as the veteran leader scoffed at reports he was fleeing after four decades in power. The U.N. refugee agency urged to Libya's neighbors not to turn back those fleeing the violence, as hundreds of refugees streamed into Egypton tractors and trucks, describing a wave of killing and banditry unleashed by the revolt."
 http://www.reuters.com/article/2011/02/22/us-libya-protests-idUSTRE71G0A620110222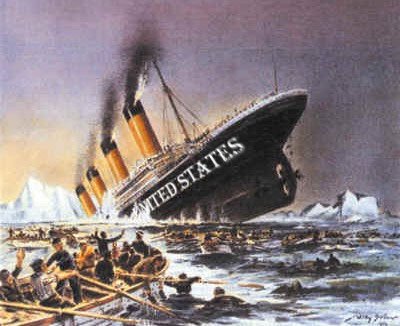 Prophecy Sign: America not in any prophecy showing she will be a world empire or any kind of power in the last days.
AMERICA'S ECONOMIC COLLAPSE;
A nation that consumes far more than it produces is not going to be wealthy for long.
The following are 21 signs that the once great U.S. economy is being gutted,  neutered, defanged, declawed and de-industrialized....

#1 The U.S. trade deficit with the rest of the world rose to 497.8 billion dollars in 2010.  That represented a 32.8% increase from 2009.

#2 The U.S. trade deficit with China rose to an all-time record of 273.1 billion dollars in 2010.  This is the largest trade deficit that one nation has had with another nation in the history of the world.

#3 The U.S. trade deficit with China in 2010 was 27 times larger than it was back in 1990.

#4 In the years since 1975, the United States had run a total trade deficit of 7.5 trillion dollars with the rest of the world.

#5 The United States spends more than 4 dollars on goods and services from China for every one dollar that China spends on goods and services from the United States.

#6 In 1959, manufacturing represented 28 percent of all U.S. economic output.  In 2008, it represented only 11.5 percent and it continues to fall.

#7 The number of net jobs gained by the U.S. economy during this past decade was smaller than during any other decade since World War 2.

#8 The Bureau of Labor Statistics originally predicted that the U.S. economy would create approximately 22 million jobs during the decade of the 2000s, but it turns out that the U.S. economy only produced about 7 million jobs during that time period.

#9 Japan now manufactures about 5 million more automobiles than the United States does.

#10 China has now become the world's largest exporter of high technology products.
#11 Manufacturing employment in the U.S. computer industry is actually lower in 2010 than it was in 1975.

#12 The United States now has 10 percent fewer "middle class jobs" than it did just ten years ago.

#13 According to Tax Notes, between 1999 and 2008 employment at the foreign affiliates of U.S. parent companies increased an astounding 30 percent to 10.1 million. During that exact same time period, U.S. employment at American multinational corporations declined 8 percent to 21.1 million.

#14 Back in 1970, 25 percent of all jobs in the United States were manufacturing jobs. Today, only 9 percent of the jobs in the United States are manufacturing jobs.

#15 Back in 1998, the United States had 25 percent of the world's high-tech export market and China had just 10 percent. Ten years later, the United States had less than 15 percent and China's share had soared to 20 percent.

#16 The number of Americans that have become so discouraged that they have given up searching for work completely now stands at an all-time high.

#17 Half of all American workers now earn $505 or less per week.

#18 The United States has lost a staggering 32 percent of its manufacturing jobs since the year 2000.

#19 Since 2001, over 42,000 U.S. factories have closed down for good.
#20 In 2008, 1.2 billion cellphones were sold worldwide.  So how many of them were manufactured inside the United States?  Zero.

#21 Ten years ago, the "employment rate" in the United States was about 64%.  Since then it has been constantly declining and now the "employment rate" in the United States is only about 58%.  So where did all of those jobs go?
"Tens of thousands of Illinois residents are expected to be affected when drug and alcohol treatment and prevention centres across the state have their budgets cut from March 15. The harsh budget cuts, proposed by Illinois governor Pat Quinn, who is a Democrat, will mean that from next month, all state funding will be cut. After that date, only federal (national) Medicaid dollars will be available to fund the state's drug and alcohol treatment and prevention programmes, which means that some centres are facing closure."
http://www.dailymail.co.uk/news/article-1359098/Tens-thousands-hit-Illinois-cuts-funding-drug-treatment-programmes.html#ixzz1Ei2uqhbl
CHICAGO (Reuters) - Wal-Mart Stores Inc's attempts to fix sales at its U.S. discount stores are taking longer than expected as the world's largest retailer loses shoppers to lower-priced dollar stores.
The retailer reported its seventh straight quarterly decline in sales at U.S. stores open at least a year, posting a 1.8 percent drop that was much bigger than the company's worst expectations.
Wal-Mart shares fell more than 3 percent, despite reporting earnings that beat analysts expectations. U.S. sales are also still being hurt by a poorly executed decision, since reversed, to pare down the number of items Wal-Mart offers.
Dollar Stores such as Family Dollar Stores Inc and Dollar General Corp have gained appeal with shoppers on tight budgets by offering lower price points -- albeit for smaller quantities -- on goods such as detergent, especially as those shoppers run out of money at the end of the month.
http://finance.yahoo.com/news/WalMarts-US-sales-woes-rb-1909513686.html?x=0&.v=5
"State education officials have ordered Robert Bobb to immediately implement a financial restructuring plan that balances the district's books by closing half of its schools, swelling high school class sizes to 60 students and consolidating operations.
This week, Bobb, the district's emergency financial manager, said he is meeting with Detroit city officials and will set up a meeting with Wayne County Regional Educational Service Agency to discuss consolidation opportunities in areas such as finance, public safety, transportation and other areas.
Bobb also is preparing a list of recommended school closures and Friday said layoff discussions are under way and would be announced closer to April, when notices would be issued. "We are moving forward with the plan," he said "Right now my focus is on my transition plan and the DEP (deficit elimination plan)."
http://detnews.com/article/20110221/SCHOOLS/102210355/Michigan-orders-DPS-to-make-huge-cuts#ixzz1Ei49cWor
"WASHINGTON (AP) -- Home prices in a majority of major U.S. cities tracked by a private trade group have fallen to their lowest levels since the housing bubble burst, and analysts expect further declines this year.
The Standard & Poor's/Case-Shiller 20-city home price index fell 1 percent in December from November. Prices fell in all but one of the metropolitan markets tracked."
http://finance.yahoo.com/news/Home-prices-hit-postbust-lows-apf-3408768237.html?x=0&sec=topStories&pos=main&asset=&ccode=
Another rumor of war! "Tehran could activate Hezbollah forces to attack Israel along the northern border in an effort to stave off domestic pressures within Iran, according to assessments in the IDF's Northern Command. The concern within the army is that if the regime in Tehran feels under pressure due to anti-government demonstrations it will try to initiate an attack on an Israeli target – either overseas or near the border – to divert attention from its own troubles".
http://www.jpost.com/Defense/Article.aspx?id=209123
 I will be interviewing Dean Braxdon on my radio show this Thursday.  You will find this interview very interesting as Dean will share with you what happen to him while he was dead for over an hour.  This story is backed up my medical records.