Do you think God is showing signs that the Psalm 83 war will be fought soon?  Do you know why Syria and Iraq are now forming a new friendship? Will the UN vote on a Palestine State bring on war this September?  Did you know that the sun's intense heat is breaking new recording?  Can you tell if Gold and Silver prices will keep skyrocketing or decline?  Why is America not given one sentence as a world power in the last days?  Why are many US States talking about printing up their own currency?  Why did Guacalito River in Costa Rica disappear?  What disease has hit again? Is Jesus asking you if you are saved?  Are there signs that Japan is cursed?
Download Last Chronicles of Planet Earth July 7, 2011 Edition by Frank DiMora (FREE) 
Prophecy Sign:  The Making of the Psalm 83 war.
Headline:

June 29, 2011

"UN vote on Palestine will lead to war"
"The result of the Palestinian Authority's bid to win international recognition for a Palestinian state at the UN in September is likely to be war with Israel. That according to a survey of Palestinian Arabs conducted by the Palestinian Center for Policy and Opinion this week. While most Palestinians do not believe the motion on an independent Palestinian state will pass in both the General Assembly and the Security Council, if it does, they have very specific and violent ideas about what should happen next. If the UN recognizes Palestine, 76 percent of Palestinian Arabs said their security forces must immediately exert control over all of Judea, Samaria and the eastern half of Jerusalem, even at the risk of open warfare with the Israeli army. They also want Palestinian forces to seize control of the Allenby Bridge crossing into neighboring Jordan."
http://www.israeltoday.co.il/tabid/178/nid/22846/language/en-US/Default.aspx
Headline July 14, 2011: "Israelis: The next intifada will be this year"
"A 52 percent majority of Israelis believes the next Palestinian intifada (terrorist uprising) will erupt in September, or shortly thereafter. That catalyst for this new orgy of violence will be the unilateral Palestinian statehood bid at the UN. Israelis polled by the Dahaf Institute said they believe the Palestinians will launch a fresh intifada regardless of the outcome of the UN bid, which is expected to be vetoed in the Security Council by the US, but pass as a non-binding resolution in the General Assembly. In fact, the Palestinians are saying the same thing. A poll conducted last month by the Palestinian Center for Policy and Opinion found that 76 percent of Palestinians feel the next step after winning a General Assembly vote on statehood will be to go to war against Israel.
 http://www.israeltoday.co.il/tabid/178/nid/22869/language/en-US/Default.aspx?KeepThis=true#.Th91gA5_y9Y.email
Prophecy Sign: Both Syria and Iraq will take part in the coming Psalm 83 war. # 10 in the above photo:  Assyria are today's Syrian's and No. Iraqi's.
I pray to the Lord that you don't think that this new friendship between Syria and Iraq is a coincidence?  Just as all the nations are lining up to fulfilled the Ezekiel 38 war so are all the nations who will be part of this Psalm 83 war.
The popular uprising that threatens to depose President Bashar Al Assad and his Baath party from power in Syria has reshaped relations with the neighboring Iraq, also formerly ruled by the Baath party. Iraq has now become Syria's only open door to the world after the closure of the border with Jordan and the deployment of troops along the borders with Lebanon and Turkey. Prior to the uprising in Syria, relations between the two neighbors were strained by Damascus's decision to host remnants of Iraq's Baath party who fled Baghdad after the fall of Saddam Hussein's regime. Besides, Syria was repeatedly accused by many Iraqis of turning a blind eye on the movement of Islamist extremists, including Al Qaeda members, into Iraq to carry out terrorist attacks. But feeling increasingly isolated, Syria is seeking better relations with Iraq today. Officials from both countries have exchanged visits and there have been reports of increased secret contacts between them. Iraqi political analyst Ibrahim Al Samidei said the Iraq government was now capable to curtail Syria's influence in Iraq's political and security affairs. Ahmed Al Abyad, of the Iraqi telecommunication agency, said many Baath party members now in Syria are wanted in Iraq in cases of terrorism and it is time Damascus hands them."
Here is the bottom line to all this news.  Whether President Bashar Al Assad stays in power in Syria, or the movement of Islamist extremists such as the Muslim Brotherhood takes power, Syria will attack Israel in the near future just as warned in Psalm 83. 
http://english.alarabiya.net/articles/2011/07/14/157689.html?PHPSESSID=iespnf2emi3vv9tvuv8edkgb01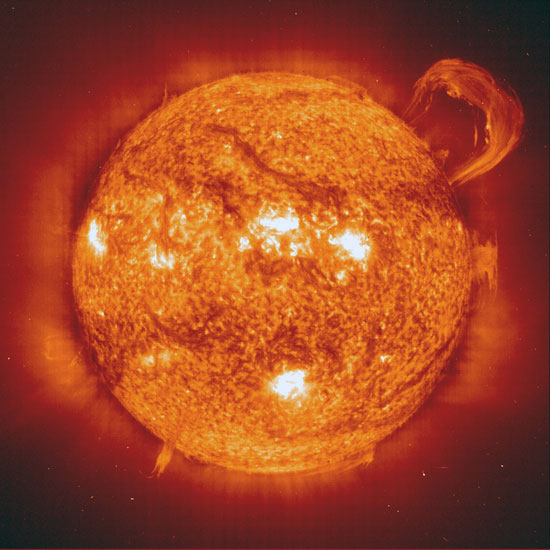 Prophecy Sign:  Revelation 16:8 "The fourth angel poured out his bowl on the sun, and the sun was given power to scorch people with fire." Revelation 7: 16 "Never again will they hunger; never again will they thirst. The sun will not beat upon them, nor any scorching heat."
Mark 13:8 "Nation will rise against nation, and kingdom against kingdom. There will be earthquakes in various places, and famines. These are the beginning of birth pains."
Revelation 6:6 "And I heard a voice in the midst of the four beasts say, A measure of wheat for a penny, and three measures of barley for a penny; and see thou hurt not the oil and the wine."
 The combined global land and ocean average surface temperature for June 2011 was the seventh warmest on record at 16.54°C (60.94°F), which is 0.58°C (1.04°F) above the 20th century average of 15.5°C (59.9°F).
June 2011 was the 316th consecutive month with a global temperature above the 20th century average. The last month with below-average temperature was February 1985.

The June worldwide average land surface temperature was 0.89°C (1.60°F) above the 20th century average of 13.3°C (55.9°F)—the fourth warmest on record.

The global average ocean surface temperature was the 10th warmest June on record, at 0.47°C (0.85°F) above average. Neither El Niño nor La Niña conditions were present during June 2011. According to

NOAA's Climate Prediction Center

, these ENSO-neutral conditions are expected to continue into the Northern Hemisphere fall 2011.

The first half of 2011 (January–June) was the 11th warmest on record for the combined global land and ocean surface temperature. Separately, the worldwide average ocean temperature was also the 11th warmest January–June and the worldwide average land temperature was the 12th warmest such period.
 "Warmer-than-average conditions dominated the globe during June 2011, with the most prominent warmth present across most of Russia, Europe, and China, the Middle East, eastern Canada, Mexico, and the southern United States. Cooler-than-average regions included the northern and western United States, part of western Canada, and most of Australia. The monthly average world land surface temperature anomaly of 0.89°C (1.60°F) was the fourth warmest June on record.
According to the China Meteorological Administration, June 2011 was the second warmest June for the country since records began in 1951. The temperature was 1.0°C (1.8°F) above the average of 19.5°C (67.1°F). The northwestern province of Gansu had its warmest June on record."
http://www.ncdc.noaa.gov/sotc/global/
"The unrelenting Texas drought has produced a cruelly ironic twist: cattle dying from too much water. Agriculture officials in parched Texas said Wednesday there are no hard numbers on how many head of cattle have died but reports of deaths from too much water or too little are showing up across the nation's leading cattle production state. "They over drink because they're thirsty," said Dr. Robert Sprowls of the Texas Veterinary Medical Diagnostic Laboratory in Amarillo. "Once they fill up on water it happens pretty quickly."  Producers are losing cattle after moving them from withered pastures where water tanks have dried up. Once in new pastures, cattle that die take in too much water too quickly. The animals die within minutes and their carcasses are found near the stock tanks from which they were drinking, Ted McCollum, a beef cattle specialist with Texas AgriLife Extension Service in Amarillo, said. Texas is coming off its driest nine-month period ever and its hottest June on record. More than 90 percent of the state is in the two most severe drought stages. The cattle deaths are occurring earlier, in part because of lack of forage growth in pastures.
"We are seeing more incidents of heat stress in cattle," he said. "More incidents of death and problems with health."  As with humans, water intoxication can occur when there's too much water in the body, which disrupts electrolyte balance in cells. Death can occur.
Typically an average cow grazing green forage consumes as much as 8.4 gallons of water a day from it. This year, because drought precluded forage growth and there's been a relatively low intake of dry forage, daily water consumption is around 0.6 gallons. That's why stock tanks are so important, especially with this drought's searing temperatures."
http://www.msnbc.msn.com/id/43747000/ns/us_news-environment/
" 'Massive heat wave' on way; Oklahomans urged to pray" .
"While much of the U.S. was cooler Thursday ahead of another heat wave, temperatures were still around triple digits in Oklahoma and Texas — where ways to beat the heat included dumping 2,400 pounds of ice into a pool with hundreds of people. "The stage is being set for a massive heat wave to develop into next week as a large area of high pressure is anticipated to circulate hot and humid air over much of the central and eastern U.S.," the National Weather Service warned. "Maximum heat index values of at least 100°F are likely across much of this area by the middle of next week, with heat index values in excess of 110°F possible over portions of these areas."  "The big story for the coming weekend will be the building heat," added Jim Keeney, a National Weather Service meteorologist. "It looks like it's going to be a long-term heat wave." In the thick of the heat wave is Oklahoma where Gov. Mary Fallin asked Oklahomans to pray for rain this Sunday. "The power of prayer is a wonderful thing, and I would ask every Oklahoman to look to a greater power this weekend and ask for rain," Fallin said in a news release on Thursday."
http://www.msnbc.msn.com/id/43755391/ns/weather/
Prophecy Sign: Matthew 24:7 we are told to watch for many earthquakes.
"Following a series of moderate earthquakes that struck the country Tuesday, residents around the Guacalito River in Costa Rica discovered that the river had disappeared. Earthquake-report.com reported that sometime after the earthquakes, villagers living near the river, which is located near Armenia de Upala, discovered that the river was dry.
It was not immediately known if the waters of the river had disappeared due to sinkhole activity that can occur after earthquakes or if the earth shaking caused damming that dried up the river near the Miravalles volcano. The quakes were centered near the Nicaragua and Costa Rica border in the same vicinity as the Miravalles volcano.
An entire body of water disappears? Strange but true, and this isn't the first time this odd event has happened.
In 2010, the Iska River in Slovenia disappeared after local residents heard loud crashing and banging overnight. The next morning, the river was dry and the riverbed was full of fish and other creatures. It was believed that the waters of the river had drained through a large crack into an underground riverbed. This disappearance was not believed to have been related to an earthquake.
Most recently -- aside from the disappearing river in Costa Rica -- an entire reservoir in Huntsbury, New Zealand, that was filled with 36 million liters of water disappeared following a 6.3 magnitude earthquake. The reservoir water disappeared after the earthquake struck Christchurch Feb. 22.
http://news.yahoo.com/earthquake-causes-river-disappear-costa-rica-200100966.html
On September 28, 2010 this is what I warned you. Prophecy Sign: How many times have I written to you about food prices and gold and silver prices sky rocking? I have tried my best to show you that during the tribulation these prices would reach their max.  I pointed out to you in Revelation 18:12 that Jesus shows us the prices of gold and silver would also skyrocket.
Keeping more in step with what we see from Revelation chapter 18 I would count on what the other experts are saying about the price of gold. I quote, "While gold is nearing $1,300/oz, 96 analysts think it will reach at least $2,500/oz in not too distant future, 55 of them even predict gold price of over $5,000/oz"
 July 14, 2011: Gold surged to an all-time high of $1,594 an ounce in London, lifting silver to $39 in its train.
July 15, 2011: "On one side of the Atlantic, the eurozone debt crisis has spread to the countries that may be too big to save - Spain and Italy - though RBS thinks a €3.5 trillion rescue fund would ensure survival of Europe's currency union. On the other side, the recovery has sputtered out and the printing presses are being oiled again. Brinkmanship between the Congress and the White House over the US debt ceiling has compelled Moody's to warn of a "very small but rising risk" that the world's paramount power may default within two weeks. "The unthinkable is now thinkable," said Ross Norman, director of thebulliondesk.com. Fed chair Ben Bernanke confessed to Congress that growth has failed to gain traction. "Deflationary risks might re-emerge, implying a need for additional policy support," he said."
"The bar to QE3 - yet more bond purchases - is even lower than markets had thought. The new intake of hard-money men on the voting committee has not shifted Fed thinking, despite global anger at dollar debasement under QE2. Fuelling the blaze, the emerging powers of Asia are almost all running uber-loose monetary policies. Most have negative real interest rates that push citizens out of bank accounts and into gold, or property. China is an arch-inflater. Prices are rising at 6.4pc, yet the one-year deposit rate is just 3.5pc. India's central bank is far behind the curve. "It is very scary: the flight to gold is accelerating at a faster and faster speed," said Peter Hambro, chairman of Britain's biggest pure gold listing Petropavlovsk. "One of the big US banks texted me today to say that if QE3 actually happens, we could see gold at $5,000 and silver at $1,000. I feel terribly sorry for anybody on fixed incomes tied to a fiat currency because they are not going to be able to buy things with that paper money." emerge, implying a need for additional policy support," he said."
"China is coy, revealing purchases with a long delay. It has admitted to doubling its gold reserves to 1,054 tonnes or $54bn. This is just a tiny sliver of its $3.2 trillion reserves. China's Chamber of Commerce said this should be raised eightfold to 8,000 tonnes.
Xia Bin, an adviser to China's central bank, said in June that the country's reserve strategy needs an "urgent" overhaul. Instead of buying paper IOU's from a prostrate West, China should invest in strategic assets and accumulate gold by "buying the dips".
Step by step, the world is edging towards a revived Gold Standard as it becomes clearer that Japan and the West have reached debt saturation. World Bank chief Robert Zoellick said it was time to "consider employing gold as an international reference point." The Swiss parliament is to hold hearings on a parallel "Gold Franc". Utah has recognised gold as legal tender for tax payments."
http://www.telegraph.co.uk/finance/comment/ambroseevans_pritchard/8638644/Return-of-the-Gold-Standard-as-world-order-unravels.html
https://www.goldinmind.com/gold-updates-news/gold-price-forecasts/industry-experts-and-analysts/2010-09-22-extensive-summary-of-96-analysts-gold-price-forecasts.html
http://frankdimora.typepad.com/the_last_chronicles/2010/09/increased-in-knowledge-and-gold-america-in-need-of-prayersept28-2010.html
Prophecy Sign: Daniel chapters 2 and 7 address who the last world empire will be at the time Jesus returns to take His seat as King of Kings in Jerusalem. America is not given on sentence and we in this generation can see why Daniel wasn't told anything about the USA.
"Bob Marshall admits he's obsessed watching the U.S. dollar's value diminish. "It's everything," he said, as he walked outside the Manassas Virginia train station. "It's all I think about. It's all anyone should be thinking about." Marshall, who is a Virginia State Representative, says it's time for something radical. "I want to see the states step in," he said. "It's time. Past time."  Marshall wants the state of Virginia to have its own currency to create what he calls "competition with the U.S. dollar." He also says it will protect Virginia if the dollar falls even further. 
"Our role as state legislators," he explained as an Amtrak train rolled through the station, "is to protect the people, and the federal government is not doing its job." He points out the dollar's value has fallen nearly 40 percent since 2001, and he says with a record debt and deficit it's, only going to get worse.  "What I hope to accomplish," he said, "is to put the brakes on this train that is running away down the tracks." "I don't see any brakes applied in Washington the only ones that can do it are the states."  Marshal isn't alone. Fifteen other states, (Wash., Idaho, Mont., Utah, Colo., Okla., Mo., Ind., Tenn., Ga., S.C., N.C.,Vt., Iowa, N.H.) are currently or have recently considered proposals for creating alternative currencies." 
http://www.foxnews.com/us/2011/07/14/taking-liberties-legislator-proposes-alternative-currency-in-response-to/?test=latestnews 
Prophecy Sign: In part of Luke 21:11 we see the sign of diseases as one of many of the last days signs.   
"LAS VEG"AS –  The Aria Resort & Casino on the Las Vegas Strip is warning guests who stayed during a two week window that they may have been exposed to high levels of the bacteria that causes Legionnaires' disease. Spokeswoman Stephanie Bethel of the Southern Nevada Health District said Thursday that six cases of the sometimes-deadly form of pneumonia have been reported among Aria guests by the Centers for Disease Control and Prevention."
 http://www.foxnews.com/health/2011/07/15/legionnaires-cases-reported-by-guests-at-las-vegas-hotel/#ixzz1SCcQjQUk
Prophecy Sign: Luke 21:25 Christ warns us to watch for the roaring of the seas and waves. God's curse comes against those who come against Israel. You find this curse in Genesis 12:3, Joel 3:2, and Zechariah 12:3.
"Ever since Japan announced they are going to give 3.1 million dollars to help the PLO, which is Israel's enemy Japan has been hit by one natural disaster after another. By the way, exactly one year ago on March 11, 2010 Japan's Press Secretary/Director-General for Press and Public Relations announced Japan's Government deplores the decisions of the Government of Israel to give permission for construction of 1,600 housing units in East Jerusalem. On this same day Japan also stated the final status of Jerusalem would be the territories in the pre-1967 borders. One year later on March 11, 2011 a 9.0 quake destroyed much of Japan. After the quake we saw the Japan's nuclear plants melt down and while Japan is still in the heart of this last disaster they are about to get hit again.
"Typhoon Ma-on is forecast to strike Japan at about 20:00 GMT on 19 July. Data supplied by the US Navy and Air Force Joint Typhoon Warning Center suggest that the point of landfall will benear32.5 N,133.0 E.Ma-on is expected to bring 1-minute maximum sustained winds to the region of around203 km/h (126 mph).Wind gusts in the area maybe considerably higher.
According to the Saffir-Simpson damage scale the potential property damage and flooding from a storm of Ma-on's strength (category 3)at landfall includes:
Storm surge generally 2.7-3.7 metres (9-12 feet) above normal. Some structural damage to small residences and utility buildings with a minor amount of curtain wall failures. Damage to shrubbery and trees with foliage blown off trees and large trees blown down. Mobile homes and poorly constructed signs are destroyed. Low-lying escape routes are cut by rising water 3-5 hours before arrival of the centre of the storm. Flooding near the coast destroys smaller structures with larger structures damaged by battering from floating debris. Terrain continuously lower than 1.5 metres (5 feet) above mean sea level may be flooded inland 13 km (8 miles) or more. Evacuation of low-lying residences within several blocks of the shoreline may be required. There is also the potential for flooding further inland due to heavy rain."
http://www.trust.org/alertnet/news/typhoon-ma-on-is-forecast-to-strike-japan-at-about-2000-gmt-on-19-july
Ministry info:
"The Last Chronicles of Planet Earth" July 7, 2011 Edition is now ready for you to download for free. Please note, the download may take some time to download but it will come up. The speed will depend on your computer.
Download Last Chronicles of Planet Earth July 7, 2011 Edition by Frank DiMora
Are you really searching to know the truth?
Disclaimer: Since the facts and evidence on my posts and in my book are real as they are taken from news around the world, and this news proves Bible prophecy is actually coming to pass in our generation, the information you read or see may scare you. If you are depressed or on any meds for depression, or have any type of mental disease consult your doctor before reading this material.
View my International radio/video show on The Edge by clicking to link below. Last show was July 14, 2011
http://www.theedgeam.com/perspectives/last_chronicles/index.htm
If you would like me to come to your Church to give a prophecy seminar you can contact me either by writing to my P.O Box, or email me at fjdimora@gmail.com. There is no charge for my labor of love in Christ.
Frank DiMora, P.O. Box 732, Lompoc Ca. 93438
To get to the prayer requests and prayer up-dates click to the following link below:
http://frankdimora.typepad.com/the_last_chronicles/2011/01/nancy-marcinik-has-joined-our-prayer-team-as-of-aug-12-2010-our-prayers-are-being-answered-please-read-the-updates-if-yo.html
All of my radio/video shows can be seen at The Edge. Just click to link below.