Why is drug use up? Have you noticed the number of news reports dealing with the intense heat, the droughts, a starvation lately?  Why all the flash floods lately? Do you believe the Ex-CIA officers warning that war between Israel and Iran will take place this September?  Why won't the PLO stop launching rockets into Israel?  Can you tell what is the real reason why the flotilla is heading for the Gaza?  What is behind Syria's recent announcement they have recognized the PLO State?  Do you think even bigger earthquakes are coming?  Why do you think you still doubt what Jesus has warned us?                            
Download Last Chronicles of Planet Earth July 7, 2011 Edition by Frank DiMora  (FREE)
Prophecy Sign: Can you tell me what prophecy sign is connected with this news? "FRESNO, Calif. -- Mexico's heroin industry has had a bullish few years thanks, in part, to the drug's emergence as a popular choice of teenagers. Mexican traffickers have expanded from hubs in California and Texas into the Midwest and the Atlantic Seaboard, narcotics experts say. And more heroin is coming into California from Mexico this year, say law enforcement officials, who already have confiscated more of the drug in six months than they did in all of 2010. One traffic stop in Fresno County alone yielded 24 pounds of black tar heroin, the single-largest heroin bust in the Valley in years. Mexican traffickers have revamped heroin's image from the inner-city drug of yore, with its junkies and needles, into a narcotic that can be snorted or smoked, appealing to high school youths."
The words "magic arts" in Revelation 9:21 is the Greek word pharmakia from which comes our word "pharmacy". It signifies the use of medicine, drugs, spells, such as those used in witchcraft and those used today by those who are seeking a greater "high". Here Jesus shows us that our generation would be known as the drug generation. 
http://www.mcclatchydc.com/2011/07/16/117732/mexican-heroin-use-on-upswing.html

Prophecy Sign: Jesus in Luke 21:25 warned us about the storms that would come during the last days. He points out the roaring of the seas and waves. As of late we are witnessing many flash floods around the world, here are a few reports on these floods.
Flash floods create havoc in Perth
http://www.bbc.co.uk/news/uk-scotland-tayside-central-14174637
 Dozens of cars totaled after flash flood
http://www.kare11.com/news/article/930503/396/Dozens-of-cars-totalled-after-flash-flood
1 missing in CDO flashflood
http://www.philstar.com/Article.aspx?articleId=707423&publicationSubCategoryId=200
"The midnight storm generated four- to six-foot waves and "WingNuts," a boat registered out of Saginaw, Michigan, capsized and issued a distress signal. The crew from the boat "Sociable" radioed authorities and pulled six people from the temperate lake waters, Coast Guard Petty Officer Lauren Jorgensen said. Two Coast Guard vessels and a helicopter found WingNuts overturned 13 miles northwest of Charlevoix, Michigan, and the bodies of the two sailors were discovered close by."
http://www.reuters.com/article/2011/07/18/us-sailboat-capsize-
Prophecy Sign: Mark 13: 8 "For nation shall rise against nation, and kingdom against kingdom: and there shall be earthquakes in divers places, and there shall be famines and troubles: these are the beginnings of sorrows."
Rev. 16:8-11"And the fourth angel poured out his vial upon the sun; and power was given unto him to scorch men with fire. And men were scorched with great heat, and blasphemed the name of God, which hath power over these plagues: and they repented not to give him glory. And the fifth angel poured out his vial upon the seat of the beast; and his kingdom was full of darkness; and they gnawed their tongues for pain, And blasphemed the God of heaven because of their pains and their sores, and repented not of their deeds."
Revelation 7:15-16 "Therefore are they before the throne of God, and serve him day and night in his temple: and he that sitteth on the throne shall dwell among them. 16They shall hunger no more, neither thirst any more; neither shall the sun light on them, nor any heat." 
"An oppressive and potentially deadly summertime mix of sizzling temperatures and high humidity baked a large swath of the country again on Sunday, pushing afternoon heat indexes in dozens of cities to dangerous levels. Forecasters warned the heatwave would persist through much of the coming week and cautioned residents in more than three dozen states to take extra precautions. The National Weather Service posted excessive heat warnings for much of the country's midsection, including Illinois, Wisconsin, Minnesota, Iowa, Missouri, Kansas, Nebraska, Oklahoma, as well as South and North Dakota, where forecasters predicted heat indexes could hit 115 degrees."
http://www.msnbc.msn.com/id/43785176/ns/weather/t/worst-heatwave-years-grips-midwest/
http://abcnews.go.com/US/heat-index-rises-hot-weather-hits-midwest-south/story?id=14092045
Visit msnbc.com for breaking news, world news, and news about the economy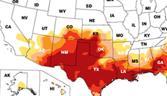 "The Lone Star state is at the epicentre of a once-in-a-generation drought stretching from Arizona to Florida. The US's southern underbelly is scorched like meat on a grill. The drought has spawned wildfires, turning grasslands to ash. In Texas, the leading cotton producer in the US, 59 per cent of the cotton crop is in poor condition or worse. Harvests of hard winter wheat, prized for yeasted breads, have plummeted in Kansas, Oklahoma and Texas as yields and acreage contracted. Ranchers cannot feed their cattle on parched pastures."
http://www.ft.com/cms/s/0/dc615ace-b056-11e0-a5a7-00144feab49a.html#axzz1STOB32sx
"The United Nations has begun efforts to airlift supplies to refugee camps and areas in need of help during the worst drought in 60 years in the Horn of Africa, while pressure is mounting on major African countries to act.  The United Nations Children's Fund has airlifted emergency nutritional supplies and water-related equipment to Baidoa in southern Somalia, the group said in a statement. It is in the south of the country that 80% of Somalia's malnourished children are located.  A series of emergency airlift flights also arrived in Kenya Sunday, bringing tent material for the Dadaab refugee camp at the Kenya-Somalia border where thousands of displaced Somalis have been arriving every day for weeks.  Refugee camps on the Somali border with Kenya and Ethiopia are suffering from "deplorable" conditions due to over-crowding a US official in the region confirmed." "Some 10 million people are affected across Somalia, Kenya, Ethiopia, Djibouti, Sudan, South Sudan and parts of Uganda, however, southern Somalia and northern Kenya are the worst-hit. The United Nations has announced that the World Food Program has received around 60% of the US $500 million it has appealed for to provide help to the 10 million people at risk of starvation and associated diseases."
http://story.arabherald.com/index.php/ct/9/cid/2411cd3571b4f088/id/812428/cs/1/ht/African%20nations%20urged%20to%20respond%20to%20drought%20crisis%20as%20UN%20begins%20airlifts/
Prophecy Sign: Matthew 24:7 the sign of war and rumors of war.   Ezekiel 38 war, Psalm 83 war.
"Robert Baer tell LA KPFK radio that strike on Tehran likely to happen before vote on Palestinian state, that PM wants US to be involved.  Israel will probably attack Iran in September, a former CIA officer who spent 21 years in the Middle East, including in Lebanon and Syria, has told a Los Angeles radio show. While Robert Baer didn't reveal the sources behind his prediction, he referred to former Mossad chief Meir Dagan's warnings of an Israeli attack as "no bluff." http://www.jpost.com/Defense/Article.aspx?id=229605
"GAZA - A French yacht carrying pro-Palestinian activists sailed for the Gaza Strip on Monday after other ships in a flotilla that had planned to challenge Israel's blockade were prevented from leaving Greece, organizers said. The 17-passenger "Dignite-Al Karama", having declared an Egyptian port as its official destination, left Greek waters on Sunday and was on course to reach the Palestinian enclave by Tuesday, according to a statement issued by French campaigners aligned with the umbrella Free Gaza Movement". http://www.jpost.com/International/Article.aspx?id=229875
Prophecy Sign: Isaiah  17: and Jeremiah 49:24-27"Syria announces recognition of "Palestine on 1967 lines and with e. J'lem as capital," according to SANA; PLO office to now be considered embassy."  
http://www.jpost.com/DiplomacyAndPolitics/Article.aspx?id=229906
"Violence between the Hamas-ruled Gaza Strip and Israel has been quietly ratcheting up over the past week. Some fear the current rumblings are a prelude to another explosion of violence, but others are less concerned. Israeli forces attacked and neutralized a terrorist cell along the southern portion of the Gaza security fence early Monday morning. Israeli intelligence had indicated that the cell planned to ambush Israeli soldiers patrolling on the Israeli side of the fence. That action came after Gaza-based Palestinian terrorists had fired no fewer than 20 rockets into southern Israel since last Sunday. Some Israelis fear the Palestinians could begin escalating the level of violence ahead of a Palestinian bid to [unilaterally declare statehood at the UN in September]."  http://www.israeltoday.co.il/NachrichtenHeute/tabid/178/nid/22874/language/en-US/Default.aspx
Prophecy Sign: Revelation 18:11-12"And the merchants of the earth shall weep and mourn over her; for no man buyeth their merchandise any more:  The merchandise of gold, and silver, and precious stones, and of pearls, and fine linen, and purple, and silk, and scarlet, and all thyine wood, and all manner vessels of ivory, and all manner vessels of most precious wood, and of brass, and iron, and marble,"
"Gold prices rallied to record highs above $1,600 an ounce in Europe on Monday, as investors spooked by the euro zone debt crisis and the threat of a U.S. default bought into the metal as a haven from risk." 
Silver today has risen $1.30 to bring it up to $40.37
http://www.cnbc.com/id/43788734http://www.local10.com/news/28583575/detail.html
Prophecy Sign: Daniel chapter 2 and chapter 7 point to the last world empire.
"European Banking Authority's (EBA) stress tests will have to raise just €2.5bn (£2.2bn) between them to meet their capital shortfall. City analysts and investors said the criteria used by the EBA were overly optimistic and failed to capture the severity of the current sovereign debt crisis sweeping across the eurozone. "If the European Union could monetize the value of the credibility it has destroyed it would be the richest organization on earth," said one major credit manager. The detail provided by the banks is far greater than in last year's stress tests and the fear now is that with so much information fund managers and bank analysts will be able to make their own judgments on how much extra capital will be required by the 90 banks covered by the tests."
http://www.telegraph.co.uk/finance/newsbysector/banksandfinance/8641514/European-stress-tests-banks-set-for-chaos-Monday-after-nine-fail.html
Prophecy Sign: II Timothy 3:1-4 "This know also, that in the last days perilous times shall come . 2 For men shall be lovers of their own selves, covetous, boasters, proud, blasphemers, disobedient to parents, unthankful, unholy, 3 Without natural affection, trucebreakers, false accusers, incontinent, fierce, despisers of those that are good, 4 Traitors, heady, highminded , lovers of pleasures more than lovers of God; 5 Having a form of godliness, but denying the power thereof: from such turn away .
"A Florida teenager is accused of killing his parents and then throwing a house party inside their Port St. Lucie home. Police said 17-year-old Tyler Hadley used a hammer to kill Blake and Mary-Jo Hadley on Saturday. Police went to the home at 371 Northeast Grandeur Ave. early Sunday morning after getting an anonymous tip that a teenager had murdered his parents and that their bodies were still in the home. Officers found the victim's bodies in the locked master bedroom and a weapon possibly used in the killings nearby. Detectives believe Hadley committed the murders and then tried to hide the bodies in the master bedroom. They said he concealed the bodies by putting towels, linens and even picture frames on them. About 40-60 people attended the party inside the home after the killings had been committed."
http://www.local10.com/news/28583575/detail.html
 Prophecy Sign: Matthew 24:7 is the sign of many earthquakes.
"CHRISTCHURCH, New Zealand (AP) — It's been 10 months since the first big earthquake struck New Zealand's second-largest city. It's been nearly five months since a far more devastating one killed 181 people and crippled the downtown. But it's been just a few hours since yet another aftershock startled Christchurch residents during the night. "I stop breathing," said Sheridan Cattermole, a bartender and a mom. "I get pins and needles all over. I either freeze or run. I just want things to be back to what they were like this time last year. I had my vege garden, and my sunflowers."  Seismologists have recorded 7,500 earthquakes in Christchurch since September — an average of more than 20 a day. The rumblings are rattling the psyche of the still-battered city. They have left the land under thousands of homes unsafe to build on. Some people have left town entirely. Yet many have proven resilient, and some now see a reconstruction boom on the horizon."
http://news.yahoo.com/7-500-earthquakes-hit-shattered-zealand-city-093614081.html
---
---
 Prophecy Sign: Better read Jesus warning again in Luke 21:11 where He tells all of us, in the last days there will be "great earthquakes". "There will be great earthquakes, famines and pestilences in various places, and fearful events and great signs from heaven."
"An Indonesian volcano erupted twice on Monday following its biggest eruption in weeks over the weekend, a government volcanologist said, forcing people to remain in safety shelters. "The two eruptions happened within ten minutes which sent a column of ash and smoke up to 600 meters into the air," government vulcanologist Freddy Korompis said from a monitoring post. The 1,580-meter-tall Mount Lokon experienced its biggest eruption on Sunday with huge clouds of ash propelled 3,500 meters into the sky. More than 5,200 people have been evacuated to temporary shelters since the volcano erupted on Thursday and its alert status was placed on the highest level."
http://www.thejakartaglobe.com/home/double-eruption-at-indonesia-volcano-volcanologist/453619
Ministry info:
"The Last Chronicles of Planet Earth" July 7, 2011 Edition is now ready for you to download for free. Please note, the download may take some time to download but it will come up. The speed will depend on your computer.
Download Last Chronicles of Planet Earth July 7, 2011 Edition by Frank DiMora
Are you really searching to know the truth?
Disclaimer: Since the facts and evidence on my posts and in my book are real as they are taken from news around the world, and this news proves Bible prophecy is actually coming to pass in our generation, the information you read or see may scare you. If you are depressed or on any meds for depression, or have any type of mental disease consult your doctor before reading this material.
If you would like me to come to your Church to give a prophecy seminar you can contact me either by writing to my P.O Box, or email me at fjdimora@gmail.com. There is no charge for my labor of love in Christ.
Frank DiMora, P.O. Box 732, Lompoc Ca. 93438
To get to the prayer requests and prayer up-dates click to the following link below:
http://frankdimora.typepad.com/the_last_chronicles/2011/01/nancy-marcinik-has-joined-our-prayer-team-as-of-aug-12-2010-our-prayers-are-being-answered-please-read-the-updates-if-yo.html
http://www.theedgeam.com/perspectives/last_chronicles/index.htm  July 12, 2011 show is now playing for you at the above link. All of my radio/video shows can be seen at The Edge, just click to link.
 What it will be like when the rapture hits.
Rapture of the Church in English: Download A THIEF IN THE NIGHT By Frank DiMora July 31, 2011