This is a special note to anyone who chooses to read my prophecy documentary. My book was written in the hope that those reading it will be driven to the Bible where they should have been in the first place. This book, or for that matter any other book, should never come or be placed above the Holy Bible. The Last Chronicles was written only to help you see how close we are to the second coming of Christ, and how important it is for you to begin studying the Bible in preparation to meet Jesus. Millions of people know nothing about the Bible or Bible prophecy and will not be ready to meet Christ. My book will help you see exactly what the Lord has shown us about these last days via His Word.
Download The Last Chronicles of Planet Earth February 3, 2012 Edition by Frank DiMora
Frank DiMora P.O. Box 732, Lompoc Ca. 93438
Prophecy Sign: Psalm 83 http://www.biblegateway.com/passage/?search=Psalm%2083&version=KJV
"Iran ready to wipe Israel off the map"
http://www.ynetnews.com/articles/0,7340,L-4194444,00.html
 By REUTERS/Raheb Homavandi
An Israeli military strike on Iran's nuclear facilities will result in "the collapse" of the Jewish state, Iranian state-run Press TV quoted Iranian Defense Minister Brig.-Gen. Ahmad Vahidi as saying on Saturday.
"The Zionist regime is on the verge of dissolution… a military attack by the Zionist regime will undoubtedly lead to the collapse of this regime," the Press TV website quoted Vahidi as saying
http://www.jpost.com/IranianThreat/News/Article.aspx?id=259334
Amos Gilad: Hezballahstan has 45,000 missiles
Amos Gilad Photo:
http://www.ynetnews.com/articles/0,7340,L-4194500,00.html
'March to Jerusalem' to Amass 1 Million Arabs to Border
http://www.israelnationalnews.com/News/News.aspx/153088#.T0iLnPGPWa9
Prophecy Sign: Matthew chapter 24, Mark chapter 13 and Luke chapter 21 you will find the warnings concerning diseases in the last days.  My book is loaded with this type of news but here is something new.
A multi-state outbreak of E. coli infections have been linked to raw clover sprouts at Jimmy John's restaurants, but the Conway location has reported that sprouts are currently unavailable.
http://thecabin.net/news/local/2012-02-16/e-coli-outbreak-sprouts-around-franchise#.Tz5gt_GPWa8
First case of Legionnaire's disease found at a dentist
http://www.breitbart.com/article.php?id=CNG.8b32ad461489ab05113fc900b5f26049.da1&show_article=1
Prophecy Sign: Daniel 12:4 warns us our generation would be known for its increase in knowledge. Here is one good example of what our generation is giving us.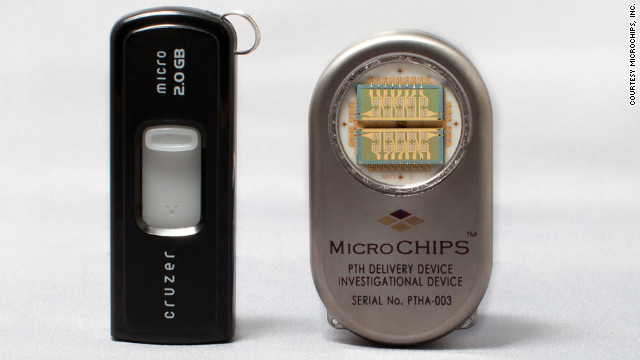 The drug delivery device (on right) is shown next to a computer flash drive.
(Health.com) -- It sounds like something out of a sci-fi movie: A patient visits a doctor's office and, after a brief surgical procedure, walks away with a microchip under her skin that delivers medication in precisely timed and measured doses.
That scenario doesn't seem so futuristic anymore. Researchers at the Massachusetts Institute of Technology (MIT) announced today that they have successfully completed the first trial of a drug-releasing microchip in humans.
The results were published on the website of the journal Science Translational Medicine.
http://edition.cnn.com/2012/02/16/health/drug-releasing-microchip-passes-test/index.html