A lot is happening in the news that is pointing to Bible prophecy. I encourage you to read the Word of God so you know what to be looking for. I understand many people are to busy to do what I do and, that is why I believe the Lord wanted me to open up this site.  I am doing what I can to keep you on the watch with out you doing tons of research.  I pray you will all take the time to download my free book, The Last Chronicles of Planet Earth, there is loads of facts and evidence showing that Jesus is coming back soon. If you find another book that has more information in it let me know?  If you happen to find one let me know how much they are charging you for the book?  Mine is FREE! 
FREE Bible prophecy documentary book download proving our generation will see the return of the Lord. If you aren't saved yet this is a must read! Download The Last Chronicles of Planet Earth May 1, 2012 Edition by Frank DiMora
Prophecy Sign: Daniel chapters 2 and 7 show us the last world empire to rule the world will be coming from a revived Roman Empire.
Use with permission of the Rev. Clarence Larkin Estate, P.O. Box 334, Glenside, PA 19038, U.S.A.,
Ministers ponder creation of EU super-president
Prophecy Sign: Revelation 17:12-13.  "And the ten horns which thou sawest are ten kings, which have received no kingdom as yet; but receive power as kings one hour with the beast. These have one mind, and shall give their power and strength unto the beast"
"The other countries in the club are: Austria, Belgium, Denmark, France, Italy, Luxembourg, the Netherlands, Poland, Portugal and Spain. The French minister did not attend Thursday's session, however
http://euobserver.com/18/115965

New World Order Ten World Regions coin.
http://www.ebay.com/itm/NEW-WORLD-ORDER-TEN-WORLD-REGIONS-1-TROY-OZ-999-Fine-Silver-Coin-Round-/221015925883?
Headline: EU PLOT TO SCRAP BRITAIN
Prophecy Sign: Daniel chapter 2: 41-43 41 And whereas thou sawest the feet and toes, part of potters' clay, and part of iron, the kingdom shall be divided; but there shall be in it of the strength of the iron, forasmuch as thou sawest the iron mixed with miry clay. 42 And as the toes of the feet were part of iron, and part of clay, so the kingdom shall be partly strong, and partly broken. 43 And whereas thou sawest iron mixed with miry clay, they shall mingle themselves with the seed of men: but they shall not cleave one to another, even as iron is not mixed with clay.
The move will give further momentum to the Daily Express's hugely popular crusade for Britain's withdrawal from the EU.

European Commission President Jose Manuel Barroso and David Cameron
Tory backbench MP Douglas Carswell said: "It doesn't matter how you arrange the offices of these technocrats, they are useless at arranging our lives for us and they are not elected so they have no legitimacy. "My worry is that the president will end up having the charisma of Van Rompuy and the economic management skills of Barroso." Euro-MP Paul Nuttall, of the UK Independence Party, said: "This is a truly ridiculous idea that must never be allowed to happen. It sounds as if they are trying to go back to the days of the Holy Roman Emperor."
http://www.express.co.uk/posts/view/318045/EU-plot-to-scrap-Britain
Headline: 29.7 Million Seek Work
http://www.breitbart.com/Big-Government/2012/05/03/Real-Unemployment-rate
http://www.zerohedge.com/news/people-not-labor-force-soar-522000-labor-force-participation-rate-lowest-1981
Labor Force Shrinks As Jobless Swell Disability Ranks
http://news.investors.com/article/610306/201205040931/labor-force-shrinks-as-disability-grows.htm
Headline: The 86 million invisible unemployed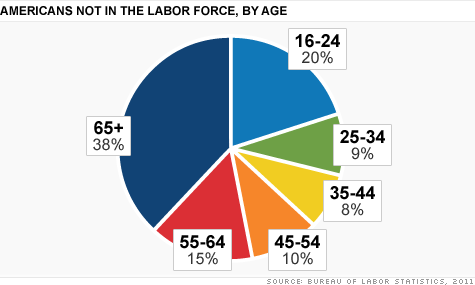 http://money.cnn.com/2012/05/03/news/economy/unemployment-rate/index.htm?hpt=hp_t2
Noah's Ark
Prophecy Sign:  As in the days of Noah and Lot.Prophecy Sign: One fact is very clear when you are talking about the last day signs. Jesus in Matthew 24: 37-39 concerning what the last generation would be like just prior to His second coming is compared to both Noah's generation and Lots. Both of these peoples turned from God and followed their own lusts and became evil people. We know part of Noah's generation troubles came on them when they turned to homosexuality. How do we know this? Notice that Jesus compared Noah's day to Sodom and Gomorrah and then linked it to the time of his return. I quote our Lord. Luke 17: 25-30. "But first must He [Christ] suffer many things and be rejected by this generation. 26And as it was in the days of Noah, so shall it be also in the days of the Son of Man: 27They ate, they drank, they married wives, they were given in marriage, until the day that Noah entered into the ark, and the flood came and destroyed them all. 28"Likewise also as it was in the days of Lot: They ate, they drank, they bought, they sold, they planted, they built; 29but the same day that Lot went out of Sodom, it rained fire and brimstone from heaven and destroyed them all. 30"Even thus shall it be in the Day when the Son of Man is revealed."
"Following the Episcopal Church's likely approval of a liturgy blessing same-sex relationships at its summer convention, a Montrose congregation will be among the first to offer gay and lesbian couples this rite, the Rt. Rev. Andy Doyle announced this week. Doyle, bishop of the Texas Diocese, named St. Stephen's Episcopal Church as the first in Houston to be allowed to offer the proposed ceremonies for same-sex covenants" (Huston Chronicle Newsat  chorn.com April 26, 2012).
http://blog.chron.com/believeitornot/2012/04/episcopalians-in-houston-prepare-for-possible-same-sex-ceremonies/
Watch for men who claim they are Christians but teach doctrine that Christ has not tought, they are men dressed as sheep but are really wolfs.
Prophecy Sign: Don't be upset to see that Pastors are teaching there are other ways to get into heaven besides Jesus Christ. Why?  For the answer all you have to do is read what Jesus told Timothy about the last days.
1 Timothy 4:1-2 "Now the Spirit speaketh expressly, that in the latter times some shall depart from the faith, giving heed to seducing spirits, and doctrines of devils; 2 Speaking lies in hypocrisy; having their conscience seared with a hot iron;"
2 Timothy 4:1-5 says,  1I charge thee therefore before God, and the Lord Jesus Christ, who shall judge the quick and the dead at his appearing and his kingdom; 2Preach the word; be instant in season, out of season; reprove, rebuke, exhort with all longsuffering and doctrine. 3For the time will come when they will not endure sound doctrine; but after their own lusts shall they heap to themselves teachers, having itching ears; 4And they shall turn away their ears from the truth, and shall be turned unto fables. 5But watch thou in all things, endure afflictions, do the work of an evangelist, make full proof of thy ministry."  This is exactly what is happening in many Churches today!  Men have turned away from sound doctrine.
1Timothy
"A recent survey conducted by LifeWay Research found that while a majority of Protestant pastors believe Christianity is the only way to obtain eternal life, there is a small percentage who strongly feel other religions offer eternal salvation as well."
"The survey asked 1,000 Protestant pastors the question, "If a person is sincerely seeking God, he/she can obtain eternal life through religions other than Christianity." Seventy-seven percent of the pastors questioned said that they strongly disagree with the statement and seven percent somewhat disagreed. Another seven percent somewhat agreed and five percent strongly agreed. Three percent said they are not sure. The educational level of the pastor played a role in their decision making. Pastors with a graduate degree were more likely to strongly agree with the statement, and less likely to strongly disagree, compared to pastors with a bachelor's degree or less"
http://www.christianpost.com/news/christianity-the-only-means-of-eternal-life-some-pastors-disagree-73147/
Prophecy Sign: Hosea 4:1-3 "There is no faithfulness, no love, no acknowledgment of God in the land. There is only cursing, lying and murder, stealing and adultery; they break all bounds, and bloodshed follows bloodshed. Because of this the land mourns, and all who live in it waste away; the beasts of the field and the birds of the air and the fish of the sea are dying.
50,000 fish found dead in pond in Shenzhen, China – cause of mysterious fish kill unknown
http://theextinctionprotocol.wordpress.com/2012/05/03/50000-fish-found-dead-in-pond-in-shenzhen-china-cause-of-mysterious-fish-kill-unknown/
Prophecy Sign:

  Luke 21: 11 Disease is one of the many signs in this verse. 11 And great earthquakes shall be in divers places, and famines, and

pestilences

; and fearful sights and great signs shall there be from heaven.
"Washington state is gearing up for one of the worst epidemics of pertussis in nearly 70 years. Pertussis, also known as whooping cough, is a highly contagious bacterial infection that causes a nasty cough. It is particularly dangerous for young infants. Public health officials have confirmed more than 1,100 cases of whooping cough so far this year in the state. Thankfully, no deaths have been reported this year, but 20 infants have been hospitalized with the illness."
http://www.mnn.com/health/fitness-well-being/blogs/pertussis-whooping-cough-outbreak-strikes-washington-state
Headline: Meningitis Claims 749 Lives in West, Central Africa
http://www.ubalert.com/a/90331
Prophecy Sign: Matthew 24:6 "And ye shall hear of wars and rumours of wars: see that ye be not troubled : for all these things must come to pass , but the end is not yet."
Russian Chief of General Staff Nikolai Makarov
"Russia's top military officer warned Thursday that Moscow would strike NATOmissile-defense sites in Eastern Europe before they are ready for action, if the U.S. pushes ahead with deployment. "A decision to use destructive force pre-emptively will be taken if the situation worsens," Russian Chief of General Staff Nikolai Makarov said at an international missile-defense conference in Moscow attended by senior U.S. and NATO officials"
http://www.washingtontimes.com/news/2012/may/3/russia-threatens-strike-nato-missile-defense-sites/
Prophecy Sign: Signs of the coming war found in Psalm 83 and 1 Thess. 5:3 "For when they say, "Peace and safety!" then sudden destruction comes upon them, as labor pains upon a pregnant woman. And they shall not escape."
Headline: Palestinians renege on security ties with Israel, restore revolving door for terrorists
http://www.debka.com/article/21968/
Headline: Muslims burn down Jewish family farm.
http://www.yourjewishnews.com/Pages/19579.aspx
Headline: Muslims throw rocks at school bus with Jewish children.  http://www.yourjewishnews.com/Pages/19593.aspx
 News not in the my video today
Prophecy Sign: Luke 21:25 is the sign of storms
Watch the video at the link below it looks like something from a Sci-Fi movie.
Headline: Hail of a Spring So Far
"Several storm systems so far this year have produced punches of destructive hail, and the impact is being felt by thousands of car, home and business owners. So far this spring, large hail has taken its toll in parts of Missouri, Texas and Nebraska, causing millions of dollars in damage. And the worst may be yet to come. May and June are the most active months for hail storms, said Dr. Greg Forbes, The Weather Channel's severe weather expert. It's not unusual to have 100 reports of hail a day during those months, he said."
http://www.weather.com/news/spring-hail-storms-20120503
What has been happening in Africa with my Ministry?  Jesus is winning souls!
Ministry info:
Timothy Moore, by partner in the Lord's work sent me some pictures of the Last Chronicles Mission trip to Cheptais Kenya. With the blessed help of my Brother in the Lord we have sent Pastor Titus and Pastor Joshua Bibles and my books to hand out to the people they are witnessing to.  My work show them how close we are to the coming of the Lord and, the need to begin reading the Bible these Pastors have handed out. Please pray that the Lord continues to bless these Pastors who have come along side our Ministries to help spread the Word of God.
Just got this email from Timothy.
Brother Frank, 
I just got in a good report from the 5 day crusade with Pastor Titus and Pastor Joshua in Cheptais which is located in far NW Kenya in the Mt. Elgon area near the Ugandan border. May were saved during the services which were held outdoors in the town market area. I have attached some photos of Bibles being distributed during door to door evangelism and your books being distributed. Please continue in prayer for this church which will grow greatly as a result of this crusade. We give all praise to the Lord of the harvest. He is daily adding to His church.  Tim

What a blessed man I am to have Jesus allowed me to write this book for Him.  Most of these people don't have access to the news and they do not know what has been happening that is pointing to the fulfillment of Bible prophecy.  I am blessed by Christ beyond measure and, not one of the these people had to pay a cent to read the book or to have a Bible placed in their hands.  This could have only come about by the leading of the Holy Spirit which I greatly humbled myself before Him.  There is no way I can describe the Joy Jesus has given me in seeing my work make it to the nations for free.

Handing out one of the Bible we sent them

Another family gets a Bible we sent

Jesus makes a way for our Pastors to get the message to those who He wills!

If you would like to help keep handing out Bibles and my Books to those who the Lord has given us, email Timothy Moore and let him know you want to be part of this Ministry.  Always, as the Lord leads!
Frank
Timothy Moore timevelyncpa@yahoo.com
Link to The teaching on the Book of Revelation with Frank DiMora parts 1-11 so far: http://frankdimora.typepad.com/the_last_chronicles/links-to-the-teaching-on-the-book-of-revelation-with-frank-dimora/
Ministry info:
The Last Chronicle of Planet Earth" May 1, 2012 Edition is now ready for you to download for free. Please note, the download may take some time to download but it will come up. The speed will depend on your computer. Download The Last Chronicles of Planet Earth May 1, 2012 Edition by Frank DiMora
Are you really searching to know the truth? Jesus will show it to you!
Disclaimer: Since the facts and evidence on my posts and in my book are real as they are taken from news around the world, and this news proves Bible prophecy is actually coming to pass in our generation, the information you read or see may scare you. If you are depressed or on any meds for depression, or have any type of mental disease consult your doctor before reading this material.
If you would like me to come to your Church to give a prophecy seminar you can contact me either by writing to my P.O Box, or email me at fjdimora@gmail.com. There is no charge for my labor of love in Christ.
To get to the prayer requests and prayer up-dates click to the following link below:
http://frankdimora.typepad.com/the_last_chronicles/2011/01/nancy-marcinik-has-joined-our-prayer-team-as-of-aug-12-2010-our-prayers-are-being-answered-please-read-the-updates-if-yo.html
All of my radio/video shows can be seen at The Edge. Just click to link below.
http://www.theedgeam.com/perspectives/last_chronicles/index.htm
What it will be like when the rapture hits.
Rapture of the Church in English: Download A THIEF IN THE NIGHT.doc Aug.7, 2011 By Frank DiMora pdf
Below is a link to the rapture of the Church in French.