FREE Bible prophecy documentary book download proving our generation will see the return of the
Lord. If you aren't saved yet this is a must read! Download The Last Chronicles of Planet Earth July 11, 2012 Edition by Frank DiMora
Download The Last Chronicles of Planet Earth July 11, 2012 Edition by Frank DiMora
SPECIAL NOTE TO MY VIEWS. I NOW HAVE A FACE BOOK PAGE YOU CAN VIEW AT THIS LINK:
https://www.facebook.com/LastChronicles?ref=hl
Prophecy Sign: "1Keep not thou silence, O God: hold not thy peace, and be not still, O God. 2For, lo, thine enemies make a tumult: and they that hate thee have lifted up the head. 3They have taken crafty counsel against thy people, and consulted against thy hidden ones. 4They have said, Come, and let us cut them off from being a nation; that the name of Israel may be no more in remembrance. 5For they have consulted together with one consent: they are confederate against thee:"
Everyday this week I have posted news that is showing us the Psalm 83 war of which Syria will be involved in against Israel is coming quickly. In my post yesterday and a few days ago I told you how the Psalm 83 war could start. If you didn't see the video I made on this subject click to my link. http://www.youtube.com/watch?v=1KYsIXtwkmA&feature=player_embedded#!
In todays news it does appear that I am not the only one who thinks a major war between Syria and Israel could begin by Israel hitting Assad's chemical weapons. Take a look at the news today.

"Syria would not shy away from a chemical attack against Israel should the latter launch a strike against the regime's unconventional weapons facilities, Syrian officials have told the Kuwaiti daily Al-Ra'i. Israeli Radio reported that the sources told the paper Syria would view an Israeli attack on its chemical weapon stockpiles as a declaration of war and might subsequently turn those weapons against Israel. They noted that an Israeli attempt to wipe out Syria's chemical weapons might lead to chemical warfare agents being released. The resulting contamination could lead to a large number of fatalities and force Syria's hand into responding. The sources also ridiculed Prime Minister Benjamin Netanyahu and Defense Minister Ehud Barak's recent statements about a possible Israeli pre-emptive attack on Syria to prevent chemical weapons from reaching the hands of Hezbollah or other terrorist groups, Israel Radio reported."
http://www.israelhayom.com/site/newsletter_article.php?id=5193
"JERUSALEM THE BURDENSOME STONE" 
Prophecy Sign: Zechariah 12:3 And in that day will I make Jerusalem a burdensome stone for all people: all that burden themselves with it shall be cut in pieces, though all the people of the earth are gathered together against it.
In my post yesterday I cited reasons why the US has backed away in supporting Israel. I showed you how President Obama has turned his back on Israel and he is the first President to do this to Israel.  Yes Obama claims to befriend Israel but his actions against Israel speak volumes.  A day after I gave you reasons why the Zech. 12:3 prophecy is coming to pass which includes the US, this next report was released.  
Headline: Bolton: Obama 'Most Hostile' President Toward Israel Ever
Former U.N. Ambassador John Bolton is calling Barack Obama "the most hostile president" toward Israel since the Jewish state was created, saying his policies have "actually set the peace process back" in the Middle East. Responding to a tweet Tuesday from Vice President Joe Biden that Obama "has done more for Israel's security than any president since Harry Truman," Bolton declared, "That's just ridiculous."  "This is the most hostile president since the state of Israel was created," Bolton told Fox News' Greta Van Susteren Tuesday night. "He's demonstrated that hostility right from the beginning of his administration." Bolton — now a Fox News contributor who supports Republican Mitt Romney's presidential campaign — accused the president of putting "the responsibility for all the turmoil in the region on Israel."  "By relieving the Palestinians of any real obligation to negotiate, he's actually set the peace process back," Bolton charged, referring to early speeches in which the president suggested Israel should be confined to the boundaries established following the 1967 Arab-Israeli conflict known as the Six-Day War.  "This has been very, very restrictive on Israel, and it has cost the United States, and Israel, and its Arab friends in the region," he added. Bolton also said Obama's "treatment of Iran's nuclear weapons program has been profoundly mishandled" to the point of endangering not only Israel's security, but the rest of the world as well Read more on Newsmax.com:
Bolton: Obama 'Most Hostile' President Toward Israel Ever
Important: Do You Support Pres. Obama's Re-Election?
http://www.newsmax.com/Newsfront/obama-israel-hostile-bolton/2012/07/25/id/446497
Prophecy Sign: Luke 21:11 And great earthquakes shall be in various places, and famines, and pestilences; and fearful sights and great signs shall there be from heaven. A few days ago I said the following. "Get ready for some huge earthquakes, they are coming!"   Today I checked the latest earthquakes and saw that since I gave you that warning there were 3 huge quakes. In many of my posts I warn you what Jesus said in Mark 13:8. I quote.  "For nation will rise up against nation, and kingdom against kingdom; there will be earthquakes in various places; there will also be famines. These things are merely the beginning of birth pangs.
If you are new to prophecy and you haven't been keeping on the watch at Jesus asked us to, one thing you can watch for are the huge quakes that will be coming. Jesus' words never go unfilled and the quakes you read about today will be nothing to what we are about to witness. If Christ warned these events would come as birth pains what does that say?  It says all these signs will be more intense just as with a women who is getting ready to give birth.  As I read the news today I noticed that Caltech is predicting a huge quake to hit in California. I wasn't shocked by the news because of what Christ has warned us. All Caltech is predicting is in line with what Jesus told us to expect. Christ did not tell us exactly where these quakes would hit, that is not the point. The point is they are coming and, the closer this planet gets to the 7 year tribulation the quicker these quakes will be seen. What bothers me is this. America has fallen under the Lords curse for working to divide up Jerusalem and burdening herself over God's Holy City Jerusalem. For complete details about this curse you may want to read the chapter in my book called Signs of God's Curse on page 374.
8.6 Quake Possible in Southern California? Caltech Suggests New 'Mega-Earthquake' 
http://blogs.laweekly.com/informer/2012/07/massive_earthquake_san_andreas_86_possible_caltech.php
---
Speaking about quakes in California yesterday there was a 3.8 magnitude earthquake rattled Los Angeles. Who knows, maybe Jesus is giving California a weak up call before the big one?
A minor earthquake with a preliminary 3.8-magnitudehas rattled the greater Los Angeles area, but no damage or injuries have beenreported. Randy Baldwin, a geophysicist with the U.S. Geological Survey inGolden, Colo., says about 600 people have so far reported they felt the quake,which happened at 3:18 a.m. PDT. The epicenter was about two miles east ofMarina del Rey, and about 12 miles from the Los Angeles Civic Center. Sheriff'sofficials say they've had no reports of injuries or damage. The fire departmentsays firefighters are making checks on their districts to assess any damage toinfrastructure.
http://theextinctionprotocol.wordpress.com/2012/07/25/3-8-magnitude-earthquake-rattles-los-angeles/
Prophecy Sign: 
Headline: California library installs privacy screens to enable discreet porn watching.

Many of you may be asking what in the hell is going on?  You would be right in asking this because that is exactly what it is. Hell. Satan is working to drive as many to hell as he can before he is locked up in chains by our Lord. As people turn from the Lord in the last days they turn to things of the flesh such as lust.  Who would of every thought that a public Library would become a place where people can watch porn? Those of you who read the Bible should recall Jesus warning you our generation would would be like Noah's generation, a Godless people. God showed the Prophet Daneil that our generation would become the generation who would increase in knowledge. Both of these prophecies are being fulfilled in this generation. The new technology our generation has been given us made it easy to bring many to their lusts as you can see from the report.
http://www.yourjewishnews.com/Pages/21779.aspx
Part of the reason why the Lord brought on the flood during Noah's generation was do to the fact that the people turned from God's Word and did as they pleased. That included homosexuality running its course.  Today as in the days of Noah the same thing is taking place.  Those who have taken a stand for Christ and His Word are being attacked and are viewed as discriminating against a segment of people in the community.  We all expected this to happen because anyone who stands up for what God teaches will be looked upon as people who hate other people.  This of course is what Satan is working for. Satan wants the world to attack Christian values and in many cases in the US now Satan is using men in leadership roles to spear head that attack as in the case with Rahm Emanuel.
Headline: Rahm: "Chick-fil-A Values Are Not Chicago Values"
Officials in at least three cities have vowed to block efforts to open Chick-fil-A restaurants after the company's president told reporters that he supported the traditional definition of marriage – and warned that redefining marriage might bring God's judgment on the nation.  "Chick-fil-A values are not Chicago values," said Mayor Rahm Emanuel in a statement to the Chicago Tribune. "They disrespect our fellow neighbors and residents." Emanuel was vowing his support for Alderman Proco Moreno's announcement that he would block construction of a Chick-fil-A restaurant in his district. "If you are discriminating against a segment of the community, I don't want you in the First Ward," he told the newspaper. Chick-fil-A is privately owned by the Cathy family. The company president, Dan Cathy, drew the wrath of gay rights advocates and supporters when he made recent statements that some have alleged are anti-gay. Cathy told Baptist Press that the company was unapologetically in favor of traditional marriage. "Guilty as charged," he said. "We are very much supportive of the family – the biblical definition of the family unit. We are a family-owned business, a family-led business, and we are married to our first wives. We give God thanks for that."  In a separate interview on the Ken Coleman Show — Cathy suggested that the nation could face God's wrath over the redefinition of marriage".
http://radio.foxnews.com/toddstarnes/top-stories/cities-move-to-ban-chick-fil-a-supporters-launch-day-of-support.html
Prophecy Sign: The Rebuilt Jewish Temple: "For the Lord has chosen Zion, he has desired it for his dwelling:  'This is my resting place for ever and ever; here I will sit enthroned, for I have desired it'" (Psalm 132:13-14). 
Prophecy Sign: "And he shall confirm the covenant with many for one week:  and in the midst of the week he shall cause the sacrifice and the oblation to cease, and for the overspreading of abominations he shall make it desolate, even until the consummation, and that determined shall be poured upon the desolate" (Daniel 9:27). 
Prophecy Sign: "When ye therefore shall see the abomination of desolation, spoken of by Daniel the prophet, stand in the holy place, (whoso readeth, let him understand)" (Matthew 24:15).
There are many warning signs in the Bible that tell us the Jewish 3rd Temple will be rebuilt in the last days. The Jews have been planning the rebuilding of their Temple for some time however, the only thing that is holding them back is the Arabs. The Arabs were given control over the Temple Mount after the 1967 war and any time the Jews say anything about rebuilding this Temple the Arab world goes nuts. The Temple Mount is where the 3rd Temple is going to be rebuilt.  Just recently a new video on the 3rd Temple was released by the Temple Institute and again like always the Arabs are making a big fuss over the video.
Headline: Temple Institute Responds: Video is Fresh Perspective
A wordless video about the Third Temple has turned the Arab world upside down, prompting the Temple Institute to clarify the film. AAFont Size By Chana Ya'ar First Publish: 7/26/2012, 1:46 PM
A video produced by the Temple Institute in Jerusalem, has apparently turned the Arab world upside down, sparking claims of "insults" to Egypt's new president and prompting the Temple Institute to clarify its motivations for creating the 90-second film. The Temple Institute is an educational, not-for-profit organization dedicated to the Biblical commandment to build a Holy Temple in Jerusalem. The video, featured by Arutz Sheva, is about the ninth day in the Hebrew month of Av, when both the First and Second Holy Temples in Jerusalem were destroyed.
"The video, which has gone viral, is designed as an educational tool for the Jewish community, to give a fresh and positive perspective on the Holy Temple whose message of peace and prayer is of central importance to millions around the world," said Rabbi Chaim Richman, International Director of Temple
Institute. Arab media said the video,which was prepared to mark the holy Jewish fast day of Tisha B'Av, was actually secretly intended as an insult to newly-elected Egyptian President Mohamed Morsi, a member of the Muslim Brotherhood. "Although aimed at the Jewish community primarily, we have received well wishes from across the globe from people of all races, religions and creeds and we have achieved our goals in highlighting the universal significance of the Holy Temple as a house of peace and prayer for all mankind," Richman clarified in a statement released Thursday to media.

"The issues that have been raised concerning the image on the newspaper in the movie are baseless. This is totally irrelevant to the message of the movie and the image is purely coincidental. The entire concept of the Holy Temple is one of peace, prayer and unity, something that Jews worldwide pray for three times daily. The Children Are Ready has proven that, after two thousand years since its destruction, the Holy Temple is still of central importance to millions of people worldwide. In this light, we hope that people will continue to watch and share the clip until it becomes the most popular Jewish video of all time."
How in the world will the Jews ever be able to build there 3rd Temple again?  There are many ways this could go down. The first way is this. When the Psalm 83 war is fought and won by Israel, Israel will no doubt lay hold or, full control if you will of the Temple Mount again.  The Muslim nations who were not involved in the Psalm 83 war will get very nervous seeing the Jews hold control over Jerusalem and the Temple Mount and guess what?  They like the nations listed in the Psalm 83 war will think its time to destroy Israel and take take back Jerusalem along with the Temple Mount where the 3rd most holy place is of the Muslims.  Of course this war is found in Ezekiel chapters 38 and 39. I believe the Antichrist will come after this war and at that time he will confirm a covenant with Israel for a period of 7 years. Part of this covenant will be he will tell the Jews they can go ahead and rebuild their 3rd Temple.  Of course anyone who hears this news will know for sure the 7 year tribulation has just begun. It will be this 3rd Temple that the Antichrist will set up his figure and tell the world he is god. This event will take place exactly 1,260 days after the Antichrist confirms the covenant. Here is the bottom line.  Watch the news and remember the scriptures God has shown us concerning this 3rd Temple because it is coming!
http://www.israelnationalnews.com/News/News.aspx/158297#.UBFKtIl5mc0
More news about the Temple
Time To Get Serious About Safeguarding The Temple
Mount
http://www.jewishpress.com/indepth/opinions/time-to-get-serious-about-safeguarding-the-temple-mount/2012/07/25/
Prophecy Sign: Matthew 24:6 And you shall hear of wars and rumors of wars: see that you be not troubled: for all these things must come to pass, but the end is not yet.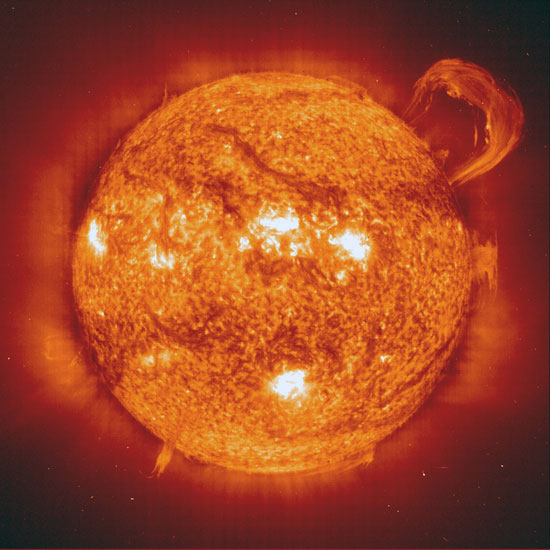 Prophecy Sign: Revelation 16:8 "The fourth angel poured out his bowl on the sun, and the sun was given power to scorch people with fire." Revelation 7: 16 "Never again will they hunger; never again will they thirst. The sun will not beat upon them, nor any scorching heat."
In many of my posts and in my book I have warned you based on what I know from Christ's warnings that you should expect many things to occur. First, the sun's heat will become more intense. Second, the result of the sun's intense heat will cause many hardships around the world in the form of droughts, lack of drinking water, famine, crop destruction, and even wars will be fought over water issues. If you believe in Christ you have to believe in what He warns us and so I tell you these things in the hope that you will watch the news. Why?  If the Lord said keep on the watch that means we will see the things He talked about.  This generation is witnessing the things we were to watch for.  Again, take a look at what is being reported.
Before you read the read, take a look at what is say under the photo above?  In Revelation 6:6 Jesus gives us a picture of what this planet will look like during the tribulation period. Part of that pictures is that people will be forced to walk all day all for one small meal. That meal will be enough for one person. Can you image working all day only to eat one meal?  This scripture shows us that the price of food must have gone through the roof. Why would food prices skyrocket?  Jesus shows us in scripture. The sun's intense heat, drought, famine, floods that wipe out crops, and wars that will be fought that hidden people around the world from planting crops.  Jesus talks to us about the unrest that will come in the last days. Just read Matthew 24 where Christ said Kingdom will come against kingdom. This is social unrest. Last year we saw a great deal of this social unrest and this is only the beginning of things to come. Now to the news!
Prophecy Sign: Revelation 6:6 6 And I heard a voice in the midst of the four beasts say, A measure of wheat for a penny, and three measures of barley for a penny; and see thou hurt not the oil and the wine.
Headline: U.S. Drought Could Cause Global Unrest
Twice in the last five years, rising food prices triggered global waves of social unrest. With drought baking U.S. crops, another round of soaring, society-straining price spikes may happen in coming months. According to researchers from the New England Complex Systems Institute, commodity speculation — investors betting on food prices — will amplify the drought's market signals, creating a new food bubble and the crises that follow.
"The drought is clearly going to kick prices up. It already has. What happens when you have speculators is that it goes through the roof," said NECSI president Yaneer Bar-Yam. "We've created an unstable system. Globally, we are very vulnerable." 
The ongoing drought, the United States' worst since the Dust Bowl, is expected to last until October and will decimate U.S. harvests. America is the world's largest exporter of corn, wheat and soy beans; global prices for those commodities have already surged to record levels.
While the United States is relatively insulated from food price increases, people in developing countries, who spend far more of their budgets on food and rely on agricultural imports, are extremely vulnerable. For them, high prices are a catastrophe.
Since 2004, global food prices have slowly but steadily increased, with drastic and socially estabilizing spikes in 2007 and again in 2010. Economists argued over the causes, with blame cast on poor regional harvests, supply shortages caused by converting food crops to biofuels, and — most controversially — speculation. Until the late 1990s, food markets in the United States were mostly limited to people with direct interests in food prices, such as farmers and crop buyers. Deregulation allowed hedge funds and investment banks to start betting, changing market dynamics and making them prone to sudden, massive fluctuations.
In earlier research, Bar-Yam's group developed mathematical models of global food market behavior
that found biofuels responsible for a slow upwards rise in prices, and speculation for the spikes. That model anticipated a new food bubble in early 2013, but couldn't have foreseen the drought.
In the new analysis, released July 23 on NECSI's website, Bar-Yam's group added drought-triggered price increases to the model. With those figures included, the already grim forecast becomes even darker. "The drought may trigger the third massive price spike to occur earlier than otherwise expected, beginning immediately," wrote the NECSI team. 
'We've created an unstable system. Globally, we are very vulnerable.'
According to Bar-Yam, excessive speculation acts as an amplifier, exaggerating whatever signal the market receives. Left alone, a highly speculative market would naturally experience boom-and-bust cycles, but this summer's drought-precipitated surge in food prices will accelerate the next
bubble's formation. 
There is a lot more information on this subject in this report. You need to read what they say because it is in line with what Jesus warned us.  Again my question is this. After all that you see, do you believe in what Jesus tells you?  If you haven't received His Words you no doubt haven't received Him as your Lord and Savior yet. This is a very dangerous place to be in this time in history!  If the rapture of the Church were to take place today and you haven't received Jesus yet you need to know what is going to happen to you. You will be left behind on the Earth to pass through the tribulation. You will see Satan living in a man call the Antichrist and you will face him and his orders. One of those orders will be to take his mark in your right hand or forehead. If you take the mark you seal your eternity in HELL.  If you refuse the mark the Antichrist will kill you and the form of killing is found in Revelation 20:4.  Today you have a road before you that was given to you by the Lamb of God (Jesus Christ). You are hear at my site because He has brought you here. Take His love today and receive His free gift of Salvation today to make sure you do not face what the world will be facing during the tribulation.  Your choice. Satan or Christ?
http://www.wired.com/wiredscience/2012/07/drought-food-prices-unrest/
Pastor Fiaz in Pakistan is on another trip with the Last Chronicles missions. He has asked for prayed.
Message from Fiaz Anwar
Please keep our today youth programme in your prayers. Programme will be start on 4 pm to 7 pm. In this programme I will be teach about last time and Pastor Mehboob will be teach about youth awareness.Please keep us in your prayers. May God open hearts of youth and they accept Jesus.
Your brother in Christ,
Fiaz