https://www.facebook.com/LastChronicles?ref=hl
FREE Bible prophecy documentary book download proving our generation will see the return of the Lord. If you aren't saved yet this is a must read! Download The Last chronicles of Planet Earth July 11, 2012 Edition by Frank DiMora
Prophecy Sign: Revelation 16:3 "The second angel poured out his bowl on the sea, and it turned into blood like that of a dead man, and every living thing in the sea died."
In my book The Last Chronicles of Planet Earth I addess the Revelation 16: 3 prophecy. Read some of what I wrote and read the newest report out on his issue.
"In the month in September of 1996, and 1997 I wish everyone would have read Revelation 16:3 where Christ warned the following:  "And the second angel poured out his vial upon the sea; and it became as the blood of a dead man:  and every living soul died in the sea."  When speaking about famine, most people center on dry land where the food production has been reduced because of droughts, heat, and floods.  Let us not forget the food that comes from the ocean. Many nations depend on fishing to feed their people, and over the years nations have been depleting that food source. 
I believe famines will spread due to strange events in the water that will increase.  For example the Red Tides and Brown tides are destroying fish.  Let me give you one small example of what these tides can do to fish.  "In September 1996 and again in September 1997, residents of Texas's coasts witnessed an increasing problem: discolored, red patches of ocean waters and thousands and even millions of dead fish washed up on the shores. Red tides are produced when microscopic toxic algae increase in number and 'bloom,' causing the telltale discoloration of the oceans. The type of red tide that has affected Texas's fish and shellfish is caused by an organism called Gymnodinium breve, which produces a toxic affecting the central nervous system of fish.  In December of 2001, another red tide bloom affected the Corpus
Christi Bay, causing the Texas Department of Health to ban shellfish harvesting for Aransas and Corpus Christi Bays for nearly a year" (Texas Environmental Profiles).  
August 27, 1998- Humans aren't the only ones affected by the new strange diseases in
our world today.  An article entitled "A Spate of Red Tides Is Threatening Coastal Seas Around the World" describes how life in our seas is being attacked as well.  "Like something out of a horror movie, the cell from hell attacks its victims in a gruesome way, frequently changing its body form with lighting speed.  The unicellular animal, called Pfiesteria piscida, has at least 24 guises it can assume in the course of its lifetime.  It can also masquerade as a plant or lie dormant for years in the absence of
suitable prey.  Armed with a voracious appetite and vast reproductive powers, the microscopic animal moves through coastal waters to kill fish and shellfish by the millions and to poison anglers and others, producing pain, narcosis, disorientation, nausea, fatigue, vomiting, memory loss, immune failure and personality changes.  Its toxins are so deadly that people who merely inhale its vapors can be badly hurt. 'This thing has us scared to death,' said Rick Dove, the expert who has been appointed to keep track of the Neuse River in North Carolina, part of a coastal estuary where the organism periodically goes on killing sprees" (The New York Times Aug. 27, 1998 p.C1).  I will cover more news later about these Red Tides that have hit the news in 2002 and 2008".
Over the years as the sun's intense heat covers our Planet we are witnessing more reports of water sources turning to what appears to be "blood red".  There is no question we are in the last days birth pains and as Earth heats up I believe you will see even more of these deadly Red  and Brown tides  and, these  algal blooms destroying fish. Jesus warned us about the heat coming in the last days. You can now see we have the birthpains of this heat and it  is changing our water. What is occuring runs in line with what we read in the Revelation. I do stress that part of the Lord's judgment will affect our seas in much the same way we saw happen in Egypt when Moses was in the process of setting the Jews free. What we see in the news now is the tip of the iceburg to what is coming from God during the tribulation period.
Headline: Sea of Azov turned bloody red
Scientists and citizens are

baffled as the waters of the Azov Sea turned

bloody red

close to Berdyansk village in mid-July, according to article published online by EnglishRussia. Villagers immediately suspected

the great pollution from nearby factories. And older locals warned that it might

be a sign of the coming events. Scientist however point that the most probable

reason for bloody red color of the sea is algal blooms that are not dangerous to

humans.
The researchers explained that the bright red color of the sea is result of high temperatures, which led to the blossoming of brown algae. The south-west wind "drove" algal blooms closer to shore. Further flowering could lead to fish deaths of mass proportions.
Picture taken by one of locals (Credit: English
Russia)
"If the Sea of ​​Azov continues with algal bloom, it will be a disaster with unpredictable consequences. If this heat is about to repeat several more years, the sea has the potential to be renamed from Azov in the Dead," said George Ryazantsev from the Research Institute of the Azov sea.  Although the director of the Institute Leonid Izergin claims that the sea is safe for swimming, villagers of Berdyansk don't believe him. They claim that the sea has a special metallic smell that worries them.
http://thewatchers.adorraeli.com/2012/07/29/sea-azov-turned-bloody-red/
Dear man of God,
As I told you God has performed great miracles in this crusade, many people got salvation and an mad woman got healing and salvation. Please download the attachments above to see the pictures. Pray for me this week I will be in high mountain for the crusade.
God bless you.
Yours Pst. Joshua Wekesa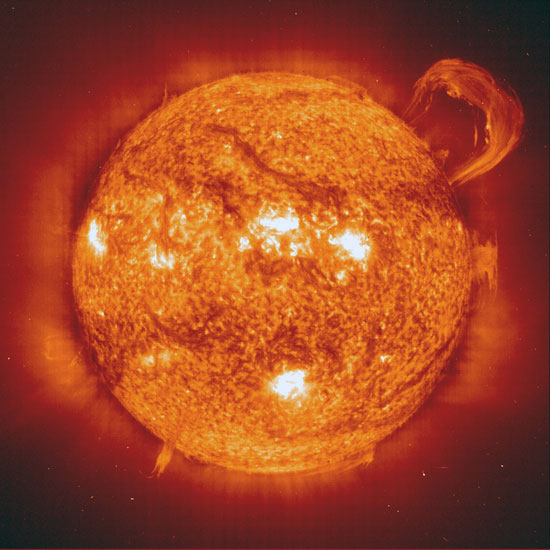 Prophecy Sign: Revelation 16:8 "The fourth angel poured out his bowl on the sun, and the sun was given power to scorch people with fire." Revelation 7: 16 "Never again will they hunger; never again will they thirst. The sun will not beat upon them, nor any scorching heat."
If you read Revelation 6:6 where Jesus shows us people will have to work all day for one small meal and, the other prophecies concerning the intense heat, famines, droughts, hunger, and lack of water then keep track of what has been happening you will get a clear picture of where we are headed. In my book I outline for you year after year what has been happening concerning all of these prophecies. Once again I have to warn you that all these signs point to one thing. The Mark 13:8 birth pains are increasing again. Week after week now I am posting news showing you what is destroying crops and how the food prices are skyrocketing.  Below you will find two more of these types of reports. Go to the link for the first report and watch a video on just how bad the intense has been on the crops.
Headline: Worsening Illinois drought points to increasingly ominous signs for crops
Sub title: Dry spell, which could becomes state's worst on record, may lead to higher food prices 
http://www.chicagotribune.com/business/ct-biz-0727-illinois-drought-20120727,0,7434317.story

Headline: Drought ruining crops in Russia 
http://www.upi.com/Top_News/World-News/2012/07/26/Drought-ruining-crops-in-Russia/UPI-12651343333779/
"Between 2001 and 2008, it was estimated that there could have been as many as a million feral camels in the outback," Jan Ferguson of the not-for-profit company Ninti One, which manages the AFCMP, said. "Since then, however, there has been a major drought, the feral camel management program has come into effect and population survey techniques have been improved."
http://www.upi.com/Science_News/2012/07/25/Drought-cull-reduce-Australian-camel-herd/UPI-87201343244532/#ixzz220G6eT7h

http://www.upi.com/Top_News/US/2012/07/25/Drought-seen-as-driving-up-food-prices/UPI-27481343234885/?rel=12651343333779
U.S. drought pushes world to food crisis
http://www.upi.com/Top_News/US/2012/07/20/US-drought-pushes-world-to-food-crisis/UPI-66721342769400/?rel=27481343234885 
Prophecy Sign: Matthew 24:7 For nation shall rise against nation, and kingdom against kingdom: and there shall be famines, and pestilences, and earthquakes, in divers places. 8All these are the beginning of sorrows.

KAMPALA, Uganda (AP) – The deadly Ebola virus has killed 14 people in western Uganda this month, Ugandan health officials said on Saturday, ending weeks of speculation about the cause of a strange disease that had many people fleeing their homes.
http://www.usatoday.com/news/world/story/2012-07-28/uganda-ebola-outbreak/56553600/1
   Earthquakes just in the past 7 days. We had some huge quakes this week.
---
---
---
---
---
---
---
Prophecy Sign: Luke 21:25 25 And there shall be signs in the sun, and in the moon, and in the stars; and upon the earth distress of nations, with perplexity; the sea and the waves roaring;
Headline: Floods in North Korea 'killed 88 people in July'
Typhoons and torrential rain have damaged 5,000 homes and left more than 60,000 people homeless. South Pyongyang province suffered the biggest lost of life. More than 30,00 hectares of land have been submerged. North Korea is often hit by severe floods. Its poor economy leaves it ill-equipped to deal with the fall-out. The KCNA website said "big human and material losses" had been caused between 18 and 24 July. Around 300 public buildings and 60 factories had been inundated or collapsed,
the news agency added.