FREE Bible prophecy documentary book download proving our generation will see the return of the Lord. Do you want to know what is going to happen in the future before it actually takes place? The Word of God provides you with specific details about our future and all of these things are coming to pass in this generation.  If you aren't saved yet this is a must read!      Download The Last Chronicles of Planet Earth Aug. 6, 2012 Edition written by Frank DiMora pdf
https://www.facebook.com/LastChronicles?ref=hl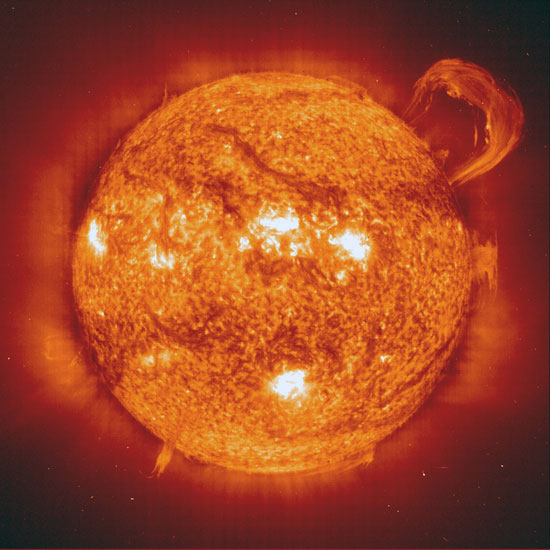 Prophecy Sign: Luke 21:25 25 And there shall be signs in the sun, and in the moon, and in the
stars; and upon the earth distress of nations, with perplexity; the sea and the waves roaring;"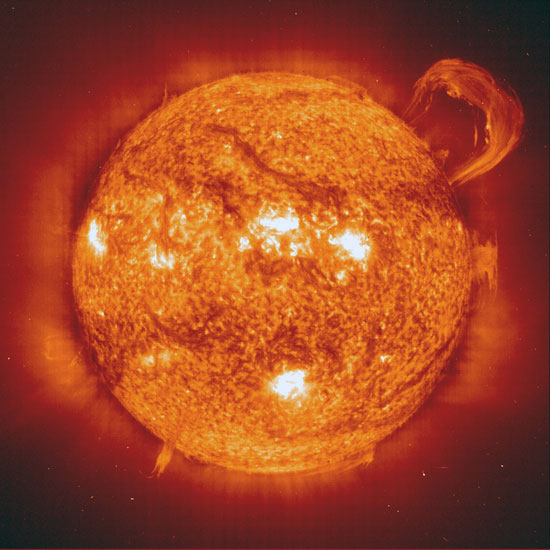 Prophecy Sign: Revelation 16:8 "The fourth angel poured out his bowl on the sun, and the sun was given power to scorch people with fire." Revelation 7: 16 "Never again will they hunger; never again will they thirst. The sun will not beat upon them, nor any scorching heat."

Headline: July Heat Records Crush Cold Records By 17 To 1, 'Historic Heat Wave And Drought' Fuels Oklahoma Fires 
July saw 3,135 new daily high temperature records in the U.S. — over 100 per day. That overwhelmed new cold records by a factor of nearly 17 to 1, as this chart from Capital Climate shows. For the year to date, new heat records are beating cold records by a remarkable 12 to 1, which trumps the pace of the last decade by more than a factor of 5!  I like the statistical aggregation across the country, since it gets us beyond the oft-repeated point that you can't pin any one local record temperature on global warming. A 2009 analysis shows that the average ratio for the 2000s was 2.04-to-1, a sharp increase from previous decades. Lead author Dr. Gerald Meehl explained, "If temperatures were not warming, the number of record daily highs and lows being set each year would be approximately even."
http://thinkprogress.org/climate/2012/08/05/641501/july-heat-records-crush-cold-records-historic-heat-wave-and-drought-fuels-oklahoma-fires/?mobile=nc
Digestible microchips embedded in drugs may soon tell doctors whether a patient is taking their medications as prescribed. These sensors are the first ingestible devices approved by the US Food and Drug Administration (FDA). To some, they signify the beginning of an era in digital medicine. "About half of all people don't take medications like they're supposed to ," says Eric Topol, director of the Scripps Translational Science Institute in La Jolla,California. "This device could be a solution to that problem, so that doctors can know when to rev up a patient's medication adherence." Topol is not affiliated with the company that manufactures the device, Proteus Digital Health in Redwood City,California, but he embraces the sensor's futuristic appeal, saying, "It's like big brother watching you take your medicine."
http://blogs.nature.com/news/2012/07/digital-pills-make-their-way-to-market.html
 THE TEN KINGS
Prophecy Sign: "And the ten horns which thou sawest are ten kings, which have received no kingdom as yet; but receive power as kings one hour with the beast.  These have one mind, and shall give their power and strength unto the beast" (Revelation 17:12-13).   
Prophecy Sign: "And the ten horns out of this kingdom are ten kings that shall arise: and another shall rise after them; and he shall be diverse from the first, and he shall subdue three kings.  And he shall speak great words against the most High, and shall wear out the saints of the most High, and think to change times and laws" (Daniel 7:24-25a).
On page 76 of my prophecy book which you can download today for free you will find this statement.
The sixth union is the Gulf Union which is in the process of being formed.  There are five nations coming together in this union.  Here are a few reports showing this union is almost complete.  "Dubai: The Gulf   states are moving ahead with plans for Gulf monetary union as the final draft has been approved, according to an economist at Dubai International Financial Centre (DIFC). The Central Bank governors of five Gulf States are still deliberating on the timeline after a meeting in Jeddah on Tuesday but Fabio Scacciavillani, economist at DIFC believes that they will meet the Monetary Union January 2010 deadline" (Golfnews.com Sept. 22, 2008). "The Gulf monetary union pact has come into effect," said Kuwait's finance minister, Mustafa al-Shamali,speaking at a Gulf Co-operation Council (GCC) summit in Kuwait. The move will give the hyper-rich club of oil exporters a petro-currency of their own, greatly increasing their influence in the global exchange and capital markets and potentially displacing the US dollar as the pricing currency for oil contracts" (Telegraph.co.uk Dec. 15, 2009). Here is what to look for in the near future. If the Asian Pacific Union, North American Union and Gulf Union finalize as the rest of the unions have done we will have ten unions of nations."  As time goes on those who know prophecy will know which ten kings are the ten kings Christ warned us about.
When you read my book you will see I am watching events on 3 fronts. The Western leg of the old Roman Empire which has been revived in the form of the European U. nion, the Eastern leg of the old Roman Empire which has been revived in the form of the Economic Cooperation Organization as seen on page 71 in my book and, the Ten Union of nations that are coming together.
http://www.thenational.ae/news/world/gulf-ministers-consider-formal-union
"PSALM 83 WAR PROPHECY"
Prophecy Sign: "1Keep not thou silence, O God: hold not thy peace, and be not still, O God. 2For, lo, thine enemies make a tumult: and they that hate thee have lifted up the head. 3They have taken crafty counsel against thy people, and consulted against thy hidden ones. 4They have said, Come, and let us cut them off from being a nation; that the name of Israel may be no more in remembrance. 5For they have consulted together with one consent: they are confederate against thee:"
"EZEKIEL38 WAR"
Prophecy Sign: The Ezekiel 38 war. Russia leads an attack on Israel in the last days and one of the main allies of Russia is Iran. Russia is now a major ally with Syria as well. 
Headline: Iran warns Syria conflict could engulf Israel
Iran said Sunday that the conflict in Syria could engulf Israel, as it warned against foreign intervention there, Iranian media reported. "The fire that has been ignited in Syria will take the fearful (Israelis) with it," Iran Parliament Speaker Ali Larijani said on Sunday, according to the Islamic Republic News Agency (IRNA).  "Syria has been ready for years to respond to any military attack against it by (Israel) or other countries, and can respond strongly to any military action by itself and with complete readiness," Amir-Abdollahian was quoted as saying."
The enemies of the Lord had better watch out what they say about wiping out Israel because, prophecy shows us that what Israel's enemies try to do to them usually back fires and happens to them!  In the case of the above report which I quote in yellow look what the Lord says is going to happen to Syria?
Quote from news: "The fire that has been ignited in Syria will take the fearful (Israelis) with it,"
What the Word says will happen to Syria

http://www.jpost.com/MiddleEast/Article.aspx?id=280119
I truly believe Jeremiah's prophecy and Isaiah 17:1 will be fulfilled shortly. Watch what Assad does as his enemies get closer to his captial?
"A bomb blast rocked Syrian state television headquarters in the heart of Damascus wounding several people on Monday just two days after the army said it had seized the last rebel-held area of the capital. In commercial capital Aleppo, the army bombarded a string of rebel neighbourhoods after government security officials said that troops had completed their build-up and that a 20,000-strong force was poised for a ground assault. Information Minister Omran al-Zoabi said there were no deaths in the morning bombing of the state television buildings in the heavily protected Omayyad district of Damascus." 
http://news.yahoo.com/bomb-rocks-syria-state-tv-headquarters-damascus-075030931.html
Headline: Ahmadinejad: Let us unite and delete Israel 
In a speech published on his website Thursday, Iranian President Mahmoud Ahmadinejad said the ultimate goal of world forces must be the annihilation of Israel.
Speaking to ambassadors from Islamic countries ahead of 'Qods Day' ('Jerusalem Day'), an annual Iranian anti-Zionist event established in 1979 by Ayatollah Khomeini and which falls this year on August 17, Ahmadinejad said that a "horrible Zionist current" had been managing world affairs for "about 400 years."
http://ivarfjeld.wordpress.com/2012/08/03/ahmadinejad-let-us-unite-and-delete-israel/
Headline: IDF: Air force strikes global jihand terrorist in Gaza
The Israeli Air Force bombed a motorbike in the Gaza Strip on Sunday, striking a global jihad terrorist who the Shin Bet (Israel Security Agency) said had been plotting a terror attack along the Egyptian border for weeks. Palestinian hospital officials said the man, Ahmed Ismail, 22, was seriously injured, and his assistant, Eid Okel Hjazi, a 19-year-old from Rafah, was killed.
Security sources said the terrorist was Ahmed Said Ismail, 22, from the Gaza Strip. They said he was part of the group that carried out the attack in June that killed an Israeli workman, and was in the midst of planning another attack against Israel along the border.
Security sources said it was possible the strike thwarted the terror attack. IDF spokesman Brigadier Gen. Yoav Mordechai said they were in the "advanced and final stages of launching an attack on the Eilat - Egyptian border."  Military sources added that global jihad elements were taking advantage of regional instability, in particular in Egypt and Syria, to create infrastructure that can be used to attack Israel.
Prime Minister Binyamin Netanyahu issued a statement praising the IDF and the Shin Bet for the "precise operation" in Gaza. "All those who intend to harm us should know our long arm will reach them," he said.
Israel is increasingly concerned with the presence of global jihad operatives in the Sinai Peninsula and their ties with Palestinian terrorists in the Gaza Strip.  Several terror cells are believed to consist of Palestinians from the Gaza Strip as well as global jihad operatives from various Arab countries throughout the Middle East.
Last week, the Counter-Terrorism Bureau urged Israeli tourists in Sinai to return to Israel immediately because terrorists are planning to abduct Israelis from the peninsula.
http://www.jpost.com/Defense/Article.aspx?id=280118
"JERUSALEM THE BURDENSOME STONE" 
Prophecy Sign: Zechariah 12:3 And in that day will I make Jerusalem a burdensome stone for all people: all that burden themselves with it shall be cut in pieces, though all the people of the earth are gathered together against it.
In my book I give you time lines for all the prophecies so you can see what has been happening over the years to fulfill the Lord's prophecies. If you have been with me at my site over the past few years you would have seen all the reports showing you that all of Israel's friends are turning away from her.  Turkey was a major partner with Israel until a year and a half ago. Egypt was a peace partner until this year when the Muslim Brotherhood took over the Egyptian government. The US is showing signs of backing off Israel over the failed peace talks and as you will see from the news today the UK is following in step.  
Headline: Israel losing international support: UK envoy to Tel Aviv
"In an unusually forthright interview for Israel's Channel 10 news, Matthew Gould said he has detected a shift among the middle ground of British members of parliament towards a more critical view of Tel Aviv, The Guardian reported on its website. There is "growing concern" in the UK over Israel's hostility toward the Palestinians, Gould said. "Support for Israel is starting to erode and that's not about these people on the fringe who are shouting loudly and calling for boycotts and all the rest of it. The interesting category is those members of parliament in the middle, and in that group I see a shift."
I hope you listen to what the Lord has shown us concerning all the nations coming against Jerusalem and Israel in the last days because the shift that was reported in the Guardian is the shift that Christians have been expecting.
http://www.presstv.ir/detail/2012/08/05/254580/israel-losing-intl-support-uk-envoy/
Prophecy Sign: Luke 21:25 25 And there shall be signs in the sun, and in the moon, and in the stars; and upon the earth distress of nations, with perplexity; the sea and the waves roaring;
Headline: N. Korean Floods Leave 400 People Missing, 212,000 Homeless
North Korea
said 400 people were missing and about 212,000 were left homeless following heavy rains and floods that lasted through July. The floods killed 169 people and injured 144, while destroying more than 8,600 houses and submerging 43,770 residential buildings, the official Korean Central News Agency said yesterday. At least 65,280 hectares of farmland was damaged, KCNA said.
Inundation of coal mines north of Pyongyang threatens to hurt the isolated communist country that relies on exports of underground minerals as one of few legitimate ways to earn foreign currencies. North Korea, now under the leadership of Kim Jong Un, has been grappling with decades of food shortages and economic mismanagement, while its nuclear weapons and missile programs have cut international support.
North Korean Premier Choe Yong Rim toured Anju, where almost all public buildings and industrial facilities were flooded or destroyed, with water and power supplies cut off, KNCA said in a separate report. Choe was briefed on the damages in the city and held a meeting, the agency said. United Nations staff members based in North Korea
made visits on July 31 with the Red Cross and other non-governmental organizations to two
storm-struck counties to investigate and assess damage and needs, Christopher de Bono, Unicef's chief of communications for East Asia and the Pacific, wrote in an e-mail last week. 
http://www.bloomberg.com/news/2012-08-05/north-korean-floods-leave-400-people-missing-212-000-homeless.html
Headline: Tropical Storm Ernesto Stronger, May Become Hurricane Tomorrow
Headline: Tropical Storm Florence joins Ernesto in Atlantic Ocean Tropical
 
Storm Ernesto, the fifth system of the Atlantic hurricane season, has
strengthened and may become a hurricane tomorrow. Ernesto has maximum sustained winds of 60 miles (95 kilometers) per hour, the National Hurricane Center said in its latest advisory. It is about305 miles south of San Juan, Puerto Rico, and moving west at 18mph. "On the forecast track the center of Ernesto will move across the eastern and central Caribbean Sea over the weekend and pass near or south of Jamaica on Sunday," the center said on its website."Gradual strengthening is forecast during the next couple of days and Ernesto is expected to become a hurricane on Sunday."
http://www.bloomberg.com/news/2012-08-04/tropical-storm-ernesto-stronger-may-become-hurricane-tomorrow.html
http://theextinctionprotocol.wordpress.com/2012/08/04/tropical-storm-florence-joins-ernesto-in-atlantic-ocean/
Headline: Tropical Storm Haikui Hits Okinawa
Tropical Storm Haikui is now bearing down on Okinawa and the surrounding islands. What are the effects of this storm and where will it go next, all in todays Video date. 
http://www.youtube.com/watch?v=vSME5iCnEvA
http://www.westernpacificweather.com/2012/08/04/tropical-storm-haikui-hits-okinawa-video-update/
Prophecy Sign: Matthew 24:7 7For nation shall rise against nation, and kingdom against kingdom: and there shall be famines, and pestilences, and earthquakes, in diver places.
Headline: H3N2: has the next influenza pandemic threat arrived? 3 die from outbreak in Australia NSW
H3N2:has the next influenza pandemic threat arrived? 3 die from outbreak in Australia NSW With 16 new human cases in the last three weeks — 12 in the last week alone — an outbreak of a variant strain of swine flu is giving CDC officials the jitters. What worries officials is that the new flu, officially called variant type A H3N2 or H3N2v, carries the M gene from the human H1N1 pandemic flu bug. This gene makes it easier for flu bugs to infect humans and spread among them. The first human case was detected in July 2011. Since then there have been 29 reported cases, although more cases likely have gone unreported. "Since the fall of 2011there has been a big increase in these types of infections," Joseph Bresee, MD,of the CDC's Influenza Division, said at a news conference held to announce the new cases. "All 29 cases have had H3N2v with the M gene of pandemic H1N1. This may confer increased transmissibility to and among humans." Last year, three people caught the bug from another person. As far as the CDC can tell, that hasn't happened this year.
https://theextinctionprotocol.wordpress.com/2012/08/04/h3n2-has-the-next-influenza-pandemic-threat-arrived-3-die-from-outbreak-in-australia-nsw/
Headline: US officials warn of swine flu outbreak at fairs
US health officials on Friday warned the public to be careful around pigs after an outbreak of flu among visitors to county fairs. The virus does not appear to have evolved to the point where it spreads easily among humans, but it does contain a gene from the pandemic H1N1 flu that sickened millions worldwide in2009 and 2010. "We are concerned that... may confer the potential for the virus to infect or spread among humans to a greater extent," said Joseph Bresee, an influenza epidemiologist at the Centers for Disease Control and Prevention. The virus was first detected in July 2011 and there have since been a total of 29 known cases -- 16 of them in the past three weeks -- in the United States.
http://ca.news.yahoo.com/us-officials-warn-swine-flu-outbreak-fairs-175721487.html
Prophecy Sign: Famine Matthew 24:7& Revelation 6:8
Headline: Experts Warn of Future Asia-Pacific Food Vulnerability
Drought in the United States and Indiais leading to higher food prices and has some experts warning Asia Pacificcountries to step up investment in agriculture. Asia's shifting dietary habitsrequire greater imports and are raising fears over future food vulnerability.Across the globe there is an increased focus on the challenge of producingenough food as the global population is predicted to reach nine billion by2050. Scientists said food output must rise by 70 percent to meet demand. Whiledrought in the United States and India has increased prices on somecommodities, overall the United Nations Food and Agriculture Organization(FAO), said there are still adequate supplies of most key commodities. But theU.K.-based Center forLow Carbon Futures, a network of universities, said in a new report thatwithin 10 years large parts of Asia may face long periods of severe drought.Especially hit will be northern China, India, Afghanistan, Mongolia, andPakistan. Other parts of Asia are likely to face longer and wetter monsoonseasons.
http://www.voanews.com/content/experts-warn-future-asia-pacific-food-vulnaribility/1454734.html
 Prophecy Sign:  Matthew 24:12 were Jesus stated the following: "Because of the increase of wickedness, the love of most will grow cold,".
http://www.theglobeandmail.com/news/world/seven-killed-three-wounded-in-wisconsin-sikh-temple-shooting/article4464024/
http://www.theglobeandmail.com/video/video-fbi-to-investigate-shootings-at-sikh-temple/article4464207/
 MORE FISH DYING
Prophecy Sign: "There is no faithfulness, no love, no acknowledgment of God in the land. There is only cursing, lying and murder, stealing and adultery; they break all bounds, and bloodshed follows bloodshed. Because of this the land mourns, and all who live in it waste away; the beasts of the field and the birds of the air and the fish of the sea are dying. [Hosea 4:1-3]

The fish of the sea, the birds of the air, the beasts of the field, every creature that moves along the ground, and all the people on the face of the earth will tremble at my presence. The mountains will be overturned, the cliffs will crumble and every wall will fall to the ground. [Ezekiel 38:20]

"I will sweep away both men and animals; I will sweep away the birds of the air and the fish of the sea. The wicked will have only heaps of rubble when I cut off man from the face of the earth," declares the LORD. [Zephaniah 1:3]
Headline: Thousands of fish die as Mid west streams heat up
(AP) — Thousands of fish are dying in the Midwest as the hot, dry summer dries up rivers and causes water temperatures to climb in some spots to nearly 100 degrees. About 40,000 shovelnose sturgeon were killed in Iowa last week as water temperatures reached 97 degrees. Nebraska fishery officials said they've seen thousands of dead sturgeon, catfish, carp, and other species in the Lower Platte River, including the endangered pallid sturgeon. And biologists in Illinois said the hot weather has killed tens of thousands of large- and smallmouth bass and channel catfish and is threatening the population of the greater redhorse fish, a state-endangered species. So many fish died in one Illinois lake that the carcasses clogged an intake screen near a power plant, lowering water levels to the point that the station had to shut down one of its generators. "It's something I've never seen in my career, and I've been here for more than 17 years," said Mark Flammang, a fisheries biologist with the Iowa Department of Natural Resources. "I think what we're mainly dealing with here are the extremely low flows and this unparalleled heat."
To view a complete list of all the fish, birds, and animals dying click to the yellow link below.
http://frankdimora.typepad.com/the_last_chronicles/2011/11/will-you-help-me-please.html
http://news.yahoo.com/thousands-fish-die-midwest-streams-heat-183228110.html
 Headline: Vietnam hosts first-ever LGBT parade: Same-sex marriage law to follow?


http://www.rt.com/news/vietnam-gay-parade-marriage-law-904/
The media reports time after time about gays being  hharassed by non-gays and, they don't like it.  What you seldom see reported is how the gays harass Christians who they oppose. Today's video gives you an example of the real hearts of these men picking on a lone man reading his Bible. What do you expect from someone who says "He Hates God"?  When I saw this video I felt sorry for both the man reading His Bible because he was being ganged on but I also felt sorry for the lead  gay man harassing the man tying to read his Bible. Why did I feel this way? Because unless this man comes to know Christ a much worse fate awaits him. Christ loves everyone in the video but only those who are covered with the Blood of the Lamb, Jesus, will entered His kingdom. Satan is waiting for the rest who have fallen for his lies and deceived people into thinking there is no God nor hell.
http://www.breitbart.com/Breitbart-TV/2012/08/05/Gay-Protesters-Harass-Homeless-Man-Reading-Bible-at-Chick-fil-A
The Last Chronicle of Planet Earth" Aug. 1,2012 Edition is now ready for you to download for free. Please note, the download may take some time to download but it will come up. The speed will depend on your computer.  Download The Last Chronicles of Planet Earth Aug. 6, 2012 Edition written by Frank DiMora pdf
Are you really searching to know the truth? Jesus will show it to you!
Disclaimer: Since the facts and evidence on my posts and in my book are real as they are taken from news around the world, and this news proves Bible prophecy is actually coming to pass in our generation, the information you read or see may scare you. If you are depressed or on any meds for depression, or have any type of mental disease consult your doctor before reading this material.
If you would like me to come to your Church to give a prophecy seminar you can contact me either by writing to my P.O Box, or email me at fjdimora@gmail.com. There is no charge for my labor of love in Christ.
Frank
DiMora, P.O. Box 732, Lompoc Ca.
93438
All of my radio/video shows can be seen at The Edge. Just click to link below.
http://www.theedgeam.com/perspectives/last_chronicles/index.htm
What it will be like when the rapture hits. Rapture of the Church in English: Download
A THIEF IN THE NIGHT.doc Aug.7, 2011 By Frank DiMora pdf
Below is a link to the rapture of the Church in French. Download UN VOLEUR DANS LA NUITwith-israel-youre-messing-with-usa/#ixzz1YZ2wxuHp