FREE
Bible prophecy documentary book download proving our generation will see the return of the Lord. Do you want to know what is going to happen in the future before it actually takes place? The Word of God provides you with specific details about our future and all of these things are coming to pass in this generation. If you aren't saved yet this is a must read!
Download The Last Chronicles of Planet Earth August 17, 2012 Edition written by Frank DiMora
https://www.facebook.com/LastChronicles?ref=hl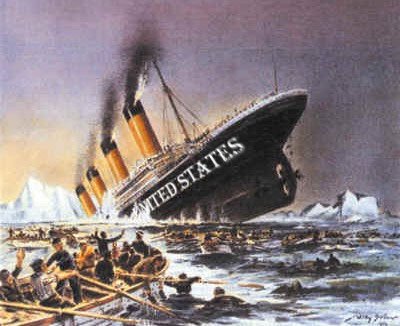 In the Book of Daniel the Lord gives us a look at every world empire from Daniel to the return of Jesus Christ. No where in the  book of Daniel or, for that matter in any other book found in the Bible does it say anything about America being a world empire during the last days. The lack of information however can show us a great deal. For example, ask your self this question. The United States is suppose to be the strongest nation on Planet Earth so why did the Lord leave out any trace of America concerning the last days? Could it be that the US during the last days would fall away from power to the point that she would not play any major rule as a world superpower in the last days? I think this could be the case. In many of my previous posts I have been showing you how America is declining in power. I warned you to watch the news because you will see hundreds of thousands of Americans lose their jobs each month as America's power in the world keeps declining. I have shown you time and time again when the President comes up with good news about job increases, the real news concerning the jobs will be adjusted soon after and it won't be good news. Here is a case in point. Watch the video below and see how many jobs the Obama Admin. is calling good news then, read the newest report showing you how many people just filed for unemployment benefits. April 12, 2012
http://frankdimora.typepad.com/the_last_chronicles/depression_coming_/ 
 Headline: Jobless Claims Hold Flat; Spending Tops Income Gains
The number of Americans filing new claims for jobless benefits was unchanged last week, pointing to a labor market that was treading water.
Stan Hoda | AFP
| Getty Images
---
Initial claims for state unemployment benefits were a seasonally adjusted 374,000, the Labor Department said on Thursday. The prior week's figure was revised up to show 2,000 more applications than previously reported.
In a separate report, consumer spending rose 0.4 percent in July, the best showing in five months and ahead of the 0.3 percent income gain.
Economists polled by Reuters had forecast claims dipping to 370,000 last week. The four-week moving average for new claims, a better measure of labor market trends, rose 1,500 to 370,250.
http://www.cnbc.com/id/48840584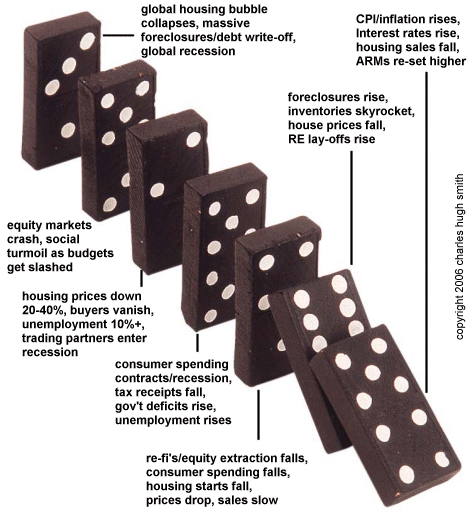 http://www.businessweek.com/ap/2012-08-30/report-foreclosure-sales-fell-sharply-in-2q
Is the U.S. Headed for a Double-Dip Recession?
The economy may well be able to continue growing and avoid another slump, but the recovery is unlikely to gain much momentum in 2013.
Victor J. Blue / Bloomberg / Getty Images Job seeker Julia Gilgurd, center, waits in line to enter a Choice Career Fair in New York City, July 18, 2012.
In addition to a host of warnings, last Wednesday's Congressional Budget Office report did contain a little bit of good news. The economy will grow slightly faster in the second half of 2012 than in the first half, and inflation will stay extremely low, according to projections in the CBO's Update to the Budget and Economic Outlook. The bad news is that unemployment will probably remain above 8%. The worse news is that next year the U.S. faces continued high unemployment, below-average growth and the risk of a double-dip recession.
The U.S. economy never built up much of a head of steam coming out of the 2007-09 recession, which saw the biggest drop in real GDP since the 1940s and the highest unemployment since the early 1980s. Historically, after such a major downturn ends, there's typically a powerful rebound in which real GDP growth averages more than 4.5% annually over a period of two or three years and briefly hits annualized rates above 9%. By contrast, during the recovery that began in 2009, the economy has never grown faster than 4.5% and has averaged about 2.2% a year.
 http://business.time.com/2012/08/28/is-the-u-s-headed-for-a-double-dip-recession/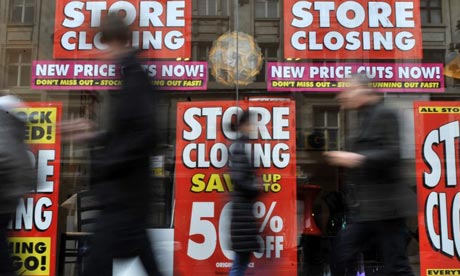 GDP figures to be released on Wednesday will paint a gloomy picture for Britain.
Britain's longest double-dip recession for more than 50 years will be confirmed in official figures out on Wednesday. Gross domestic product (GDP) – a broad measure for the total economy – is forecast to have shrunk by around 0.2% between April and June in its third straight quarter of contraction. That would mark the longest double-dip recession since quarterly records began in 1955 and is believed to be the worst since the second world war. The last double-dip recession was in the 1970s when the economy was hamstrung amid soaring oil prices and a miners' strike, but that only lasted two quarters.
http://www.guardian.co.uk/business/2012/jul/25/gdp-figures-recession-50-years
Headline: Stock Market, World Economy Headed For Crash, Some Experts Say

Although news regarding the economy has been somewhat cautiously hopeful in  recent months, most people haven't even really begun to shake off the pall of a  few years of economic turmoil and a relatively sucky overall decade- but if some  experts on the economy are correct, the worst is ahead of us when it comes to  stock market and general economic pain.  The dissolution of the housing bubble was only one of the things that caused  a spiral of financial woe both in the US and outside it, and one expert says  that the worst aftereffects of bad debt are still to come. USA  Today quotes Harry Dent, who authored a book on the very subject  entitled The Great Crash Ahead. Dent has pushed his predictions back,  but says that the stock market is in for a rough ride after 2012:
"[Dent] has pulled back on his earlier prediction of a crash in 2012, as  central banks around the world have been flooding markets with money, giving  stocks an artificial short-term boost. But a crash is coming in 2013 or 2014, he  warns. "This will be a repeat of 2008-09, only bigger, when it finally hits," Dent told USA TODAY
http://www.inquisitr.com/198518/stock-market-world-economy-headed-for-crash-some-experts-say/
Headline: 'Beware a rerun of the Great Panic of 2008': Head of World Bank warns Europe is heading for 'danger zone' as world markets suffer bleakest day of the year so far

The head of the World Bank yesterday warned that financial markets face a rerun of the Great Panic of 2008. On the bleakest day for the global economy this year,  Robert Zoellick said crisis-torn Europe was heading for the 'danger zone'. Mr Zoellick, who stands down at the end of the month after five years in charge of the watchdog, said it was 'far from clear that eurozone leaders have steeled themselves' for the looming  catastrophe amid fears of a Greek exit from the single currency and meltdown in Spain. The flow of money into so-called 'safe havens' such as UK, German and US government debt turned into a stampede yesterday.
http://www.dailymail.co.uk/news/article-2153324/Markets-facing-rerun-Great-Panic-2008-Head-World-Bank-warns-Europe-heading-danger-zone-bleakest-day-global-economy-year.html
Headline: Spain in wait-and-see mode as recession worsens
Spanish Prime Minister Mariano Rajoy on Tuesday (28 August) said his government has not yet taken a decision on asking for European help in refinancing its debt, pending a key meeting of the European Central Bank next week. Speaking alongside EU council chief Herman Van Rompuy, who interrupted his
vacation in Spain to meet the Prime Minister, Rajoy re-stated his commitment to "take all necessary measures" to get the country out of the worsening crisis. "We've already taken complicated, painful decisions, but they were required in this situation. We have to lower our public deficit, we can no longer continue in this situation where refinancing is so difficult," he said.
http://euobserver.com/economic/117352
Headline: Market crash 'could hit within weeks', warn bankers
Insurance on the debt of several major European banks has now hit historic levels, higher even than those recorded during financial crisis caused by the US financial group's implosion nearly three years ago.
Credit default swaps on the bonds of Royal Bank of Scotland, BNP Paribas,
Deutsche Bank and Intesa Sanpaolo, among others, flashed warning signals on
Wednesday. Credit default swaps (CDS) on RBS were trading at 343.54 basis
points, meaning the annual cost to insure £10m of the state-backed lender's
bonds against default is now £343,540.
The cost of insuring RBS bonds is now higher than before the taxpayer was
forced to step in and rescue the bank in October 2008, and shows the recent
dramatic downturn in sentiment among credit investors towards banks.
"The problem is a shortage of liquidity – that is what is causing the
problems with the banks. It feels exactly as it felt in 2008," said one senior
London-based bank executive.
"I think we are heading for a market shock in September or October that will
match anything we have ever seen before," said a senior credit banker at a major
European bank.
http://www.telegraph.co.uk/finance/financialcrisis/8721151/Market-crash-could-hit-within-weeks-warn-bankers.html
Headline: Three unusual reasons September could be a "treacherous" month for stocks
http://www.marketanthropology.com/2012/08/a-body-of-evidence.html 

Headline: China Confronts Mounting Piles of Unsold Goods
GUANGZHOU, China — After three decades of torrid growth, China is encountering an unfamiliar problem with its newly struggling economy: a huge buildup of unsold goods that is cluttering shop floors, clogging car dealerships and filling factory warehouses. The glut of everything from steel and household appliances to cars and apartments is hampering China's efforts to emerge from a sharp economic slowdown. It has also produced a series of price wars and has led manufacturers to redouble efforts to export what they cannot sell at home.
The severity of China's inventory overhang has been carefully masked by the blocking or adjusting of economic data by the Chinese government — all part of an effort to prop up confidence in the economy among business managers and investors.
But the main nongovernment survey of manufacturers in China showed on Thursday that inventories of finished goods rose much faster in August than in any month since the survey began in April 2004. The previous record for rising inventories, according to the HSBC/Markit survey, had been set in June. May and July also showed increases.
"Across the manufacturing industries we look at, people were expecting more sales over the summer, and it just didn't happen," said Anne Stevenson-Yang, the research director for J Capital Research, an
economic analysis firm in Hong Kong. With inventories extremely high and factories now cutting production, she added, "Things are kind of crawling to a halt."
Problems in China give some economists nightmares in which, in the worst case, the United States and much of the world slip back into recession as the Chinese economy sputters, the European currency zone collapses and political gridlock paralyzes the United States.
News not in my video: in yellow
World stocks drop amid signs eurozone in recession
PARIS (AP) — World stock markets drifted Thursday as investors continued their long wait for economic
stimulus and a survey of European sentiment suggested the region was heading for recession.
A successful bond sale in Italy — which eased concerns that the country's borrowing rates are spiraling out of control — wasn't enough to buoy markets, although the euro made modest gains. The currency
shared by 17 countries rose 0.1 percent to $1.2547.
In Europe, Germany's DAX closed down 1.64 percent to 6,895. The FTSE index of leading British shares, meanwhile, fell 0.4 percent to 5,719, and France's CAC-40 dropped 1 percent, to 3,379.
Trading has been light this week as investors await a speech Friday from an economic conference by Fed Chairman Ben Bernanke that they hope will indicate Washington is preparing more measures to
jump-start the economy. However on Wednesday, the U.S. Federal Reserve's "Beige Book" survey of economic sentiment was fairly positive, damping hopes of further action.
The American economy seems to be in an inconvenient middle spot: not growing fast enough to drive down unemployment and spur a global rally, but likely not doing poorly enough to persuade the Fed to
step in again.
http://news.yahoo.com/world-stocks-drop-amid-signs-eurozone-recession-115950618--finance.html
http://www.usdebtclock.org/world-debt-clock.html
Are you really searching to know the truth? Jesus will show it to you!
Disclaimer: Since the facts and evidence on my posts and in my book are real as they are taken from news around the world, and this news proves Bible prophecy is actually coming to pass in our generation, the information you read or see may scare you. If you are depressed or on any meds for depression, or have any type of mental disease consult your doctor before reading this material.
Frank DiMora, P.O. Box 732, Lompoc Ca. 93438
All of my radio/video shows can be seen at The Edge. Just click to link below.
http://www.theedgeam.com/perspectives/last_chronicles/index.htm
Download A THIEF IN THE NIGHT By Frank DiMora Aug. 2012 pdf
The Thief in The Night  Spanish
Download 8-27-12 -  Spanish - UN LADRÓN EN LA NOCHE
Download DANISH - Thief in the Night (1)
Link to the rapture of the Church in French.Download Thief in the Night- French