FREE Bible prophecy documentary book download proving our generation will see the return of the Lord. Do you want to know what is going to happen in the future before it actually takes place? The Word of God provides you with specific details about our future and all of these things are coming to pass in this generation. If you aren't saved yet this is a must read. The Last Chronicles of Planet Earth October 10, 2013 Edition written by Frank DiMora
Prophecy Sign: "There is no faithfulness, no love, no acknowledgment of God in the land. There is only cursing, lying and murder, stealing and adultery; they break all bounds, and bloodshed follows bloodshed. Because of this the land mourns, and all who live in it waste away; the beasts of the field and the birds of the air and the fish of the sea are dying. [Hosea 4:1-3]
October 9, 2013 - Hundreds of Mutton Birds wash up dead on beaches in Sydney, Australia. http://www.dailytelegraph.com.au/newslocal/northern-beaches/mutton-birds-in-their-hundreds-wash-up-on-sydney8217s-northern-beaches-as-their-migration-ends/story-fngr8hax-1226735386866
October 9, 2013 - 75,000 cattle dead from snowfall in South Dakota, America. http://usnews.nbcnews.com/_news/2013/10/08/20876196-shutdown-worsens-historic-blizzard-that-killed-tens-of-thousands-of-south-dakota-cattle?lite
October 9, 2013 - Large amount of dead fish floating in the sea due to oil spill off the coast of Uran, India. http://www.thehindu.com/sci-tech/energy-and-environment/dead-fish-float-on-sea-after-oil-spill/article5214927.ece
Listed
below are the nations which will attack Israel from Ezekiel chapter 38 and their
modern day names.  The map shows nations attacking Israel.
Gog
is the leader of the Russian invasion of Israel.
Magog,
Meshech, and Tubal comprise modern day Russia.
Persia is Iran,
parts of northern Iraq, and Afghanistan.
Cush
is Ethiopia and Sudan.
Put
is Libya and will most likely include Tunisia, Algeria, and Morocco.
Gomer
is Eastern Germany.
Beth
Togarmah is Turkey and Armenia.
Obama
forewarns Netanyahu that sanctions against Iran will soon be partially
lifted

Iran
says developed new drone capable of reaching Israel
Prophecy Sign:
1Keep not thou silence, O God: hold not thy peace, and be not still, O God.
2
For, lo,
thine enemies make a tumult: and they that hate thee have lifted up the head.
3
They have
taken crafty counsel against thy people, and consulted against thy hidden ones.
4
They have
said, Come, and let us cut them off from being a nation; that the name of Israel
may be no more in remembrance.
5
For they
have consulted together with one consent: they are confederate against
thee:"
Prophecy Sign:
Zechariah 12:3 And in that day will I make Jerusalem a burdensome stone for all
people: all that burden themselves with it shall be cut in pieces, though all
the people of the earth are gathered together against it.
Prophecy Sign:
"And I will bless them that bless thee, and curse him that curseth thee: and in
thee shall all families of the earth be blessed" (Genesis 12:3).
"I
will also gather all nations, and will bring them down into the valley of
Jehoshaphat,
and will plead with
them there for my people and for my heritage Israel, whom they have scattered
among the nations, and parted my land" (Joel 3:2).
"And
in that day will I make Jerusalem a burdensome stone for all people: all that
burden themselves with
it shall be cut in pieces, though all the people of the earth be gathered
together against it" (Zechariah 12:3).
Obama
pushing Israel to vacate Jordan Valley
Prophecy
Sign: 1
Thessalonians 5:3
3
For when they shall say, Peace and safety; then
sudden destruction cometh upon them, as travail upon a woman with child; and
they shall not escape.
Mashaal:
Stop Peace Talks, Start Armed Struggle
Hamas
leader calls for an end to PA peace talks with Israel and for an armed struggle
to "liberate Jerusalem".
Hamas top dog Khaled Meshal visits Erdogan in Ankara, calls for end of talks and renewal of armed jihad against Israel

PLO official: Palestinians 'seriously considering' declaring failure of peace talks
Prophecy Sign:

Luke 21:25 25 And there shall be signs in the sun, and in the moon, and in the stars; and upon the earth distress of nations, with perplexity; the sea and the waves roaring
Comet ISON Likely to Survive Solar Plunge
Why
isn't America in Bible prophecy?  The lack of information could be giving us
more information than you know.  Why would the Lord give us the complete details
of each world empire to reign the world all the way up to the second coming of
Christ but, when it comes to America there is silence?  Could it be because
America was not a super power during the last days nor a world empire?  Many are
saying that the USA will have to decline in order to give way to the Revived
Roman Empire Jesus and Daniel talk about.  I for one agree that it does appear
America will face some major disaster that will cause her to lose that super
power status. Could what is happening in Washington cause America to lose her
freedom?  Many think this will never happen but I think it is very possible that
this could happen.
These
two press releases from the E.U. Times I found interesting. Whether
Obama will bend or not I do not know but those in the E.U. seem to think that he
will not. You will not see this in the main stream media until after it happens.
Sometimes the foreign press is more open to telling us things that our own press
will not. This is going to get interesting if this is in fact true. The people
across the country are moving against Obama and it is suspected that Obama may
pull a "Lincoln" and start another civil war in the United States to take us
into a communist run government and begin to form the world into a NWO. Stand by
for further news on the matter.
For
now, this is just what the E.U. is saying. Russia has spoken about this but
nothing here in the main stream media.
Truth
or rumor? We will see shortly if Obama stays on course to keep the government
closed.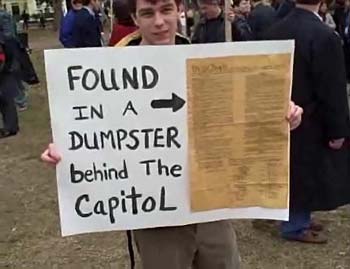 Obama Retreats To Secret Bunker As "Big Event" Draws Near
http://www.eutimes.net/2013/10/obama-retreats-to-secret-bunker-as-big-event-draws-near/
Pentagon Warns To Expect "Radical" Change in US Government Soon
http://www.eutimes.net/2013/10/pentagon-warns-to-expect-radical-change-in-us-government-soon/
Prophecy Sign:

(Disease) Matthew 24:7
7
For nation

shall rise against nation, and kingdom against kingdom: and there shall be famines, and pestilences, and earthquakes, in divers
places.
Deadly brain-eating amoeba found in Louisiana water system, CDC confirms
E. coli found in Colorado flood zones, but no oil, gas contamination
Japanese doctors ordered to cover up mass radiation sickness across population
Luke 21:11 And great earthquakes shall be in divers places, and famines, and pestilences; and fearful sights and great signs shall
there be from heaven.  2013 has been very active when it come to volcano
erupting. Here is another one!
Russia's Klyuchevskoi Volcano Spews Ash Up to 3.7 Miles