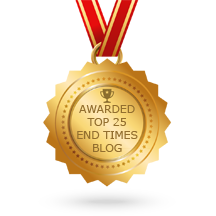 Download The Last Chronicles of Planet Earth January 23 2018 edition written by Frank DiMora
The prophet Daniel in Daniel 12:4  But thou, O Daniel, shut up the words, and seal the book, even to the time of the end: many shall run to and fro, and knowledge shall be increased. Not many know this but there is a new internet network that is in the works. This network is called Substratum. In the very near future if you live in Russia, Iran, or China for example you will be able to use this network without the worry of your government shutting you off from the rest of the world. The video below explains what Substratum is all about.  
After reading the book of Revelation one may wonder why Jesus gave us a warning as you see below. If you take a look around the world you can see first hand how our generation is destroying our planet!
I only quoted part of the report which to me is the most important part of the report. Each year I keep telling you please watch what is taking place on the Temple Mount because we are witnessing the signs that are paving the way to fulfill the prophecies you see above.

Revelation 16:8 
"The fourth angel poured out his bowl on the sun, and the sun was given power to scorch people with fire." Revelation 7: 16 "Never again will they hunger; never again will they thirst. The sun will not beat upon them, nor any scorching heat." 
 More news:  https://www.nbcnews.com/news/world/water-crisis-hits-cape-town-south-africa-day-zero-looms-n841881
Matthew 24:6, "You will hear of wars and rumors of wars, but see to it that you are not alarmed. Such things must happen, but the end is still to come."
WW3 RED ALERT: China and Russia THREATEN Japan after 'enforcing' claim to South China Sea with military
MILITARY threats have been made by China and Russia towards Japan by sending aircraft and naval vessels into Japanese territory as the dispute over the South China Sea rages on.
Hezbollah official warns terror group can destroy Israeli army
Hezbollah has called an article written by IDF Spokesman Brig.-Gen. Ronen Manelis and published on Lebanese opposition websites "provocative words published by a coward." "The article is nonsense and a provocation that is published by someone who is a coward," Hajj Muhammad Raad, the head of Hezbollah's "Loyalty to Resistance" Lebanese Parliamentary bloc, wrote on the Ahewar website.
Afghanistan conflict: Deadly attack on Kabul military post
Militants have killed at least 11 soldiers in an attack on an army post in Kabul, the fourth major assault in a surge of violence in just over a week. Sixteen other soldiers were injured in the raid near the main military academy in the west of the Afghan capital. Four militants were killed, a defense ministry spokesman told the BBC. A fifth was arrested. Islamic State (IS) militants claimed the assault.
 Midnight Gaza rocket falls inside Israel
A Code Red sirens was sounded at midnight Monday evening in the Sdot Negev and Sha'ar Hanegev Regional Councils after a rocket was fired into Israeli territory. Explosions were heard in the area and after a rapid investigation, the IDF confirmed that a rocket had fallen inside open space in Israeli territory. No injuries or damages were reported in the incident.
'We'll stop Iran in Lebanon like we stopped it in Syria'
"We have stopped many Iranian attempts to arm Hezbollah from Syria, and now they're trying to do the same in Lebanon," Elkin said. "Just like we knew how to stop them when they worked from Syria, we know how to stop them when they operate out of Lebanon."
2 Thessalonians 2:7 7For the secret power of lawlessness is already at work; but the one who now holds it back will continue to do so till he is taken out of the way.
 Czech citizens are arming themselves over fears of massive Muslim refugee violence throughout Europe
In 2017, the number of firearms permits increased to 303,000. That is 2,700 more than in 2016 and an increase of 11,000 compared with 2015. Fears over terror attacks, immigration and personal assaults have caused the surge, Czech police say.