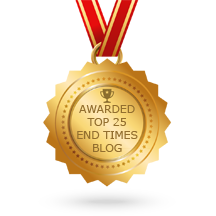 Download The Last Chronicles of Planet Earth July 26 2018 edition written by Frank DiMora
                                                            PROPHECY: 
                                               The Rebuilt Jewish Temple
"And there was given me a reed like unto a rod: and the angel stood, saying, Rise, and measure the temple of God, and the altar, and them that worship therein.2 But the court which is without the temple leave out, and measure it not; for it is given unto the Gentiles: and the holy city shall they tread under foot forty and two months" (Revelation 11:1-2).
"And he shall confirm the covenant with many for one week:  and in the midst of the week he shall cause the sacrifice and the oblation to cease, and for the overspreading of abominations he shall make it desolate, even until the consummation, and that determined shall be poured upon the desolate" (Daniel 9:27).
"When ye therefore shall see the abomination of desolation, spoken of by Daniel the prophet, stand in the holy place, (whoso readeth, let him understand)" (Matthew 24:15).
"Who opposeth and exalteth himself above all that is called God, or that is worshipped; so that he as God sitteth in the temple of God, shewing himself that he is God" (2 Thessalonians 2:4).
HEAD LINE:  DOZENS OF PALESTINIANS RIOT AT TEMPLE MOUNT FOLLOWING FRIDAY PRAYERS
"Severe clashes between Muslim worshipers and Israeli security forces near the Temple Mount were reported on Friday in the early afternoon after Friday prayers. According to the police, worshipers started throwing stones and fireworks at police forces without any clear reason after the conclusion of Friday prayers."
https://www.jpost.com/Arab-Israeli-Conflict/Dozens-of-Palestinians-riot-at-Temple-Mount-following-Friday-prayers-563596
HEAD LINE: ABBAS'S FATAH: ISRAEL PLANNING TO DESTROY AL-AQSA MOSQUE
The Palestinians have since used the incident to revive their long-standing charge that Israel was planning to destroy the Al-Aqsa Mosque in order to rebuild the Third Temple.
https://www.jpost.com/Israel-News/Abbass-Fatah-Israel-planning-to-destroy-Al-Aqsa-Mosque-563525
"But of the times and the seasons, brethren, ye have no need that I write unto you.  For yourselves know perfectly that the day of the Lord so cometh as a thief in the night.  For when they shall say, Peace and safety; then sudden destruction cometh upon them, as travail upon a woman with child; and they shall not escape" (1 Thessalonians 5:1-3).
HEAD LINE: ANALYSIS: AS TENSIONS GROW, PALESTINIANS 'WAITING FOR ORDER TO ATTACK'
Hamas political official Fathi Hamad stated that "the military wing members [of Hamas] are waiting for an order to attack the enemy." UN Special Coordinator for the Middle East Peace Process Nickolay Mladenov held a meeting with Hamas leader Ismail Haniyeh on Thursday to discuss options to deescalate the situation. https://www.jpost.com/Israel-News/ANALYSIS-As-tensions-grow-Palestinians-waiting-for-order-to-attack-563522
HEAD LINE: 'Close to war, no policy for Gaza'
"According to Katz, the problem is the lack of a consistent policy vis-à-vis Hamas in Gaza. "The defense minister still thinks Hamas should be made to decide on a proposal, in my opinion, if the peace is not restored, we are very close to another battle in Gaza. It is important to understand that I am not pushing for war." 
https://www.israelnationalnews.com/News/News.aspx/249642
                          PROPHECY: "JERUSALEM THE BURDENSOME STONE"  
 Prophecy Sign: Zechariah 12:3 And in that day will I make Jerusalem a burdensome stone for all people: all that burden themselves with it shall be cut in pieces, though all the people of the earth are gathered together against it.
HEAD LINE: PA may ask UN General Assembly to oust Israel
The Palestinian Authority is weighing a UN General Assembly Resolution to rescind Israeli membership in the international body, which first recognized it as a state in 1948. "Israel is a country that is in total violation of the charter of the UN. Does it deserve to be a member of the UN and any of its agencies or not?" PLO Executive Committee Secretary-General Saeb Erekat said on Thursday.
https://www.jpost.com/Arab-Israeli-Conflict/PA-may-ask-UN-General-Assembly-to-oust-Israel-563569