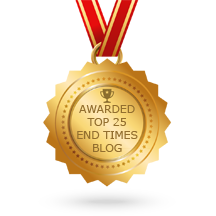 Download The Last Chronicles of Planet Earth July 26 2018 edition written by Frank DiMora
                                                                                      PROPHECY: 
The Rebuilt Jewish Temple
"And there was given me a reed like unto a rod: and the angel stood, saying, Rise, and measure the temple of God, and the altar, and them that worship therein.2 But the court which is without the temple leave out, and measure it not; for it is given unto the Gentiles: and the holy city shall they tread under foot forty and two months" (Revelation 11:1-2).
"And he shall confirm the covenant with many for one week:  and in the midst of the week he shall cause the sacrifice and the oblation to cease, and for the overspreading of abominations he shall make it desolate, even until the consummation, and that determined shall be poured upon the desolate" (Daniel 9:27).
"When ye therefore shall see the abomination of desolation, spoken of by Daniel the prophet, stand in the holy place, (whoso readeth, let him understand)" (Matthew 24:15).
"Who opposeth and exalteth himself above all that is called God, or that is worshipped; so that he as God sitteth in the temple of God,shewing himself that he is God" (2 Thessalonians 2:4).
This Third Temple will mean the Man of Sin who is the Antichrist is on Earth and ready to fulfilled all the warnings about him.  While keeping on the watch today I saw two reports that for me really stood out concerning Bible prophecy and the last days.  The first article has to do with the return of the Biblical Harp that were used when the Jewish Temple once stood. If you watch the video below you will see that these harps were played by the Priests during the festivals.  Why is this news so important?  For those of you who do not know about the signs of the last days this information will be important to you, especially if you haven't taken Jesus Christ as your Savior yet. You see Jesus Christ and Daniel from the Old Testament warned us that in the last days the Jews would build a Third Temple. The Jews have been getting ready to do just that!  Everyone of the instruments that were used in the old Jewish services in the Temple have been remade in the exact likeness of how they were when the first two Temples.  As with the other instruments the harp is now being played and, it to is in the exact likeness as was with the first two Temples.    
Those of you who have been coming to my prophecy site over the years should remember the warnings I pointed to concerning the coming intense heat and the wild fires that would be burning. I have always pointed to what Jesus told us told to look for. Knowing who Jesus really is, GOD I knew these warnings would come true and they are. Not only are these signs taking place they are actually taking place at the same time as the rest of the last days signs are taking place just as Jesus said they would.  Read Luke 21:28 "And when these things begin to come to pass, then look up, and lift up your heads; for your redemption draweth nigh."
PROPHECY: 
Intense Heat
"And there shall be signs in the sun" (Luke 21:25a).  "The fourth angel poured out his bowl on the sun, and the sun was given power to scorch people with fire.  They were seared by the intense heat and they cursed the name of God, who had control over these plagues, but they refused to repent and glorify him…Men gnawed their tongues in agony and cursed the God of heaven because of their pains and their sores, but they refused to repent of what they had done" (Revelation 16:8-11).  "…and fearful sights and great signs shall there be from heaven" (Luke 21:11b).
"Therefore are they before the throne of God; and serve him day and night in his temple:  and he that sitteth on the throne shall dwell among them.  They shall hunger no more, neither thirst any more; neither shall the sun light on them, nor any heat" (Revelation 7:15-16).
"And I heard a voice in the midst of the four beasts say, A measure of wheat for a penny, and three measures of barley for a penny; and [see] thou hurt not the oil and the wine" (Revelation 6:6).
Last week I gave you signs of the intense heat from the sun and how for the past 15 years heat records have been broken. I also showed you many fires that were burning out of control around the world and since last week we have seen more of the same. 
HEADLINE: 'The New Normal': Wildfires Roar Across the West, Again
GUNNEDAH – From ground level, Australia's drought looks like a featureless, brown dustbowl, but from the air it transforms into an artistry of colour and texture as the land cracks under a blazing sun. Circular dry plough tracks resemble the concentric circles in Aboriginal dot paintings that tell of an ancient mythology, starving cattle queuing for feed look like an abstract painting and their black shadows stretching across the land a surrealist image. 
But for farmer Ash Whitney, there is no such beauty, just blood, sweat and tears as he struggles to feed his cattle, cutting the drying branches of Kurrajong trees – a last resort during the worst of droughts. "I have been here all my life, and this drought is feeling like it will be around a while," says a despairing Whitney, whose property near the town of Gunnedah is on the Liverpool Plains, a usually fertile area now withered having received the lowest average rainfall in nearly 30 years.
https://www.jpost.com/Breaking-News/No-end-in-sight-for-Australias-destructive-drought-563891
https://www.nytimes.com/2018/07/02/us/fires-california-colorado.html
https://www.usnews.com/news/best-states/california/articles/2018-07-02/wind-spreads-california-fire-as-other-states-battle-blazes
I talk to many people and one of the common topics I have come across in the many conversations is people seem to be going crazy nowadays, more so then in past years.  Take a look at what the Bible says about what people will be like just prior to Jesus returning to Earth.
PROPHECY:
"But mark this:  There will be terrible times in the last days.  People will be lovers of themselves, lovers of money, boastful, proud, abusive, disobedient to their parents, ungrateful, unholy, without love, unforgiving, slanderous, without self-control, brutal, not lovers of the good, treacherous, rash, conceited, lovers of pleasure rather than lovers of God—having a form of godliness but denying its power" (2 Timothy 3:1-5).
"For this cause God gave them up unto vile affections: for even their women did change the natural use into that which is against nature: And likewise also the men, leaving the natural use of the woman, burned in their lust one toward another; men with men seemly, and receiving in themselves that recompence of their error which was meet.  And even as they did not like to retain God in their knowledge, God gave them over to a reprobate mind, to do those things which are not convenient" (Roman 1:26-28).
"The rest of mankind that were not killed by these plagues still did not repent of the work of their hands; they did not stop worshipping demons…Nor did they repent of their murders, their magic arts, their sexual immorality or their thefts" (Revelation 9:20-21).
"He who overcomes will inherit all this, and I will be his God and he will be my son.  But the cowardly, the unbelieving, the vile, the murderers, the sexually immoral, those who practice magic arts, the idolaters and all liars – their place will be in the fiery lake of burning sulfur.  This is the second death" (Revelation 21:7-8).
Just take one week and watch the nightly news and you will get a small sample of what people are doing.  The closer we get to the return of Christ the worse things will become! 
HEADLINE: Why the World Feels Like It's Going Crazy
https://eand.co/why-the-world-feels-like-its-going-crazy-b2340e57df65
New data shows U.S. hate crimes continued to rise in 2017 – CBS News
1.https://www.cbsnews.com/…/new-data-shows-us-hate-crimes-continued-to-rise-in-201…
Jun 26, 2018 – Over the past several years, hate crimes have been on the rise in America's largest cities. According to the FBI, a hate crime is a "criminal …
Hate crimes jump for fourth straight year in largest U.S. cities, study …
https://www.washingtonpost.com/news/post…/05/…/hate-crime-rates-are-still-on-the-rise/
May 11, 2018 – Seven out of those 10 big cities saw an increase in hate crimes, with the largest jump in San Jose, Calif., where 44 hate crimes were reported; …
Why is violent crime on the rise – and who is most at risk? | UK news …
1.https://www.theguardian.com/…/why-are-knife-and-gun-offences-on-the-rise-and-wh…
Apr 27, 2018 – Although people are experiencing less crime, high-harm incidents, including offences involving knives and firearms, are on the rise. In 2017 …
Closing out this post, people wonder why the hearts of so many are becoming cold? It's no wonder as they see all the crazy things happening around them! By the way, Jesus also  gave that warning in Matthew 24:12 "And because iniquity shall abound, the love of many shall wax cold."  The last days message from Christ is your chance to get right with the one a true messiah of the world. Prophecy from God is His way of showing you what He says comes to pass. I mean everything His says not just a portion of what He warns in prophecy. Some of you who are not saved yet will laugh this off but, in the end without receiving Jesus as your Lord and Savior your path is set for hell. When you pass it will be the beginning of the worse eternity you will have if the blood of Christ is not on you.  Without excepting Jesus' work on the cross and asking Him to forgive you and, make Him your Lord and Savior you have no hope. The day you die you will face Christ Jesus. I am not exactly sure how He will ask you the question but I know from the Bible if Christ asks you did you receive me as your Lord and Savior and you say no the road to hell is yours.  I pray you make the right decision now before you pass on to an eternity, eternity with Christ in heaven or one away from Him in hell. What is your decision?