Download The Last Chronicles of Planet Earth May 11 2022 Edition by Frank DiMora
Prophecy Sign:

 Revelation 6:5-6 5 When the Lamb opened the third seal, I heard the third living creature say, "Come!" I looked, and there before me was a black horse! Its rider was holding a pair of scales in his hand. 6 Then I heard what sounded like a voice among the four living creatures, saying, "Two pounds[a] of wheat for a day's wages,[b] and six pounds[c] of barley for a day's wages,[d] and do not damage the oil and the wine!"
Spring Wheat Hits 14-Year High On World War 3 & Weather Woes
A combination of delayed plantings in Northern U.S. Plains and Canada due to soggy weather, a dry spell in Western Europe, chaos in Ukraine, and severe weather in India, have disrupted global wheat markets, sending prices in Minneapolis to the highest levels since 2008. 
Spring wheat is used to make bagels, pizza crust, rolls, and croissants, among other specialty items, which touched a 14-year high on Monday morning at $12.31 a bushel due to delayed planting fears across the northern U.S. Plains and Canada because of abnormally wet conditions. 


" Weather and geopolitical issues suggest global wheat crop supplies could come under pressure as stockpiles worldwide dwindle. This may continue to place a bid under crop prices and result in high food prices. This is one situation that global central bankers can't print their way out of. "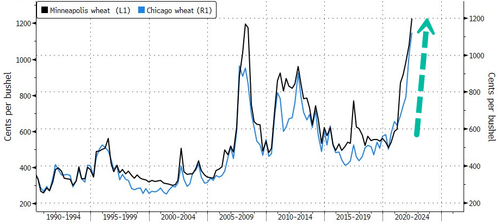 There's much more to the story concerning how wheat is dwindling, this comes as no surprise since Jesus mentions wheat in revelation chapter 6. 
https://www.zerohedge.com/commodities/spring-wheat-hits-14-year-high-world-weather-woes
Labor Issues, Idle Trains Leave U.S. Grain and Food Stranded | AgWeb
Rail backlogs in the United States are delaying shipment of grains as well as processed flour and corn syrup, contributing to the national problem of inflation, food and grain companies said at a hearing this week.
https://www.naturalnews.com/2022-05-11-new-labor-shortages-idle-trains-are-worsening-food-shortages-up-and-down-supply-chain.html
US Meat Prices Could Reach 'Highest Level in Generations'
America's love of meat is about to get more expensive. Market forecasts predict consumers will pay more across the board for beef, pork, and chicken due to factors like rising feed costs and acute labor shortages.
The above report is from the epic times which you would have to pay for.  
Skyrocketing food prices are alarming lawmakers, who worry about the mounting impact on U.S. consumers and rising hunger around the world. 
On Wednesday, the Labor Department reported an annual leap of 9.4 percent in food prices as of April, representing the largest 12-month increase since 1981.
"April was another month of raging Bidenflation – punishing price hikes, core inflation worsening and paychecks shrinking. If the President claims inflation has peaked, someone ought to remind him that's what he claimed last year and was horribly wrong," he added. 
https://thehill.com/policy/finance/3485281-soaring-food-prices-worry-lawmakers-as-global-hunger-rises/amp/

Facts below were taken from Fox News May 11, 2022 and shows the price for everything is going up just as it is supposed to!!
DIESELGEDDON – America's diesel supply on verge of catastrophic collapse, leading to HALTING of food, fertilizer, coal and energy
https://www.naturalnews.com/2022-05-11-dieselgeddon-americas-diesel-supply-on-verge-of-catastrophic-collapse.html
There can be no doubt we are in the midst of the last days birthpangs. It would be a great time for you to start believing in the warnings Jesus gave to us concerning these end times, our generation has been chosen as seen in Matthew chapter 24 to receive Jesus at his second coming.