You can contact Pastor Frank at fjdimora@gmail.com.
Download The Last Chronicles of Planet Earth May 27 2022 Edition by Frank DiMora
For years I have tried to warn the people coming to my prophecy site to pay attention to what is happening in Israel concerning the Temple Mount. This Temple Mount is where the Third Jewish Temple is going to be built as you can see from the prophecies about it below.  Is it a coincidence that the name of God has appeared on the Eastern Gate in Jerusalem.  One man who would not believe this was so traveled to Israel to see for himself if the Lord's name was really on the Wall. Watch the video below. 
PROPHECY : Current events are showing the Third Jewish Temple will be built soon.
Revelation 11:1-2 Then I was given a measuring rod like a staff, and I was told, "Rise and measure the temple of God and the altar and those who worship there, but do not measure the court outside the temple; leave that out, for it is given over to the nations, and they will trample the holy city for forty-two months.
2 Thessalonians 2:1-17 1 Now concerning the coming of our Lord Jesus Christ and our being gathered together to him, we ask you, brothers, 2 not to be quickly shaken in mind or alarmed, either by a spirit or a spoken word, or a letter seeming to be from us, to the effect that the day of the Lord has come. 3 Let no one deceive you in any way. For that day will not come, unless the rebellion comes first, and the man of lawlessness is revealed, the son of destruction, 4 who opposes and exalts himself against every so-called god or object of worship, so that he takes his seat in the temple of God, proclaiming himself to be God. 5 Do you not remember that when I was still with you I told you these things?
Daniel 9:27  And he shall make a strong covenant with many for one week, and for half of the week he shall put an end to sacrifice and offering. And on the wing of abominations shall come one who makes desolate, until the decreed end is poured out on the desolate 
Matthew 24:15 "So when you see the abomination of desolation spoken of by the prophet Daniel, standing in the holy place (let the reader understand),
Daniel 11:31 Forces from him shall appear and profane the temple and fortress, and shall take away the regular burnt offering.  And they shall set up the abomination that makes desolate.
We are seeing news concerning this Temple Mount now almost on a weekly basis. Just a reminder so when you begin to see the Jewish Third Temple starting to be built on that Mount you will know without dispute that the Antichrist is already here and we are in the tribulation period. 
 group petitions government to stop Muslim destruction of temple artifacts
Beyadenu, a Temple Mount activist organization, submitted a complaint to the State Comptroller describing the destruction of artifacts carried out by Palestinians during the recent period of Ramadan. According to the organization, the report shows negligence in supervising and protecting antiquities in the Temple Mount area, "which have been vandalized, degraded and misused in recent times."
https://www.israel365news.com/270385/temple-mount-group-petitions-government-to-stop-muslim-destruction-of-temple-artifacts/

Nations listed to fight against Israel in the Psalm 83 and Ezekiel 38 wars
Fatah Official Calls for Terror: "Allah Willing There will be a Shireen Intifada, a Jenin Intifada, a Jerusalem Intifada… this Intifada will be the Liberation Intifada"
Allah willing there will be a Shireen [Abu Akleh] Intifada, a Jenin Intifada, a Jerusalem Intifada, and all of our people's activity will be planted in this intifada in the defense of Jerusalem and Jenin. Allah willing this intifada will be the Liberation Intifada." "I think that the Palestinian people is on the brink of a great intifada."
A few days after Palestinian-American journalist for Al-Jazeera Shireen Abu Akleh was shot and killed while covering a gun battle initiated by Palestinian terrorists who attacked Israeli forces during an operation in Jenin on May 11, 2022, a Fatah official called for a new Palestinian wave of terror. In fact, he called for several waves of terror – intifadas – one of which he suggested be named after Shireen Abu Akleh.
The goal of these terror waves would be the "liberation" of "Palestine":
https://www.israel365news.com/270366/fatah-official-calls-for-terror-allah-willing-there-will-be-a-shireen-intifada-a-jenin-intifada-a-jerusalem-intifada-this-intifada-will-be-the-liberation-intifada-opinion/
If you don't know, Israel was just in the midst of the largest military exercise they have ever had in it's history. Why? Because they are preparing for war again Iran. It has been reported Iran is only weeks away from being able to acquire a nuclear weapon which they plan to use against Israel. Israel has stated over and over they will never allow Iran to acquire that bomb.  So what should we expect? Let's look at what Israel's Prime Ministery, Menachem Begin did concerning the issue of Iraq acquiring a nuclear weapon back in 1981. Like the current Prime Minister of Israel, Begin also warned the world  Israel could not stand by and allowed Iraq to obtain that type of weapon. When it became apparent Iraq was not going to halt their weapons program just like we see Iran doing now look at what happened.     On June 7, 1981  Israel launched a major attack on Iraq's nuclear power site. Below is a link that tells the story how Israel managed to pull off such an attack without anyone seeing the attack coming. I only provide you a sample from the report below. I suggest you read the entire article because we are about to see Israel attack Iran. Once Israel hits Iran it could trigger one of the two wars that have not taken place yet such as the Psalm 83 war which I believe will happen prior to the Ezekiel 38 war. 
Israelis Shock The World With Audacious First Ever F-16 Strike.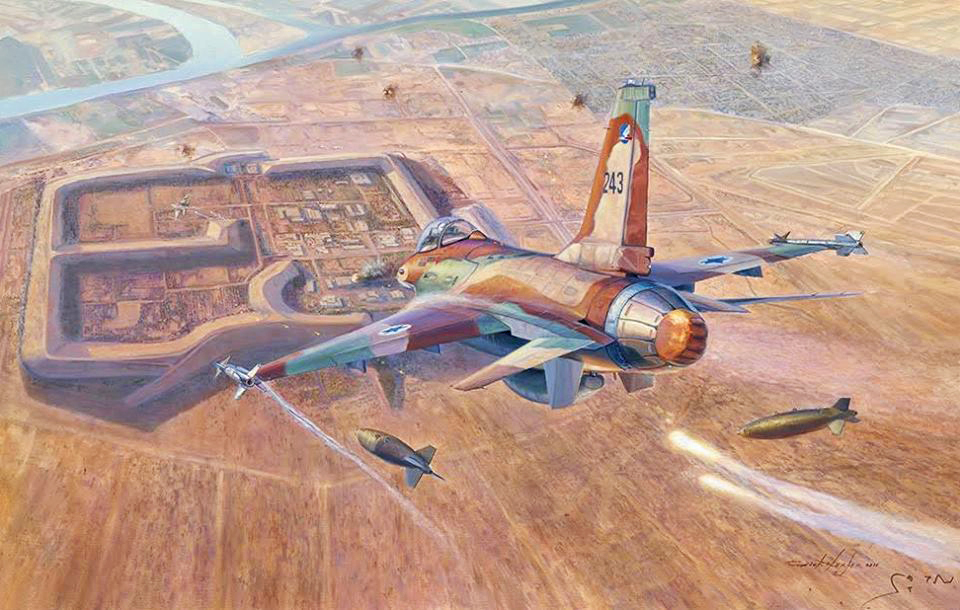 Iraqi Colonel Fakhri Hussein Jaber is in shock. His jaw drops, mouth gaping open as a strained moan leaves his throat. Despite the hot desert temperature his limbs feel cold. He cannot believe what he is seeing.
Eight F-16s painted sand-colored desert camouflage flying in a single-file attack formation at rooftop level hurtles over the outskirts of Baghdad from the southwest. They bank hard left, slicing white tendrils of vapor from their missile-clad wingtips in the evening air. One at a time they light their afterburners over the southern edge of the city. The crack of jet thunder makes people all over Baghdad glance upward to the sky. As the attacking pilots pull their side-sticks back the jets instantly vault upward into the clear evening blue on tails of orange fire. Their wings wear the white roundel and blue Star of David. The Israelis are here.
The single file procession of ear-splitting jets reaches 5,000 feet, their tails to the sun and invisible from the ground in the blinding light for the moment. They roll heavily onto their backs, wings bloated with huge one-ton bombs. They pitch downward into a shallow dive and lazily tumble back to wings level. Then they each drop two Mark-84 delayed fuse 2,000-pound general purpose bombs on Iraq's new industrial pride, the French-designed nuclear reactor at Osirak. The large round reactor dome is completely destroyed in only two minutes. Nothing else is touched.
And then they are gone.
https://theaviationist.com/2017/06/07/operation-opera-the-israeli-air-strike-on-an-iraqi-nuclear-reactor/
I am not the only one warning about the outcome of Israel attacking Iran in order to take out Iran quest to obtain a nuclear weapon. Read the report below!
https://www.msn.com/en-us/news/world/israel-and-iran-five-minutes-to-armageddon/ar-AAYxeXK
What you should know before taking your kids to see Disney's 'Lightyear
"Hello, family. I went this morning to a screening of Lightyear, Disney's latest Toy Story movie. During the first half hour there's a woman who marries another woman, they kiss, she gets pregnant … that kind of thing. I'm letting you know so that you spread the word and make an informed decision whether to take your kids to see it."
https://aleteia.org/2022/06/15/what-you-should-know-before-taking-your-kids-to-see-disneys-lightyear/
One of the last days major signs Jesus told us to look for was the last days generation would look just like Noah's generation. The gay movement in our generation has copied the characteristics of the people who lived during Noah's time. When you look at this gay flag this is what you should think. This flag is a major sign Jesus Christ is coming soon.  I would imagine most of the people who stand by this flag are unaware as to what is about to happen just as the people living during Noah's generation did not understand what was going to befall them. If you love Jesus Christ it should break your heart knowing that so many people will be cast into the great tribulation because they have turned away from God. Do not let hate take over your hearts concerning these people. Instead I say love them just as Jesus loved you before you came to Christ for salvation.  Yes this
is a symbol but, when it comes to the warning of the end times this
should encourage you that what Jesus warned about the last days is already here and, knowing that make yourself ready to meet the Lord when He calls us home. I can not imagine what the people who stand under this flag are going to react when the time of judgement comes as it did with Noah's generation. When the waters began to rise from that great flood the people who laughed at Noah for building a ark no doubt clawed the ark in an attempt to get on board however, all their efforts failed. During the the end times when the Church is taken away from the Antichrist the hearts of many who now stand under this
will be mislead by the Antichrist thinking he is their messiah and, end up going through all the judgements on the unbelieving people who have been left behind. If you know anything about the book of Revelation you would have to be crazy not to receive Christ free gift of salvation now rather than going through the tribulation. Fact is, most of the world's population will be wiped out before the tribulation ends! 
To anyone standing under that flag Jesus is not your enemy He loves you and wants you in His kingdom give Him a chance.
The 8 scriptures you see below are insights that show Israel will be able to "dip his foot in oil" and draw "oil from the flinty rock." The Jewish people will find "hidden treasures in the sand" and an "abundance of the seas." This newly discovered oil and gas is a wealth that had to have happen in these last days. Certainly Israel's discovering huge amounts of oil and gas is a blessing for Israel, However, it will also draw enemies of Israel who the Lord warned they would attack Israel such as the armies of the "War of Gog and Magog" as seen in Ezekiel 38 who attack Israel to capture spoils from Israel.  You will see all of what I just stated in the following scriptures below. It is no coincidence that Russia has currently shut off the oil supply to Europe while at the same time Israel has stepped in and said they will supply oil to Europe. 
One of Israel's major concessions when it signed the Camp David peace agreement with Egypt was giving up the Alma oil field in the Sinai Peninsula. Discovered and developed by Israel, the field seemed to be Israel's only hope of becoming energy-independent.
Rather than becoming independent, Israel depended on other countries like Egypt, Russia, and Azerbaijan for oil.
Since then, Israel was known as one of the only countries in the Middle East with no natural resources. But that all changed in 2009 when a large natural gas reserve of 311 billion cubic meters (BCM) was discovered off the coast of Israel.
THE CURRENT STATUS
Today, Israel's gas reserves are so rich that they can supply not only Israel, but Europe as well. And that's precisely what happened on Wednesday when Israel, and the European Union signed a natural gas agreement. The agreement was forged in Cairo as Egypt as the gas will flow via Egypt's pipelines. Signing this trilateral agreement is Europe's solution for replacing the Russian gas imports it has relied on for decades.
https://www.israel365news.com/270368/israel-to-supply-natural-gas-to-europe-and-its-connection-to-a-blessing-from-deuteronomy/
If you read the eight scriptures today provided for you above you have to come to the conclusion based on the current news that these prophecies will be fulfilled soon.
Russia condemns Israel 3 times in 1 day
Israeli Ambassador to Russia Alex Ben-Zvi was summoned for a reprimand by Russian Deputy Foreign Minister Mikhail Bogdanov following last week's attack on the Damascus airport Bogdanov protested to the ambassador and claimed that the attack caused damage at the civil and humanitarian level and that he also claimed that the justification for the attack provided Israel was not convincing and therefore Russia was awaiting clarifications.
https://www.israelnationalnews.com/news/354974
Hamas official: War against Israel is only a matter of time
a senior Hamas official and one of the leading journalists in the Gaza Strip, says that the Palestinian Arab terrorist organizations are improving their military readiness ahead of the the next military confrontation with Israel. In an article in the official Hamas newspaper Felesteen, Sawaf stated that "indeed, the battle with Israel will come and its fuel will be Gaza and all of Palestine."
https://www.israelnationalnews.com/news/354985
Isaiah 17:1 

A prophecy against Damascus: 

See, Damascus will no longer be a city but will become a heap of ruins.
Jeremiah chapter 49-Another prophecy about Damascus destruction
23 Concerning Damascus. Hamath is confounded, and Arpad: for they have heard evil tidings: they are fainthearted; there is sorrow on the sea; it cannot be quiet.
24 Damascus is waxed feeble, and turneth herself to flee, and fear hath seized on her: anguish and sorrows have taken her, as a woman in travail.
25 How is the city of praise not left, the city of my joy!
26 Therefore her young men shall fall in her streets, and all the men of war shall be cut off in that day, saith the Lord of hosts.
27 And I will kindle a fire in the wall of Damascus, and it shall consume the palaces of Benhadad.
'IF SYRIA CONTINUES TO LET IRANIAN WEAPON PLANES LAND, RISKS LOSING AIRPORT'
https://www.israel365news.com/270340/if-syria-continues-to-let-iranian-weapon-planes-land-risks-losing-airport-opinion/
Luke 21:9-10
Matthew 24:6-7
Mark 13:7-8
Revelation 6:4
Revelation 6:8
Pope Francis: World War III declared
"The world is at war," the pontiff said. "For me, today, World War III has been declared. "We are living the third world war piece by piece," he said, stating simply, "The world is at war! A few years ago, it occurred to me to say that we are experiencing a third world war fought piecemeal. Today, for me, World War III has been declared.https://www.israel365news.com/270349/pope-francis-world-war-iii-declared/